Peshawar school massacre: Global Youth Ambassadors in Pakistan give their reactions
A soldier stands on guard outside the Army Public School
The killing of 132 children at their school in Pakistan has been condemned around the world.
The horror is particularly raw for A World at School's Global Youth Ambassadors in the country, who are advocates for education in their communities. Like millions across Pakistan, they are in mourning for the victims of the Army Public School massacre.
One of them is SANA, who lives in Peshawar, where the attack on the Army Public School happened. In the aftermath of the massacre, Sana wrote this:
"It is something universally admitted and acknowledged that individuals want to live in peace and tranquility. Education can regenerate our souls and can help to draw the line between good and bad. But the dream of more than 130 children has been put to death today by TTP (Tehreek-e-Taliban Pakistan).
"The hope of a father has been erased. "My son was in uniform in the morning. He is in a casket now," said Tahir Ali as he came to the hospital to collect the body of his 14-year-old son Abdullah. "My son was my dream. My dream has been killed."     
Children at a demonstration in Islamabad which was attended by members of Idara-e-Taleem-o-Aagahi (ITA)
"Whenever human lives are lost, you feel humanity is lost. But when something like this happens you find yourself sucked into a vortex of shock, disblelief and disillusionment. The grief weighs on your shoulder like a heavy brick. So stand for children's education and security."
RABIA is a Global Youth Ambassador from a Pakistani village. She wrote:
"My trembling hands cannot write the pain which I am feeling right now for those students and for their families.
"Many questions arise in the mind about what Taliban actually want? What is their agenda? And who they are against? This horrendous incident has given answers. I doubted for some time that perhaps these are diminshed Muslims – but let me make this clear: they are not Muslims, not even humans.
"These terrorists are against Islam and just want to hurt Muslims either by grossly spoiling the image of Islam all over the world or by killing innocent children and women.
A vigil for victims held at Peshawar University Picture: Wisal Clicks
"Islam stresses tolerance, rules and regulations, and the respect of humanity. How can these extremists be called Muslims when they deny every instruction of Islam? When they carry out suicide attacks in religious gatherings. When they murder our polio workers? When they target innocent students?
"This cowardly attack on the Army Public Schools will not make us step back, not even for one second, because we are the students, the real Talibs. I strongly condemn this cowardly and shameful act. Let's start a chain to condemn this national tragedy and pray for the affected families."
In Pakistan the Education Youth Ambassador programme has been formed through a partnership between A World at School and Idara-e-Taleem-o-Aagahi (ITA) – and it runs in collaboration with the AWAS Global Youth Ambassador campaign.
BAELA RAZA JAMIL is Director of Programmes at ITA. She said: "The attack on the school in Peshawar was of unspeakable cruelty, taking the lives of innocent children in a place they should feel safe. This blatant attack on education must end. An education should be every child's right without danger or discrimination.
"Over the last few months, there has been a groundswell of people across Pakistan and the world joining their voices in an undeniable call to action demanding the chance for every child to reach his or her full potential through education. We must ensure that this horrific attack does not steer us from our path and we use this as a moment to stand beside the victims, the children in Pakistan and all over the world who are targeted just because they want to learn. We must make sure our voices are heard by all by standing #UpForSchool."
---
More news
Theirworld initiative helps to deliver $30m of computers to Ukrainian children
Theirworld initiative helps to deliver $30m of computers to Ukrainian children
Theirworld's mission to give children in crises a safe place to learn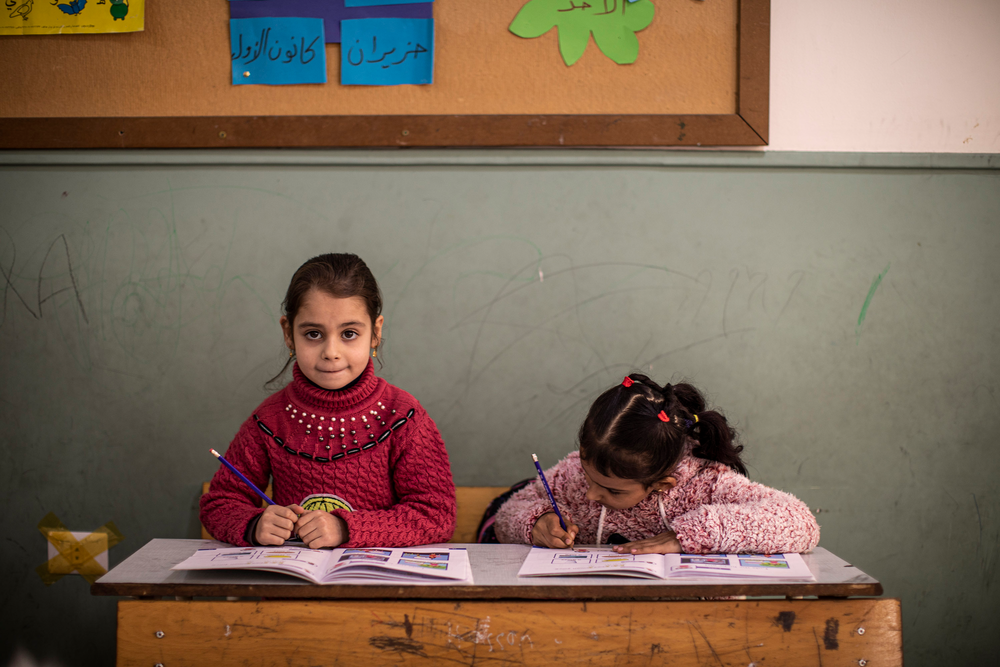 Theirworld's mission to give children in crises a safe place to learn