Almost one in four of world's children live in countries hit by conflicts or disasters
Children in conflicts, Children's welfare after natural disasters, Education in emergencies
To mark 70 years of UNICEF working on behalf of children across the world, the UN agency has released statistics that show its programmes are just as vital today.
---
For 70 years, UNICEF has been working in the toughest places in the world to deliver aid, support and hope for vulnerable children.
The United Nations children's agency will mark that special anniversary on December 11. And today it released new statistics that demonstrate just how important their mission is still – against the backdrop of the worst refugee crisis since the Second World War.
An estimated 535 million children – almost one-quarter of the world's girls and boys – live in countries affected by conflicts and natural disasters. Three-quarters of them, about 393 million, are in sub-Saharan Africa, with another 12% in the Middle East and north Africa.
UNICEF Executive Director Anthony Lake said today: "UNICEF was established to bring help and hope to children whose lives and futures are endangered by conflict and deprivation.
"This enormous figure – representing the individual lives of half a billion children – is a sharp reminder that our mission is becoming more urgent every day."
The impact of conflicts, natural disasters and climate change is forcing children to flee their homes, trapping them behind conflict lines and putting them at risk of disease, violence and exploitation.
Often they have no access to medical care, quality education, proper nutrition and protection.
Among the statistics highlighted by UNICEF today are:
Nearly 50 million children have been uprooted – more than half of them driven from their homes by conflicts.
As violence escalates across Syria, the number of children living under siege has doubled in less than a year. Nearly 500,000 children now live in 16 besieged areas across the country, almost completely cut off from sustained humanitarian aid and basic services. 
In northeastern Nigeria, nearly 1.8 million people are displaced, almost one million of them children.
In Afghanistan, nearly half of primary-aged children are out of school.
In Yemen, nearly 10 million children are affected by the conflict.
In South Sudan, 59% of primary-age children are out of school and one in three schools is closed in conflict-affected areas.
More than two months after Hurricane Matthew hit Haiti, more than 90,000 children under five are still in need of assistance.
70 years of UNICEF in numbers
In 1955, UNICEF was assisting 92 countries and territories. In 2016, it works in 190 countries and territories. In 1972, the agency employed about 1000 international and locally recruited staff members. Now it has a global staff of 13,000.
The following statistics are for UNICEF's work in 2015:
Education
7.5 million children aged three to 18 provided with access to formal or non-formal basic education.
Nutrition
UNICEF and partners treated 2.9 million children for severe acute malnutrition.
Health
2.8 billion doses of vaccines helped to protect 45% of the world's children under five from deadly diseases. UNICEF also supplied 22.3 million bed nets to protect children and families from malaria in 30 countries.
Child protection
More than 9.7 million births were registered in 54 countries with support from the agency.
Humanitarian action
11.3 million children vaccinated against measles in countries affected by crisis. Four million children in emergency situations got access to formal or non-formal basic education. Psychosocial support for two million children caught in conflicts and natural disasters.
Water, sanitation and hygiene
Between 1990 and 2015, 2.6 billion people gained access to improved drinking water sources and 2.1 billion gained access to improved sanitation facilities.
---
More news
Theirworld initiative helps to deliver $30m of computers to Ukrainian children
Theirworld initiative helps to deliver $30m of computers to Ukrainian children
Theirworld's mission to give children in crises a safe place to learn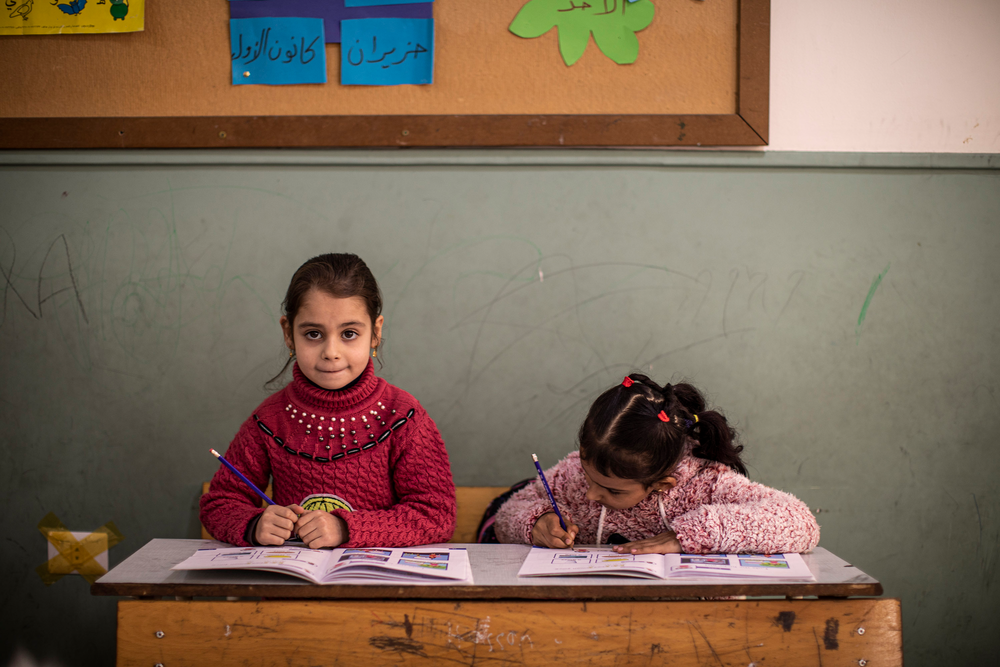 Theirworld's mission to give children in crises a safe place to learn