Despite the safe spaces, danger lurks in refugee camps for vulnerable Rohingya children
Child labour, Child marriage, Child trafficking, Children in conflicts, Discrimination of marginalised children, Education Cannot Wait, Education in emergencies, Refugees and internally displaced people, Right to education
---
About 40,000 children have crossed the border into Bangladesh alone - they and many others are at risk of trafficking, child labour and early marriage.
---
Schools and safe spaces are helping thousands of Rohingya refugee children cope with the trauma of fleeing from their homes in Myanmar.
There they can draw, sing and play in a secure setting in one of the overcrowded camps along the border in Bangladesh.
But around the corner danger lurks for many children, who are at risk of traffickers or falling into child labour, early marriage and exploitation.
More than 6000,000 minority ethnic Rohingya – half of them children – have sought sanctuary in Bangladesh since military operations that killed hundreds in their home state of Rakhine.
An estimated 40,000 children crossed the border alone after their parents were killed or displaced. Another 1400 or so living in the camps are believed to be the sole providers for their families.
At a UNICEF-run children's zone, 10-year-old Tahera Begum says: "I love the comic book pages. But I don't get the chance to go there every day." 
Bangladeshi charity worker Baby Barua told the AFP news agency she was shocked to discover Tahera is feeding and caring for a family of seven on her own.
She walks a mile alone at dawn to collect firewood for her ill parents and four siblings.
"She's only a kid. She shouldn't be doing all these tasks by herself. This is equivalent to child labour," Barua said.
UNICEF is running more than 180 learning centres in Rohingya camps and makeshift settlements in the coastal Bangladeshi district of Cox's Bazar, providing education to 15,000 children.
The United Nations children's agency plans to have 1500 centres in place to provide basic non-formal education for 200,000 children over the next year.
60% of Rohingya children in Myanmar have never been to school and an estimated 80% of Rohingya people are illiterate.
Schools, learning centres and safe spaces will be vital to help their recovery.
But charities fear that lone providers like Tahera are vulnerable to illness, emotional stress and exploitation from shouldering such responsibility.
"This may lead them to child labour and explicit sex work. These families may also experience a spike in child marriages, which is very concerning," Save the Children International spokesman Rik Goverde told AFP.
Many children can be seen in the tented camps carrying water jugs, queueing at relief stations or dragging sacks of grain the size of their own bodies.
Another imminent threat to children is trafficking. At Kutupalong refugee camp, Noor Alom had been searching for his six-year-old daughter for two days.
Fatima left their home to play on a nearby hillside – and never came back. He told the Thomson Reuters Foundation: "Nobody has any news about her. I am so worried that someone has sold her and taken her to another place. People told me that it occurs here."
Young girls might enter into this type of trafficking and then end up in one of the big cities. Jean Lieby, head of child protection at UNICEF Bangladesh
Finally, following a a three-day search, Noor found Fatima crying on a dusty street.
"My heart and mind were broken, no one knew anything about her," he said. "Once I saw her I was so very happy, I don't care what happened or where she went, I am just so happy."
The UN says trafficking networks already existed in the camps before the new influx of Rohingya since August.
The camps are a fertile hunting ground for traffickers looking for young girls to recruit as maids.
"It is a major, major risk," said Jean Lieby, head of child protection at UNICEF in Bangladesh. "Young girls might enter into this type of trafficking and then end up in one of the big cities."
Nazir Ahmed, a Rohingya refugee in the camp, set up an information centre two months ago, which he said has already reunited some 1800 lost children with their parents.
Some desperate families are selling their children into bonded labour, most commonly in the local fish drying industry, said UNICEF.
Families receive 18,000 taka ($217) while their children work to pay off the debt during the nine-month fishing season. To encourage parents to keep their children in school, UNICEF has given more than 400 poor families who arrived in 2016 the same sum in cash, plus grants to start small businesses.
All of this is on top of the spectre of hunger. Almost one in 10 of the children crammed into the camps in Cox's Bazar district are at risk of dying from severe acute malnutrition, the UN has warned.
There has also been an increase in the number of suspected measles cases among the newly arrived Rohingya and their host communities.
"Children are especially at risk from outbreaks of measles and other communicable diseases that result from the crowded living conditions, malnutrition and severe lack of water and sanitation in the camps and other sites," said Edouard Beigbeder, UNICEF Bangladesh Representative. 
"To halt any wider outbreak, it's essential that coordinated efforts begin immediately to protect as many children as possible."
Reporting by Theirworld, Sam Jahan of Agence France-Presse and Katie Arnold of Thomson Reuters Foundation.
---
More news
Theirworld initiative helps to deliver $30m of computers to Ukrainian children
Theirworld initiative helps to deliver $30m of computers to Ukrainian children
Theirworld's mission to give children in crises a safe place to learn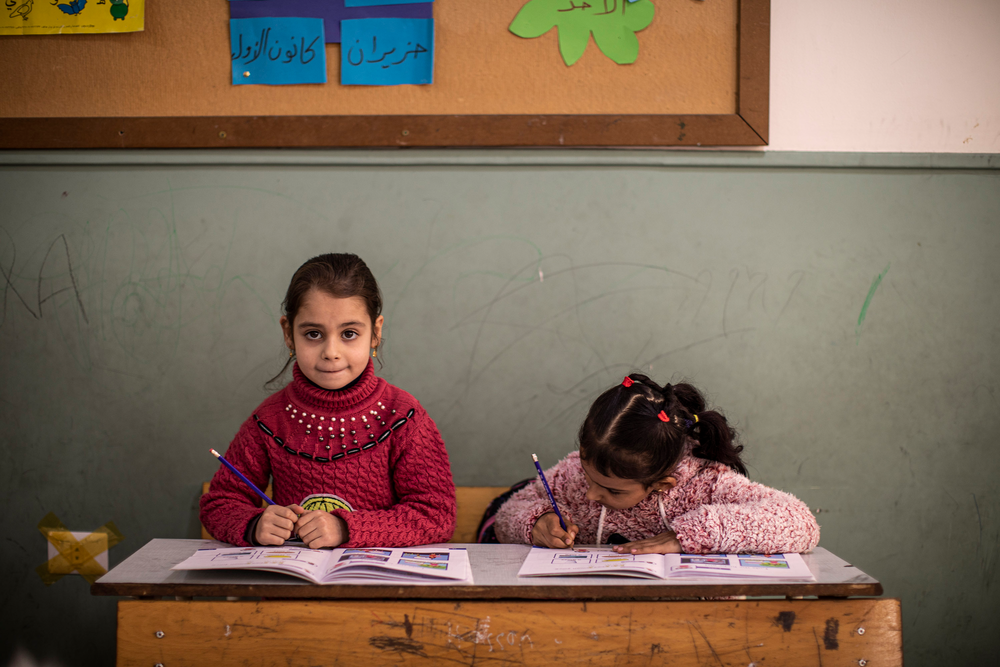 Theirworld's mission to give children in crises a safe place to learn