Safe education for 194,000 Nigerian children affected by conflict
Child soldiers, Children in conflicts, Education Cannot Wait, Education in emergencies, Safe schools, Safe Schools Declaration
A coalition led by Education Cannot Wait will provide supplies, permanent schools, humanitarian support and training for teachers in the troubled northeast.
---
Education has been under attack for years in the troubled northeast of Nigeria. 
Hundreds of children have been kidnapped and recruited, scores of teachers killed and over 1400 schools damaged or destroyed in the ongoing insurgency by Boko Haram.
But access to safe education will now be provided to 194,000 children affected by the conflict – more than half of them girls.
A 12-month programme will benefit 116,400 internally displaced children and 77,600 children permanently settled in the states of Adamawa, Borno and Yobe, thanks to a coalition of humanitarian organisations working with the Nigerian government.
It will provide educational supplies, permanent schools, basic humanitarian support and training for teachers to promote the psycho-social development of these war-affected students. The programme will build capacity for 800 teachers and rehabilitate 50 classrooms.
The programme was announced by Education Cannot Wait (ECW) – the fund that is on track to reach almost one million children in 17 crisis-hit countries by the end of 2018.
"This support is essential in responding to the immediate needs of the people of northeast Nigeria," said ECW Director Yasmine Sherif.
"Education for all cannot be an afterthought in crisis. This First Emergency Response is just the beginning of our efforts to break the cycle of poverty and violence in the region – and protect boys and girls returning from conflict and still living with the scars of war."
The horrors facing girls in Nigeria were emphasised in a major report released yesterday by the Global Coalition to Protect Education from Attack. 
I Will Never Go Back to School is based on interviews with 119 victims and eyewitnesses of attacks on schools and education, including survivors of the Chibok and Dapchi school abductions in 2014 and 2018.
The report said: "A key component of Boko Haram's ideology is hostility toward secular education and it has gained notoriety for its repeated attacks on schools and universities, as well as teachers, administrators and students, wreaking havoc on an already fragile education system."
Education Cannot Wait's announcement was a new allocation totalling $2.49 million. That includes $210,000 for Plan International, $249,999 for Save the Children, $230,000 for Street Child and $1.8 million for UNICEF.
Sherif said the work would be scaled up through multi-year investments along with other local, national and international organisations. The plan is to eventually reach the estimated 1.8 million children in the region in need of targeted education support.
In Borno State alone, 57% of schools remain closed because of violence.
"Girls were raped, children were forced into violent extremism, teachers were murdered and families were ripped apart by this protracted crisis," said Sherif.
"Without teachers and without schools, the children of this region have very limited opportunities."
ECW has targeted $1.8 billion in resources for its 2018-21 Strategic Plan. 
The target underpins the goal for its investments to be reaching 8.9 million children and youth in 25 priority countries affected by crisis by 2021 with quality education, improving their learning outcomes and enhancing their socio-emotional wellbeing and employability.
Nigeria is one of 81 countries that have signed the Safe Schools Declaration – a commitment to protect education from attack and military occupation.
---
More news
Theirworld initiative helps to deliver $30m of computers to Ukrainian children
Theirworld initiative helps to deliver $30m of computers to Ukrainian children
Theirworld's mission to give children in crises a safe place to learn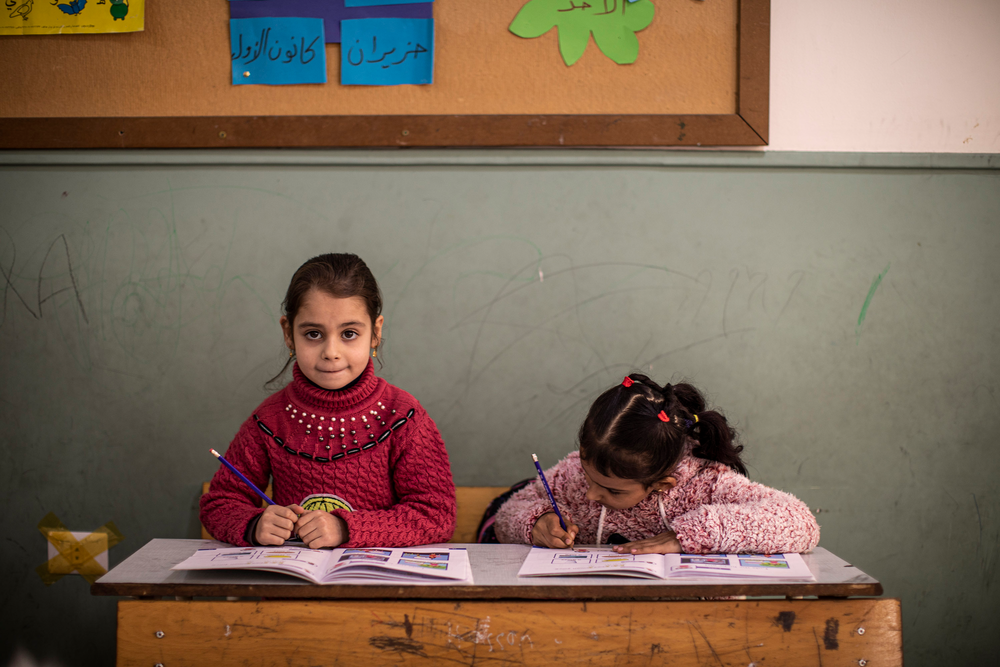 Theirworld's mission to give children in crises a safe place to learn