Safe Schools: More countries are tackling bullying and violence in and around classrooms
Discrimination of marginalised children, Girls' education, Safe schools, Safe Schools Declaration, Teachers and learning
---
Theirworld's Safe Schools report highlights the risks children face - here we look at action being taken on abuse and harassment, some of it by teachers. 
---
An increasing number of governments are trying to tackle violence against children in schools – including at least 25 Caribbean countries and African nations such as Ivory Coast, Senegal, Togo and Cameroon.
Theirworld's report Safe Schools: The Hidden Crisis has revealed the enormous scale of attacks on schools and threats to education suffered by millions of children around the world.
It said estimates show as many as half the world's teens have experienced bullying in and around school. And one in 10 girls and women under the age of 20 have been subjected to sexual violence in a school.
But issues such as bullying and gender-based violence in and around schools are "much more on the agenda than ever before", according to UNESCO.
The United Nations cultural agency has highlighted projects aimed at making schools safer for children. It is estimated that 246 million children and adolescents experience school violence in some form every year.
It includes physical, psychological and sexual violence and bullying, and happens in all countries. 
The root causes of school violence include gender and social norms, and wider factors such as income inequality, deprivation, marginalisation and conflict. 
Girls suffer horrendous sexual abuse in many places and preventing violence against LGBTI children is a new priority in some states.
UNESCO produced a report earlier this year called School Violence and Bullying and has been working with governments to try to make schools safer.
Speaking exclusively to Their News, UNESCO officials detailed some of the latest initiatives to stop violence against children, particularly schoolgirls.
Joanna Herat said UNESCO has engaged with 25 nations in the Caribbean and is now working with countries in West Africa – including Senegal, Togo and Cameroon. 
They are also working in southern Africa, doing teacher training in Swaziland, Zimbabwe and Tanzania.
Herat highlighted ongoing work in Ivory Coast, where the government is trying to prevent teachers abusing schoolgirls.
She said: "They recognised there were unacceptably high levels of some form of sexual relationship happening between male teachers and female students. 
"So they came up with a comprehensive national plan and – by working closely with teachers' unions – they came up with a new improved teachers' code of conduct. They strengthened their national policies. 
"They also put reporting mechanisms in place so students can report examples of abuse, to trusted individuals identified in different schools. And they have a more systemised approach to sanctions for teachers, who have been sexually harassing and abusing students on their schools. 
"It involved a lot of different elements and partners so took them quite a long time to develop the programme and put it in place."
Herat said the authorities have also spoken to local communities as they realised the state alone could not tackle this issue.
She continued: "They (the government) said, 'we can't change this alone, we've got to talk to families and communities'. 
"We see this in many countries where parents say, 'If my daughter is in a relationship with a teacher then I don't mind because he's a respected member of the community. She's a young woman so who knows where this relationship might lead'. 
"But the reality was that a lot of girls became pregnant and male teachers were the fathers of those children. Girls were dropping out of school because of it."
Herat said this is an example of a country that saw an issue happening  and – at a government ministerial level – decided to take action in a consultative way. 
"They've seen increases in the number of reports of violence but that's because there are new reporting mechanisms," she said. "But they've also seen increases in the number of teachers who've been sanctioned for inappropriate behaviour which wasn't happening before."
Highlighting Vietnam, Herat said a new curriculum approach has been embraced to help teachers teach about gender-based violence.
The aim is for teachers and pupils to come up with strategies together, after recognising what's inappropriate and what constitutes violence.
Herat said: "It's a curriculum that improves knowledge and hopefully attitudes around gender, which should reduce gender-based violence. But it's also an approach that tries to find solutions within the school."
Unless we address school violence and bullying we won't achieve Sustainable Development Goal 4 (quality education for every child). Joanna Herat, UNESCO
UNESCO believes action is needed to address school violence to ensure all children have access to non-violent learning environments – and to achieve education for all and gender equality. 
Herat said: "There is a recognition – the mere fact we are including school violence and bullying, as an aspect we want to measure – shows us it's higher on the agenda than in the past, which is a good reflection.
"Unless we address school violence and bullying we won't achieve Sustainable Development Goal 4 (quality education for every child). Indeed it will affect our ability to achieve many of the other SDGs including gender equality and health and wellbeing."
Christopher Castle, a colleague of Herat's at UNESCO, said progress was also being made to reduce violence against LGBT children in schools.
He cited UNESCO's Out in the Open report from 2016, which called for urgent action to stop homophobic and transphobic violence in schools.
UNESCO made a number of calls for action then – including the provision of new training to teachers and the establishment of policies to stop violence based on sexual orientation and gender identity.
Castle said: "On the back of this report, 56 ministries of education around the world have adopted a call for action. We were not imagining we would ever get such a high number of countries to support that kind of call."
---
More news
Skills for the future give young people the best chance of success
Skills for the future give young people the best chance of success
Take the test and discover how our Schools Hub helps students grasp the global education crisis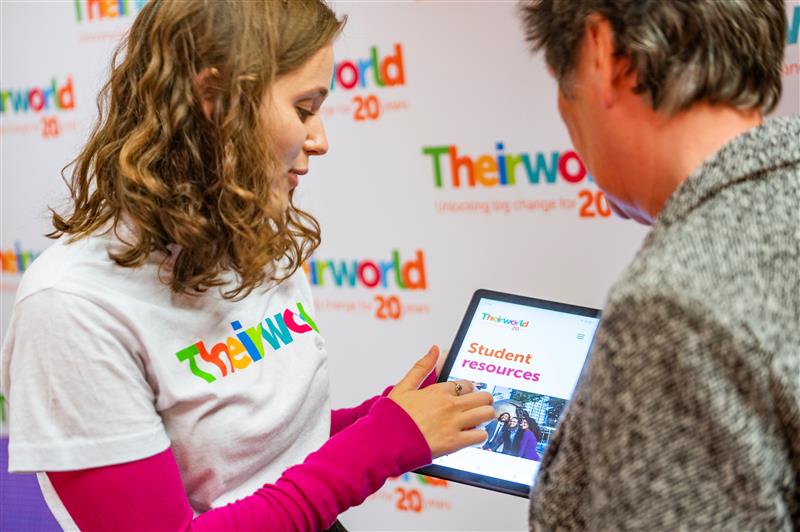 Take the test and discover how our Schools Hub helps students grasp the global education crisis