"Every one of us has something to give to someone who has less"
Early childhood development, Global Youth Ambassadors, Right to education, Sarah Brown, Teachers and learning, Technology and education, What is advocacy?
---
In a special New Year episode the Better Angels podcast, we hear from inspirational people who are helping to bring about change.
---
The Better Angels podcast series celebrates the activist spirit. So what better way to start 2018 than hearing from inspiring people who are making a real difference?
Your host is Theirworld President Sarah Brown, who launched the series a year ago. Introducing a special New Year episode, she says: "As 2017 turned out to be a shade darker than the already gloomy 2016, around the world everyone is facing forward, braced for what comes next.  
"Where there is darkness, we can always find light. We can find the very best of humanity in individuals who offer hope and inspiration, with the generosity of their acts, large and small."   
To kick off 2018, Sarah used social media to ask for people to contribute their best actions of the year – the ones that highlight the "Better Angels" of their nature. Here are some of their stories.
Listen to the full episode here
Maisha Reza from Singapore is a Global Youth Ambassador for Theirworld's A World at School movement. She is a champion of the United Nations' Sustainable Development Goals, focusing on gender equality and access to education for underprivileged children.
In 2017 she launched an initiative to highlight challenges faced by women which provide solutions.
""We are all local leaders and every one of us has something to give to someone who has less," says she says.
Maisha is a scientist and tells how she launched a pilot project in a village.
"To spread my passion for science I began researching and creating a model to enable underprivileged children to appreciate the beauty of science." Maisha has written a blog for Theirworld about her work.
Kiko Matthews is aiming to row solo across the Atlantic Ocean to raise money for a hospital and, importantly, empower other women.
Although she had brain surgery just four months ago, she is attempting in January to become the fastest solo woman to achieve the feat.
"I want to show that if you put your mind to anything it can be achieved, no matter what," says Kiko.
She has also set up a collective of women called 100Together, who are sponsoring and supporting her adventure. When she returns, Kiko will be mentoring some women and helping them to build their confidence and skills.
"We hope they will learn about themselves and also earn some valuable work and employment skills," she says.
Oraeki Chukwujekwu Francis is a Global Youth Ambassador from Nigeria who teaches secondary school students about career choices and ethic leadership to help them plantheir life after school.
He says: "It has really been a very wonderful experience – helping them to take the best course choice – not minding what their parents wanted them to study.
"It has been successful and I plan to continue with the courses."
Lavanya, a 19-year-old British student on her gap year in India, has been volunteering to help children with their education. Working with other foreign students, she holds English tuition classes for village children and dance lessons to help them take part in cultural shows.
"As a cynical person, I would never imagined being in a position where I can teach children English and dance," says Lavanya. "I'm very proud of all of them.
"We hope these projects can now continue even after the current volunteers go back to their countries." 
Tauseef Rasheq Ahad, another GYA, was involved in organising the Global Transformation Forum, one of the largest events in Malaysia, as well as taking part in other incredible work globally.
He says: "People are too committed to themselves. We should be doing something for the people around us. If 10 people like me can stand up it can impact at least 100 lives.
"My advice for others? Meet a lot of people, understand their ideas, see how they're bringing change and see if you can bring that change into your community."
Marshall Dyton, a GYA from Malawi, is taking Theirworld's #5for5 campaign for early childhood development to the next level in Malawi. He is basing his advocacy on his own experience and has helped to start an ECD centre for 100 children.
"Children from the centre go to the primary school already equipped and they do well compared to their friends," he says.
"We have the potential to make a difference in our community." 
---
More news
Sarah and Gordon Brown share global education vision in 100th episode of Better Angels podcast
Sarah and Gordon Brown share global education vision in 100th episode of Better Angels podcast
Take the test and discover how our Schools Hub helps students grasp the global education crisis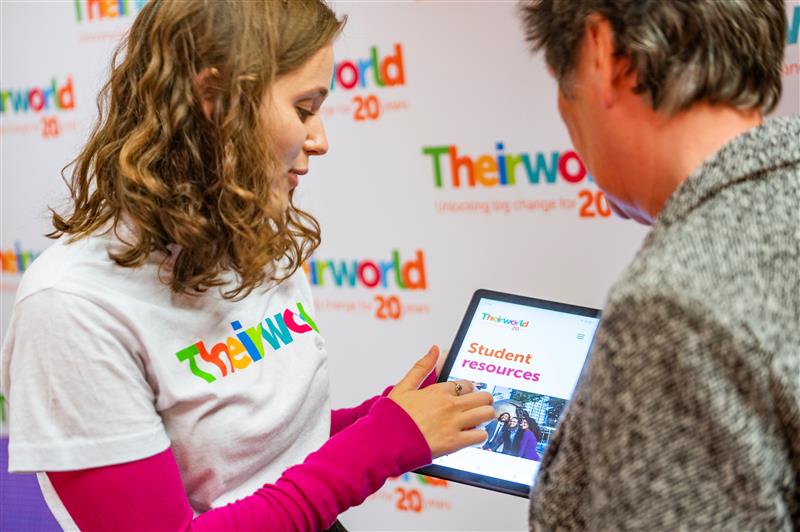 Take the test and discover how our Schools Hub helps students grasp the global education crisis