School for the blind plans to train one million teachers for children with disabilities
Barriers to education, Children with disabilities, Discrimination of marginalised children, Right to education, Teachers and learning, Technology and education
---
Working with governments around the world, the programme could help six million children who have visual impairment and other disabilities to access education and training.
---
An American school for the blind plans to train one million teachers around the world by 2030 to educate the six million visually-impaired children who also have other disabilities, to increase their chances of living independently and finding jobs.
The Perkins School for the Blind aims to work with governments to train specialist teachers who can meet the complex needs of these children and young adults. 
Many lack educational opportunities and are often left at home or put into orphanages and care facilities in poorer countries.
"This is one of the most vulnerable populations in the world," said Dave Power, chief executive of the Massachusetts-based non-profit school, which taught deaf and blind writer Helen Keller.
"More than 90% of these children do not get an education – either because they don't have the right to an education or the school system they're in doesn't know how to teach them and reach them," he said.
The school recently piloted its teacher training programme in Argentina and India. It can be adapted to different languages and cultures, although the multi-sensory core curriculum for children who are blind, or deaf and blind, works globally.
Conducting teacher training programmes online will help limit the cost, which Perkins expects to be covered by government budgets and bolstered by grants.
Power noted that in 2015 all countries signed up to the Sustainable Development Goals, which include a goal of inclusive, quality education for all and aim to ensure training for people with disabilities, boost their social participation and create equally paid jobs for them.
"We're ready to work with any ministry of education that really wants to make progress in a measurable way to reach this population," said Power.
About Perkins International
It works in 67 countries through local partnerships – including government agencies – and provides resources, training and advocacy to improve the lives of the 4.5 million children without access to education due to blindness.
As well as bringing children into the education system and potentially boosting their job prospects, the programme will also give their parents a chance to work more hours and improve their economic situation, said Michael Delaney, executive director of Perkins' international unit.
Highlighting the case of an orphanage in Indonesia where children with multiple disabilities had been kept in their beds all day but are now being educated and becoming part of the local community, Delaney said increasing public and government awareness was crucial.
Perkins is now working with Mexico's government to implement a teacher training programme and looking at options in Central America and Brazil.
"In Latin America, we're very over-protective," said Daniela Gissara, an educational specialist with Perkins International. "We think if we keep children with multiple disabilities at home, we're doing good for them."
"These children can have productive and successful lives, and can be independent as the rest, if they get the appropriate education."
---
More news
Technology has the power to expand education for children with disabilities
Technology has the power to expand education for children with disabilities
Take the test and discover how our Schools Hub helps students grasp the global education crisis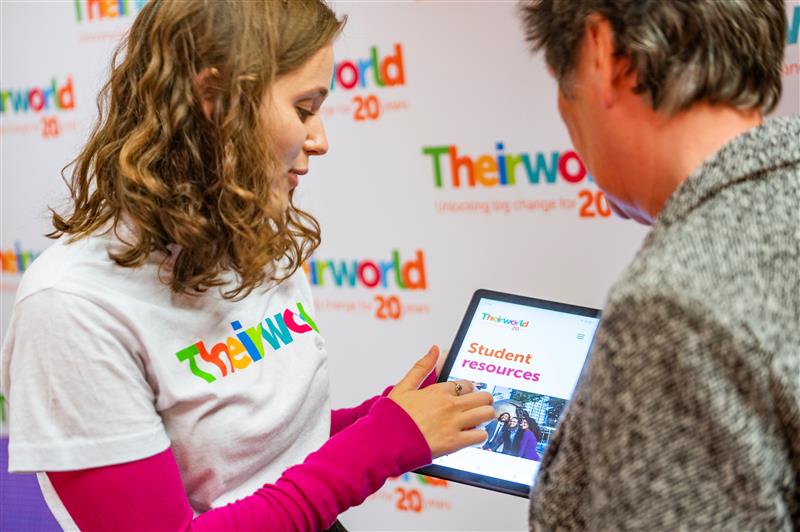 Take the test and discover how our Schools Hub helps students grasp the global education crisis