School is a sanctuary for displaced children in Central African Republic
Child soldiers, Children in conflicts
---
A girl who attends a UNICEF-supported learning space in the capital Bangui Picture: UNICEF/Bindra
In the sprawling tent city near Bangui airport, even the children's grammar lessons are a reminder of what pupils have been through.
"Jean is 12," reads the teacher's example. "He was kidnapped by bad men to become a child soldier."
Yesterday's presidential election in the Central African Republic has raised hopes of a fresh start for a country torn by nearly three years of deadly sectarian bloodshed.
But more than 20,000 people displaced by the conflict are still scraping by in the capital's Mpoko camp – including thousands of traumatised children who have witnessed murderous brutality.
Many Bangui residents fled for their lives after mainly Muslim rebels staged a coup in March 2013 and then went on the rampage.
Vigilante groups emerged in largely Christian communities to avenge atrocities – but they also turned on civilians, killing Muslims, looting and razing houses. 
In her makeshift school at the Mpoko camp, teacher Madame Lydie says the story of Jean the child soldier helps pupils to put words to their own experiences.
Alison, 14, reads a book at a camp for internally displaced people in Bangui – she is now at a formal school Picture: UNICEF/Bindra
"It's up to us to help them to find inner peace and a sense of morality," Lydie says.
Dressed for school in an immaculate white blouse, the teacher has lived in Mpoko camp since her home was burned down two years ago by one of the rival armed groups.
"With my salary, I can live a little better and buy basic necessities," she says.
Like other teachers who worked before the latest conflict, she was given six days of training by UNICEF, which also provides exercise books and slates. The European Union paid for the blackboard.
About 100 children gather on a patch of wasteland, shaded from the sun under white sheets as they sit through lessons in the elementary subjects.
"Even if they are at a displaced people's site, we want all these children to know how to read, write and do maths," says Chancelin Willy-Bono, director of the Temporary Space for Learning and Child Welfare (known by its French acronym ETAPE), which was set up by UNICEF.
"The school enables them to keep a continuous record in their education progress and also in their lives. If they leave the site, they can go back to a regular school."
Last year, 73% of the pupils in the final year of primary school passed the entrance exam for secondary education and moved on to established schools in Bangui.
Children run to a transit centre after being released by militia in 2015 Picture: UNICEF/Le Du
Jean-de-Dieu, a 13-year-old boy who lives in a small tent not far from the makeshift classroom, turns up to ask to join the school.
"The desire to learn is so strong that the children themselves often ask for admittance," says Willy-Bono, who also lives in the camp.
More than 5500 pupils are now taking classes in Mpoko, while more than 21,000 children are going to school in 158 ETAPE centres around the country.
Schooling keeps children from wandering around and being recruited by mostly Christian vigilantes who have merged with the displaced people – a major source of child trafficking and abuse.
"The ETAPE centres allow children to develop in places protected from bad company, where they are not idle," explains Donaig Le Du, communications director for UNICEF in CAR.
Between 6000 and 10,000 youngsters are estimated to have been enlisted by the armed groups, not only as fighters but also as messengers, spies and cooks.
Before class ends, three boys slip out to play with pretend weapons, oblivious to Madame Lydie's words on the blackboard. "Remember: war is not good for a country," she has written. "It's better to live in peace."
© 1994-2016 Agence France-Presse
---
More news
Theirworld initiative helps to deliver $30m of computers to Ukrainian children
Theirworld initiative helps to deliver $30m of computers to Ukrainian children
Theirworld's mission to give children in crises a safe place to learn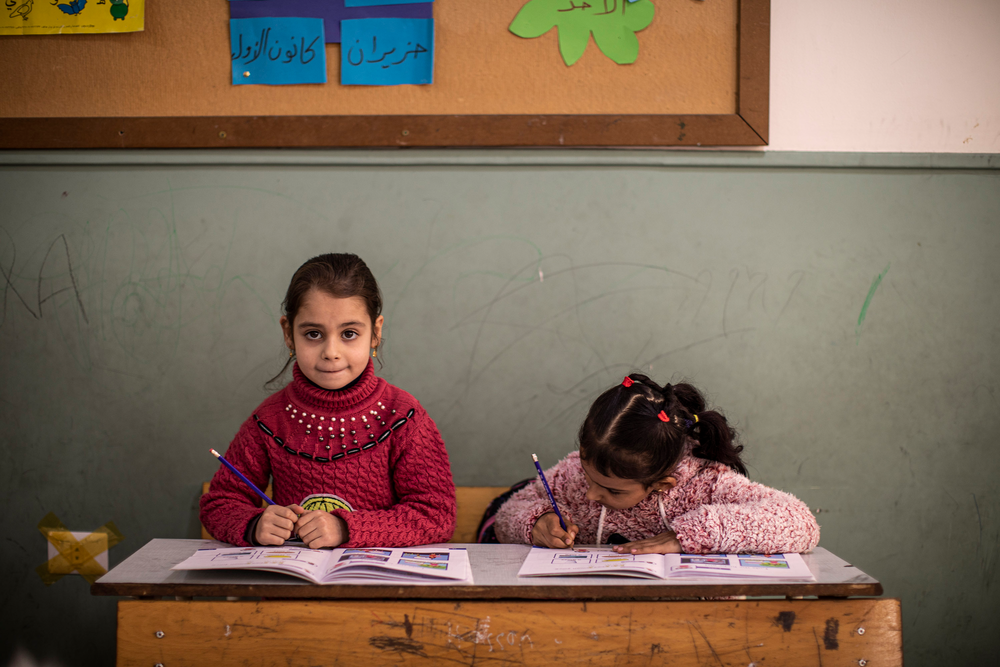 Theirworld's mission to give children in crises a safe place to learn