Schools damaged or occupied as children of Aleppo pay the price
Children in conflicts, Education in emergencies
Another damaged school in the Etarib district of Aleppo 
A school lies abandoned, an unexploded rocket embedded in the ground where children used to play.
The buildings and playground have been empty for three weeks since a barrage of mortars and missiles forced the teachers and students at summer remedial classes to flee.
"We thought that it was the usual situation and that we would return to school the next day. But we never came back," said the head teacher of the 1070 school for girls in the Syrian city of Aleppo.
Since the neighbourhood was attacked on August 31, 12 other schools near the 1070 neighbourhood have been been damaged and another eight occupied by fighters.
Education has become another casualty of the intense violence and despair that has rocked Aleppo in recent weeks. Violence and despair that was summed up a few days ago by the picture of five-year-old Omran Daqneesh sitting bewildered in an ambulance after being pulled from a destroyed building.
Students at a primary school in the Shaar district of Aleppo
It prompted Anthony Lake, Chief Executive of the United Nations children's agency UNICEF, to say: "More than 100,000 children are trapped in the horror that is Aleppo. They are all suffering things no child should suffer – or even see.
"Empathy is not enough. Outrage is not enough. Empathy and outrage must be matched by action."
There are more than 2.1 million children in Syria who are not in school. In February, donors pledged to help them, as well as the one million Syrian refugee children of school age in neighbourign countries. But the promises have not been matched by action so far – with $1 billion still to come in and the new school year about to start. 
TELL WORLD LEADERS TO KEEP THEIR PROMISE
In May, donors failed to meet the $150 million needed to set up the Education Cannot Wait Fund for education in emergencies in its first year – a fund to address the education needs of children trapped in conflict and emergency settings at an annual estimated cost of $8.5 billion.
The 1070 school in Aleppo was seen as a place of hope for displaced families who had moved there. Built by UNICEF, it grew from 660 students to 2500.
Hanaa Singer, UNICEF's Representative in Syria, visited the school earlier this year. She said: "I was so inspired by these girls and their passion for education.
"Despite all the hardships they have been through with their families being displaced by the fighting, it did not stop them from seeking their dreams of an education."
But now it lies empty. The head teacher went back two weeks ago and found broken glass and destroyed doors."
She told UNICEF: "I saw books scattered on the ground everywhere mixed with the remains of shells and bombs. The walls of the side of the school that is exposed to snipers are filled with bullet holes.
"If it was completely destroyed, I would help rebuild it, brick by brick."
---
More news
Theirworld initiative helps to deliver $30m of computers to Ukrainian children
Theirworld initiative helps to deliver $30m of computers to Ukrainian children
Theirworld's mission to give children in crises a safe place to learn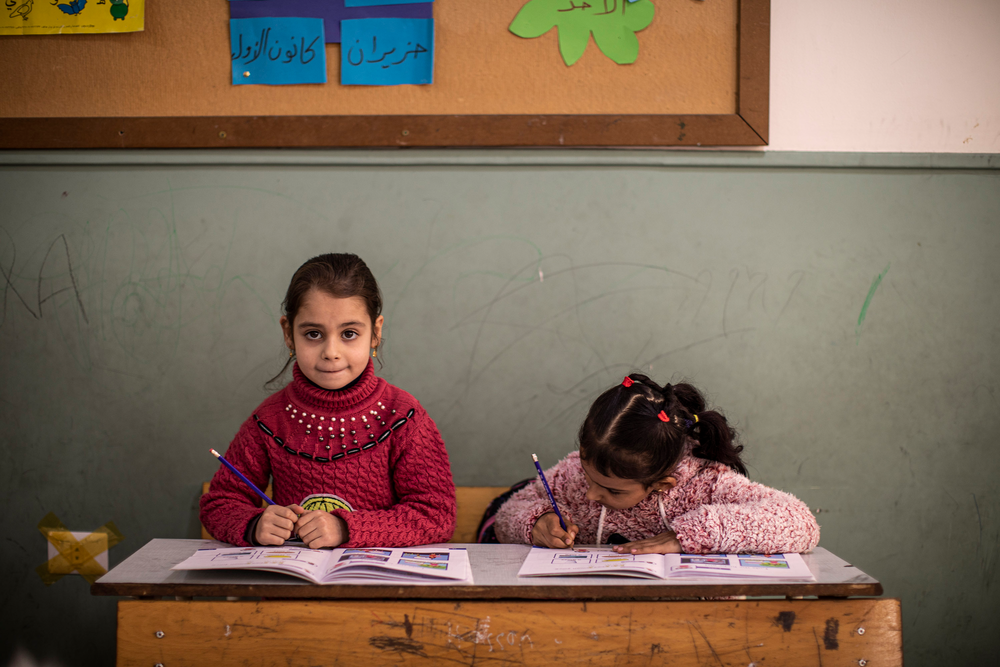 Theirworld's mission to give children in crises a safe place to learn