Sesame Street's early learning project for refugees wins $100m competition
Early childhood development, ​Learning through play (Early years), Refugees and internally displaced people, Teachers and learning
The project, run with International Rescue Committee, will reach millions of young children in Iraq, Jordan, Lebanon and Syria.
---
A project to help young refugee children start learning through play has won a global $100 million competition today.
The entry from Sesame Workshop and the International Rescue Committee (IRC) beat three other finalists in the MacArthur Foundation's 100&Change – a contest to fund a single proposal that "promises real and measurable progress in solving a critical problem of our time".
"We are compelled to respond to the urgent Syrian refugee crisis by supporting what will be the largest early childhood intervention programme ever created in a humanitarian setting," said MacArthur President Julia Stasch.  
"Less than 2% of the global humanitarian aid budget is dedicated to education and only a sliver of all education assistance benefits young children. 
"The longer-term goal is to change the system of humanitarian aid to focus more on helping to ensure the future of young children through education."
The winning project is called Sesame Seeds and a pilot programme has already been launched in Jordan.
It has three components:
Sesame Seeds Mass Media, a TV programme that will reach and teach 9.4 million children in Iraq, Jordan, Lebanon and Syria, with engaging characters children can learn from and relate to.
Sesame Seeds Home, a caregiving programme delivered through home visits and mobile messages.
Sesame Seeds Center, an early learning programme delivered in community and NGO centres and government preschools, providing teachers with digital and print lesson plans and educational content.
The finalists were asked to present their arguments to the Chicago charity last week. Tonton – a character in Hikayat Simsim, the Jordanian co-production of TV's Sesame Street – told the competition judges about a Syrian refugee girl she had befriended.
Children caught up in the Syrian conflict and the resulting refugee crisis are experiencing toxic stress – the body's reaction to adversity that will affect their development and have possible lifelong consequences. 
The first five years are the most crucial in terms of development, as a young child's brain is 90% developed by that age.
Theirworld's #5for5 campaign has been calling for world leaders to invest in early childhood development – and to spend 10% of their education budgets on pre-primary education.
David Miliband, President and CEO of IRC, said: "Sesame Street makes us all think of joy and laughter, of learning. We want to bring laughter and learning to some of the most vulnerable children in the world.
"Refugee children have known bombing not schools, soldiers not teachers, treacherous journeys and not secure foundations.
"Last year, every six seconds, a child was having to flee from war. We know that the average refugee family is displaced from their home for 10 years. Yet the learning and development of young children is bottom of the pile when it comes to the operation of the aid system."
Miliband warned about the dangers of toxic stress for the under-fives. He had met two children in a refugee camp who had been orphaned and now living with their uncle. He said two-year-old Gazi was withdrawn and 'like no two-year-old child I have known".
He added: "Toxic stress is stress that's prolonged and extreme, which triggers a flood of hormones that impairs the way the brain develops. Early intervention is needed.
"We've designed a programme for the Middle East because it is the epicentre of the global refugee crisis – we can reach millions of children."
Sherrie Westin, Executive Vice President, Global Impact at Sesame Workshop, said: "Today we reach children in 160 countries, making us the largest educator in the world, and we have a long history of addressing some of the most challenging issues facing children. 
"We felt we had a responsibility to help but we knew we couldn't do it alone.
"With the IRC, we will create the largest intervention programme in the history of humanitarian response."
After winning the $100 million grant, Jeffrey D. Dunn, President and CEO of Sesame Workshop, said: "The Syrian refugee crisis is the humanitarian issue of our time and we are deeply grateful for this incredible opportunity
"For almost 50 years, Sesame has worked around the world to improve the lives of children and help them to grow smarter, stronger and kinder. This may be our most important initiative ever and we are humbled by the trust and confidence that has been placed in us."
The $100 million will be spread out over up to six years and the foundation wants to run a new competition every three years. 
The other finalists were: Catholic Relief Services, changing how society cares for children in orphanages; HarvestPlus, eliminating hidden hunger by fortifying staple crops; Rice University 360-degree Institute for Global Health plan, improving survival rates for newborns.
The foundation decided to give $15 million to each of those entries too.
This article was originally published on December 19 and then updated on December 20 when the winning entry was announced.
---
More news
Take the test and discover how our Schools Hub helps students grasp the global education crisis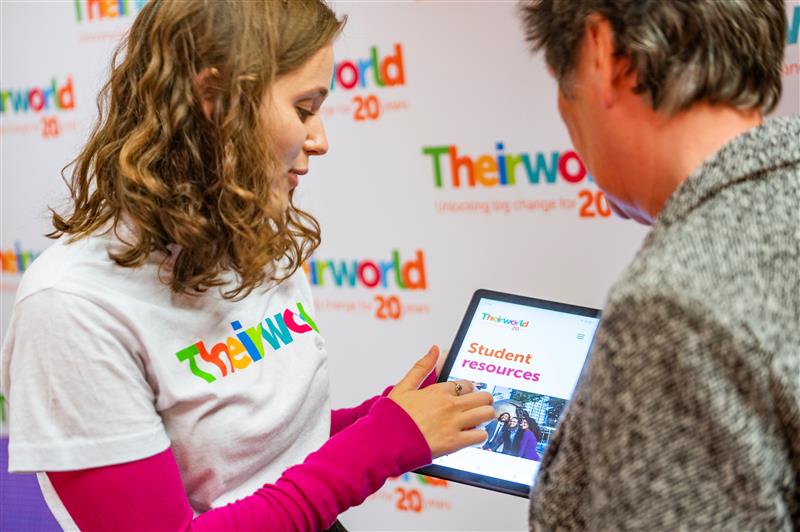 Take the test and discover how our Schools Hub helps students grasp the global education crisis
MyBestStart programme gives young girls the education they deserve
MyBestStart programme gives young girls the education they deserve