#ShareHumanity campaign to spotlight World Humanitarian Day
Children in conflicts, Education in emergencies
What is World Humanitarian Day?
"It's a day to pay tribute to all people affected by humanitarian crises and those who lost their lives in humanitarian service. It's a day to celebrate the spirit that inspires humanitarian work around the world." – UNITED NATIONS.
Held every August 19, it was started in 2008 to mark the date in 2003 when the UN headquarters in Baghdad, Iraq, were bombed and 22 officials were killed.
What is the theme this year?
People and organisations are being asked to use the hasthtag #sharehumanity on Twitter and donate their social media feed for a day to tell one of the many moving human stories.
Stephen O'Brien, head of the United Nations Office for the Co-ordination of Humanitarian Affairs (OCHA), said: "We're calling on the young and digitally-connected to help us push out these compelling stories and give a voice to the voiceless. OCHA has a special WHD website where you can learn more – and this video:
How big is the humanitarian problem?
The UN says that about 78 million people in 31 countries currently require urgent humanitarian assistance, in the form of shelter, health care, education and food, at a cost of $16.4 billion.
Funds, however, are increasingly lacking and the intensity of violence facing humanitarian workers – from Yemen and Syria to South Sudan and Iraq – is hampering critical aid efforts.
How do humanitarian crises affect education?
More than 20 million children are out of school in countries afflicted by conflicts – such as Syria, Yemen and Nigeria –  and emergencies, including the Nepal earthquake and the Myanmar floods.
Yemeni children collect water in Sana'a. Haroon Huraibi (centre) says: "The school closed after bombing started three months ago and I don't have much else to do." Picture: UN OCHA
The average refugee will be away from their home for almost 20 years. And the destruction of schools and the limited access to remaining schools means many children will miss out on education for several years – and be in danger of falling into child labour, child marriage, criminalisation and sexual exploitation.
Basic services like health, water, food, shelter, and psychosocial support are vital – but so is education if life is to get back to normal and children are able to play and learn in safe spaces. In 2014 only 1.1% of overall global humanitarian funding was allocated to education – representing less than $0.02 spent per child per day.
In his message for World Humanitarian Day, Dubai Cares CEO Tariq Al Gurg said: "Depriving children of their right to education not only affects their future prospects but also leads to a lost generation and deteriorating communities. Moreover, education in emergencies is key to the long-term success and sustainability of other forms of interventions as it is an essential tool to build and maintain economic prosperity and stability."
What's being done to improve the funding shortfall?
In the run-up to the Oslo Summit on Education for Development in July, a World at School and more than 40 of the world's leading charities and campaign organisations called for a Global Humanitarian Platform and Fund for Education in Emergencies. It was agreed that work to build such a platform should be prioritised in 2015. The next stage underway – to create a set of options for discussion at the UN General Assembly in September.
How can you share the message with children?
Global Dimension has some great teaching resources including lesson plans, teacher packs and website links for helping children understand about humanitarian aid and relief. Find out more here.
Now read four stories of hope for World Humanitarian Day from our Global Youth Ambassadors in Liberia, Nepal and Yemen.
---
More news
Theirworld initiative helps to deliver $30m of computers to Ukrainian children
Theirworld initiative helps to deliver $30m of computers to Ukrainian children
Theirworld's mission to give children in crises a safe place to learn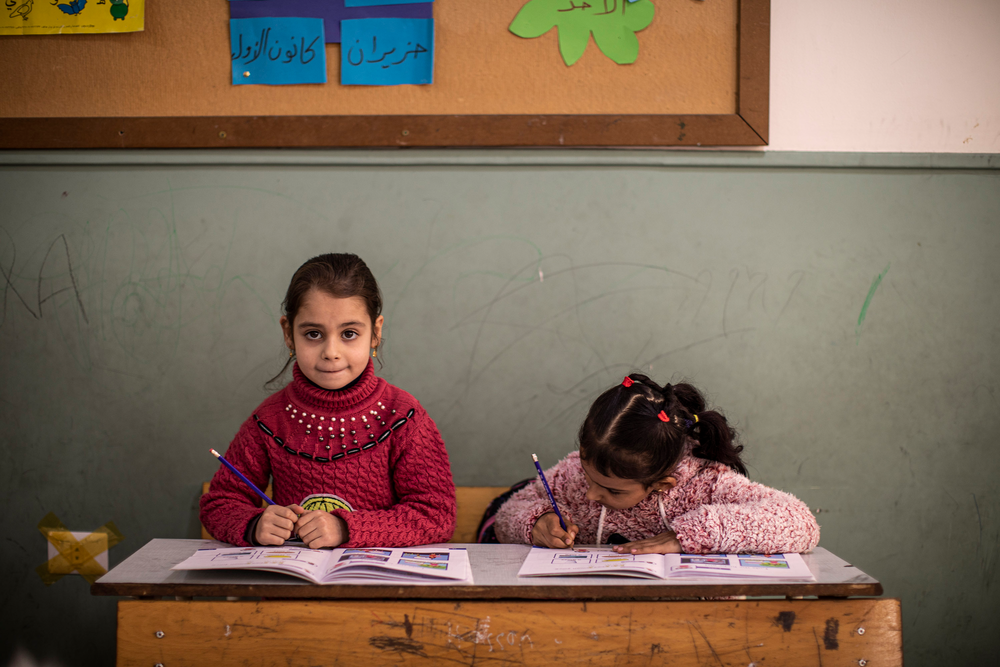 Theirworld's mission to give children in crises a safe place to learn