10,000 children killed and maimed, hundreds of schools attacked in rising tide of violence
Child soldiers, Children in conflicts, Education Cannot Wait, Education in emergencies, Safe schools, Safe Schools Declaration
---
A UN report has revealed a shocking increase in child casualties, schools targeted and recruitment of child soldiers in conflict-hit countries.
---
Unspeakable violence against children has been revealed in a new report from the United Nations which says more than 10,000 were killed or maimed last year.
Hundreds of new attacks on schools by armed factions around the world showed a "blatant disregard" by armed groups for both international law and children's lives.
Disturbing new trends identified included the increasing use of children as suicide bombers and large-scale abductions of children. 
The crises unfolding in Central African Republic, the Democratic Republic of the Congo, Myanmar, South Sudan, Syria and Yemen has meant rising violence against school children. In DRC, fighting in Kasai led to an eightfold increase of attacks – 515 in total – on schools and hospitals.
The report is from Virginia Gamba, UN Secretary-General on Children and Armed Conflict (CAAC), who said: "When your own house or your school can be attacked without qualms, when traditional safe havens become targets, how can boys and girls escape the brutality of war?"
Theirworld and others have been campaigning for schools to be safe places for children to learn and be with their peers. More than 70 countries have signed up to the Safe Schools Declaration – a commitment to protect education and stop military use of schools.
But only two of the world's most powerful countries – the permanent members of the United Nations Security Council – have done so. France and the United Kingdom have shown the way and we're calling on China, Russia and the United States to follow their lead.
The CAAC report showed that children in Syria suffered the highest number of verified violations recorded in the country, while in Nigeria almost half of the 881 child casualties resulted from suicide attacks, including the use of children as human bombs.
In South Sudan, violence against children continued unabated with 1221 children recruited as soldiers.
Rape and other forms of sexual violence against children remained disturbingly high with over 900 verified cases against boys and girls.
UN Secretary-General António Guterres said: "The United Nations has verified more than 21,000 violations committed against children in 2017 and reliable reports of more than 10,000 children killed or maimed in armed conflict last year. 
"I am outraged at this number, a significant increase compared to previous years. 
"Children are also affected by other verified violations, including the recruitment and use of children by armed forces and armed groups, sexual violence and attacks on schools and hospitals. 
"Boys and girls have once again been overly impacted by protracted and new violent crises. Despite some progress, the level of violations remains unacceptable."
Here are some of the findings from the report.
Afghanistan
Violence continued to severely affect children, with 3179 cases of children killed and maimed in 2017. Although the number of verified cases represents a 10% decrease compared to 2016, casualty rates remain very high. There were 16 incidents of military use of schools and hospitals – 10 by the Afghan National Defence and Security Forces, four by the Taliban and two by ISIL-KP.  
Central African Republic
The number of children recruited and used by armed forces more than quadrupled compared to 2016, with 196 boys and 103 girls affected – some as young as eight. A total of 104 children, including 34 girls, were killed (61) and maimed (43) by shooting, stabbing and when their houses were torched during clashes. The UN verified 28 attacks against schools.
Democratic Republic of Congo
2017 was a devastating year for children in the DRC. In the Kasai region, Kamuina Nsapu recruited large numbers of children and destroyed an unprecedented number of schools. A total of 156 children were killed and 178 were maimed. Cases of rape and sexual violence against 179 girls and two boys were verified. From a total of 1000 reported attacks, 396 attacks on schools were verified. 
Iraq
There were 717 child casualties and 523 children recruited by armed groups. There were 161 attacks on schools and hospitals, of which 153 were verified. In Ninawa, two schools were destroyed during air strikes and eight were hit by mortars launched by ISIL. Explosive devices were found near five schools and were believed to have been placed there by ISIL in Ninawa and Salah al-Din. 22 schools were used by the military.
Israel and State of Palestine
According to prison data provided by Israel Prison Service based on a request under the Freedom of Information Law, between January and December, a monthly average of 312 Palestinian children were held in detention. In 2017, 15 Palestinian children (including two girls) were killed in the West Bank, including East Jerusalem, and in the Gaza Strip. Six schools in Gaza and Israel sustained damage.
Libya
At least 40 children were killed and 38 children injured by air strikes, shelling, small arms fire, improvised explosive devices and explosive remnants of war.
Mali
Nineteen children died and 15 were injured from crossfire, improvised explosive devices and explosive remnants of war. One girl died after being raped. A total of 41 attacks on schools were recorded in central and northern Mali, all of which remain unattributed. Attacks and threats against educational staff, students and parents were prevalent, particularly in Mopti Region, which accounted for 21 incidents. In addition, 12 schools were used for military purposes by armed groups. At December 2017, 657 schools remained closed in conflict-affected regions. 
Myanmar
47 children were killed or injured in Kachin and Shan States. A total of 15 attacks on schools were documented during the reporting period. Incidents included damage to a school owing to an armed clash between Tatmadaw and TNLA elements, and attacks on school personnel by TNLA, including the rape of a middle school director in Kyaukme township, Shan State. 
Somalia
A total of 931 children were killed and maimed, and 2087 boys and 40 girls were recruited as child soldiers. Recruitment of children by Al-Shabaab significantly increased (1770) compared to 2016, especially after the group forced teachers to adopt a new curriculum. Attacks on 64 schools were verified, 58 of which were attributed to Al-Shabaab. Cases included the detention of teachers for refusing to adopt Al-Shabaab's curriculum or school closures. 
South Sudan
Fighting between the Sudan People's Liberation Army (SPLA) and its allies against the pro-Machar Sudan People's Liberation Army in Opposition (SPLA-IO) continued and spread to the Greater Upper Nile region. 54 children were killed or injured and 55 girls were raped. Attacks on 26 schools were verified. 22 schools were used for military purposes. 
Syria
The continuing civil war resulted in the highest number of verified grave violations against children ever recorded, with 2896. 1271 children were killed or injured and 23 girls and one boy were raped. There were 67 attacks on schools. Schools were frequently used for military purposes, with 22 incidents attributed to ISIL (20) and YPG/YPJ (2). Of these, 16 schools were subsequently attacked. Schools and hospitals served as training grounds, ammunition depots, detention facilities, accommodations and military bases.
Yemen
1316 children were killed or maimed, with 51% of casualties caused by air strikes. 842 children were recruited by armed groups. There were 20 attacks on schools, with 19 of those attributed to the coalition. The UN verified eight incidents of the military use of schools. The Houthis were responsible for five, the Yemeni Armed Forces for one and the Popular Resistance for two.
---
More news
Theirworld initiative helps to deliver $30m of computers to Ukrainian children
Theirworld initiative helps to deliver $30m of computers to Ukrainian children
Theirworld's mission to give children in crises a safe place to learn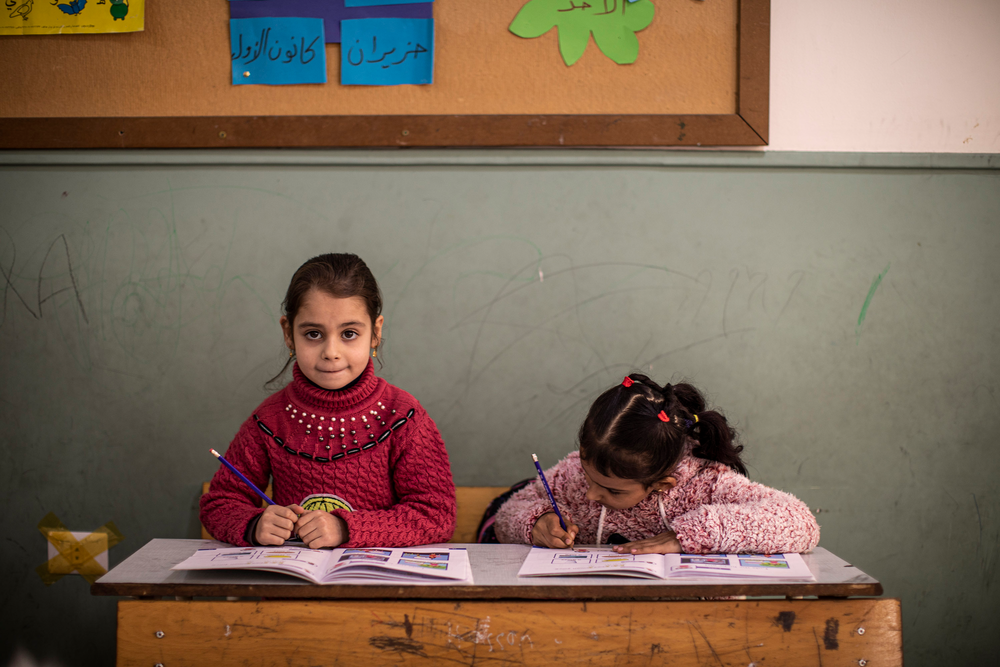 Theirworld's mission to give children in crises a safe place to learn