Free schooling, budget doubled and better teaching in Sierra Leone's education revolution
Girls' education, Right to education, Teachers and learning
Many more families will be able to send their children to school after major reforms of the education system were announced by the country's new president. 
---
A huge overhaul of Sierra Leone's education system is underway. Broken by the decade-long civil war and then battered by the effects of the 2014 Ebola outbreak, it has been slowly recovering.
Now a raft of reforms have been brought in by new President Julius Maada Bio. A promise of free primary and secondary schooling for all was part of the campaign that helped him sweep to victory last month. Now he has announced that will start in September. 
He also revealed that education's share of the annual spending budget will be almost doubled from 11% to 20%.
There was thunderous applause when Bio outlined his plans at the state opening of parliament – and the proposed improvements to education have been widely welcomed across Sierra Leone.
"The amount of excitement and relief families have expressed is beyond imagination. Education is one of the biggest problems that our country is facing," said Bamine Charlie Boye, a Global Youth Ambassador for Theirworld from Sierra Leone.
"This announcement was widely received by all – regardless of political party affiliation – because many parents who can't afford to pay their children's tuition fees will now have the opportunity to send their children to school."
Bio's announcement is in line with the Sustainable Development Goals target of every country providing free, quality education for every child by 2030. The increase on education spending to 20% is also what the Education Commission says developing countries should be aiming for.
As well as free schooling and increased budgets, the president said there is a need for more qualified teachers in Sierra Leone, where only 42% of primary teachers are qualified.
He announced a Presidential Initiative for Teachers, saying: "None of us would have been here today without our greatest asset, teachers. Yet, they have been least recognised and least rewarded. This is demotivating. 
"Let me simply state that, without qualified teachers, our free education programme will not be fully implemented."
The parliament speech was welcome by Bamine, one of Theirworld's network of 900 Global Youth Ambassadors in 90 countries and a former Speaker of the Sierra Leone Children's Parliament. He is passionate about education, particularly getting girls into school.
He said: "There was a lot of fear that the free primary and secondary school education policies would not come into effect until 2021. 
"But our campaigns and pressure via social media paid off and the president has shown that he is man of his word despite all the financial challenges the country is facing.
Many children drop out of school just now because their parents can't afford to pay their tuition. Bamine Charlie Boye, Global Youth Ambassador from Sierra Leone
"Free education will help to reduce the financial burden on families and serve as a form of motivation to send their children to school. We will start to see an increase in enrolment – especially for girls – and also success in retention.
"Many children drop out of school just now because their parents can't afford to pay their tuition."
Here is a more detailed look at some of the school education actions announced by President Bio.
Free schooling
From September, education will be free for everyone from primary to senior secondary level.
Education budget
Education will now get a minimum of 20% of the national budget – and the president said he aims to sustain that.
School system
The country's education system had changed from three years at senior secondary to four years. That will now revert to three years. The timescale for this is to be decided.
Teacher training
Only 55% of teachers at preschool level, 42% at primary, 35% at junior secondary and 49% at senior secondary are qualified to teach. The government will increase the number of qualified teachers and ensure they are fairly distributed across the country. Teacher training campuses will be established in every region and there will be free tuition for teacher education.
Motivating teachers
A special incentive scheme will be launched for science and French teachers, as well as those in remote areas and special needs institutions. An awards scheme will recognise the most innovative and dedicated teachers at national and district levels. Every school teacher with 10 years or more experience will get free university education for three of their children.
New classrooms
New classroom blocks will be built in urban areas to reduce congestion in schools and the two-shift system will be eliminated in the next few years.
School meals
To keep children in school and help them concentrate on their learning, Sierra Leone will work with the World Food Programme and other agencies to expand feeding programmes in all public primary schools.
Transport
A school bus system will be reintroduced in large urban towns at "less than the prevailing market price".
Various measures for tackling higher education, adult literacy and vocational training were also announced – as well as a student loans scheme and plans for a polytechnic in every district. 
Days after President Bio's speech, it was revealed that a West African court is to examine a ban on pregnant girls going to school in Sierra Leone. 
It was introduced in 2015 after a rise in rape, abuse and poverty during the Ebola outbreak that killed 4000 people in the country fuelled a spike in teenage pregnancies.
The law increased the stigma surrounding pregnant girls and set thousands back in their studies, said women's rights group Equality Now, which filed the case with partner organisations.
The Economic Community of West African States court in the Nigerian capital Abuja said it would give Sierra Leone 30 days to respond.
---
More news
Skills for the future give young people the best chance of success
Skills for the future give young people the best chance of success
Take the test and discover how our Schools Hub helps students grasp the global education crisis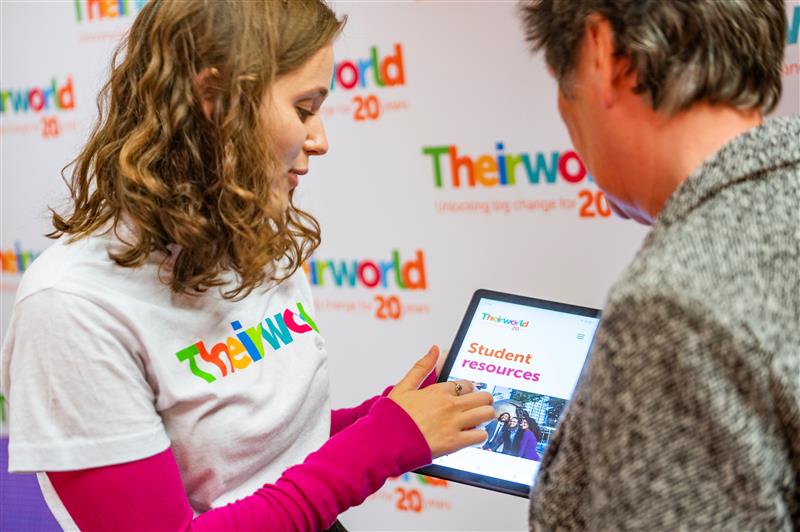 Take the test and discover how our Schools Hub helps students grasp the global education crisis