Preschool children take part in language development trial in Singapore
Early childhood development, Teachers and learning
The method, which aims to help marginalised children catch up, could be rolled out across the country.
---
Young children from low-income families in Singapore are to be given access to a new $1.6 million teaching programme.
The initiative will help the youngest and most vulnerable children in the country, as it's being made available to newborns until they turn three.
The three-year pilot focuses on the use of language through intentional and meaningful interactions with adults. It's hoped the method will allow marginalised children to catch up with their peers.
After years of research, global governments are beginning to wake up to how important it is to invest in young children.
A child's brain is 90% developed by the time they reach five years of age – so a young child needs the proper care, nutrition, stimulation to support their rapidly developing brain.
Around 250 million children under five are prevented from reaching their full potential because they live in poverty, have poor nutrition and health services, or just lack good care.
That's why Theirworld's #5for5 campaign has been urging world leaders to invest in early childhood development. It's essential for every child – but it's also rewarding in the long run for their communities and their countries' economies.
The pilot is called the Temasek Foundation Cares-ABCD (Abecedarian-Based Child Development) Kids Programme. Abecedarian Approach (AA) is fundamentally a learning method that emphasises language development and quality one-to-one adult-child interactions to stimulate child development and growth.
Developed by American Professor Joseph Sparling and Professor Craig Ramey, the Abecedarian Approach is being used in many countries including the United States, Denmark and China.
Professor Sparling said: "We wanted to equalise the playing field and that is the reason we focused on them [children from low-income families] originally. We designed a programme that works especially well for them – but fortunately it also works for all children." 
Singapore's Early Child Development Agency (ECDA) will work with preschool operators to train 60 teachers and identify about 100 children across various preschools who are participating in a pilot. The programme will be rolled out to more schools if that goes well.
Associate professor Muhammad Faishal Ibrahim, the Senior Parliamentary Secretary for Social and Family Development, said the programme supports the government's efforts to invest in affordable preschool education.
He said: "AA provides preschool teachers additional evidence-based tools to enhance their classroom practices and further support the development of children from lower-income backgrounds."
The Chairman of Temasek Foundation Cares, Richard Magnus, said: "Children have a natural curiosity to explore, discover and learn. Through intentional and meaningful interactions with adults, this programme will help children to expand their cognitive, language and emotional abilities. 
"Their parents will learn to reinforce the lessons and learning. This is a critical developmental pilot which we hope will be scaled up."
The Temasek Foundation Cares has committed $1.6 million to fund the programme over the next three years.
Another ECD success story comes from Hassan, Karnataka, in India. There 71 low-cost preschools – known as Makkala Mane – are now running within government schools, with the help of parents.
According to The Hindu newspaper: "At a time when the government finds it difficult to run schools that have just a few students and often decides to close them or merge them with the nearest school, people of Hassan district have joined hands with the education department to open preschools in 71 government schools."
A total of 1765 students are now part of the programmes. In the first year, the department provided 10,000 rupees (about $142) to each school – but it wasn't enough. 
The schools then began collecting a nominal fee from parents and accepted donations to purchase furniture.
More students enrolled because English is taught plus the fee – which is between 100 rupees (around $1.43) and 250 rupees ($3.56) a month – is low compared with private schools. 
Baladeva Murthy, headmaster of Government Higher Primary School at Hassan, said: "When we started the preschool, there was only one teacher. 
"Now the student strength has increased and we have appointed one more teacher, besides a help. We pay the teachers' salary from the fee collected from parents." 
Theirworld's #5for5 campaign and our work on early childhood development is supported by the Conrad N. Hilton Foundation.
---
More news
Take the test and discover how our Schools Hub helps students grasp the global education crisis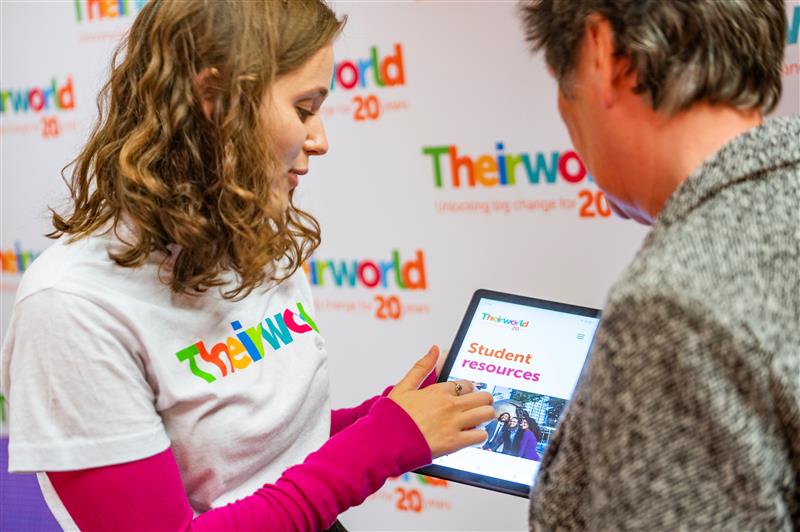 Take the test and discover how our Schools Hub helps students grasp the global education crisis
MyBestStart programme gives young girls the education they deserve
MyBestStart programme gives young girls the education they deserve