Thousands of schools destroyed, damaged or disrupted by South Asia's deadly floods
Children's welfare after natural disasters, Education Cannot Wait, Education in emergencies, Refugees and internally displaced people
Efforts are being made to return children to education and safe spaces as quickly as possible in India, Bangladesh and Nepal.
---
At first it was all about rescue and recovery. Then food, water, shelter and the security of children.
Now thoughts are quickly turning to education after the devastating floods across South Asia that have affected more than 40 million people.
Over 1000 have died since August 10 when heavy monsoon rainfall began – on top of 350 killed in floods last month. 
Thousands of schools in India, Bangladesh and Nepal have been destroyed or damaged and many others are being used as shelters for displaced families.
Humanitarian emergencies can disrupt a child's education for months or even years. They mean children miss out on vital learning and are deprived of a safe place to be when they are in very traumatic situations.
Red Cross Under Secretary-General Jagan Chapagain said: "Almost one third of Nepal has been flooded. One third of Bangladesh is flooded. This is the worst flooding that parts of South Asia have seen in decades."
In India, more than 7000 schools have been damaged or destroyed by the floods, said Save the Children – raising fears that children could have their education disrupted for a long time.
"The floods are having a huge impact on education, causing untold damage to thousands of schools, destroying books and other learning material," said Thomas Chandy, CEO of Save the Children in India.
"It's so important that we can get schools up and running and reopened as quickly as possible because school is the absolute best place for children to be right now."
The charity is running special playgroups for children to help them recover from the trauma.
In Assam state, Plan International is distributing educational material and providing child protection support for thousands of affected families. 
"The response team is setting up child-friendly spaces to ensure that children have a safe space to not only play and heal, but to also regain a sense of normalcy in their lives," said Plan.
Of the 51,898 schools in Assam, almost 23,000 have been affected by floods this year, say education officials. Some schools are closed for three months every year because of rising river levels.
In Bangladesh, authorities said 2166 primary schools have been damaged by the floods. They also said classes have been suspended at 855 secondary schools and another 393 educational institutions, including colleges, are being used as flood shelters.
Some schools have been completely destroyed while others have suffered various degrees of damage, said officials at the primary and secondary education departments.
Mother-of-two Beauty Beowa, 25, told the International Red Cross her home had been badly damaged and her livestock killed by the floods.
She said: "I don't know how I will feed my children in the coming days when the food runs out. My son can't go to school in this situation. I don't know how long we will have to live like this."
Water levels are slowly returning to normal in the main Brahmaputra and Ganges rivers.
Mark Pierce, Save the Children's Country Director in Bangladesh, said: "Once the flood waters recede we know that longer-term support will be critical to help communities fully recover.
"That includes getting schools reopened so children can get back to the safety and routine of the classroom."
In Nepal, the worst flooding in 15 years left many schools closed and others turned into shelters.
The United Nations agency OCHA (Office for the Coordination of Humanitarian Affairs) said 383 Nepalese schools are being used as shelters.
"A large portion of schools are being used as evacuation centres, meaning children may be left on their own and without a safe place to go," said Shreeram KC of Plan International Nepal.
The earthquakes two years ago left almost one million children out of school in Nepal and destroyed or damaged more than 8500 schools and 14,000 early childhood centres.
---
More news
Theirworld's mission to give children in crises a safe place to learn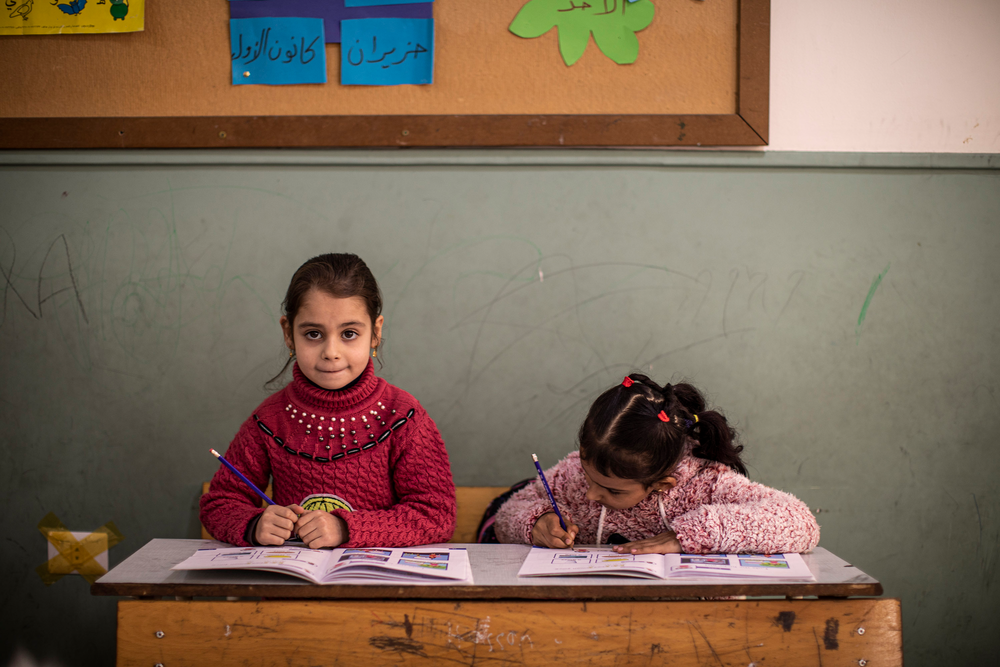 Theirworld's mission to give children in crises a safe place to learn
World Refugee Day: ACE project helps children to integrate and learn in Greece
World Refugee Day: ACE project helps children to integrate and learn in Greece