Dangerous animals, diseases and a four-hour daily walk won't stop Martha going to school
Children in conflicts, Education in emergencies, Right to education
---
The South Sudanese teenager is determined to get an education in a country where 72% of children are out of school.
---
Martha's fear grows each morning as her toes touch the cold and muddy water of the swamp in a remote part of South Sudan.
Yet she steps confidently into the chest-deep marsh, her clothes drenched and her feet sinking into the slippery mud as she holds her schoolbag above her head to keep it dry.
"I know there could be crocodiles, pythons and Guinea worm in here and I'm scared every day," said 18-year-old, who is one of thousands who have found safety in Ganyiel, a rebel-held town in the centre of the war-torn country.
"Some of the children in my village have died in the swamps," she told the Thomson Reuters Foundation, sitting on a plastic chair outside her classroom in a spare dry dress that she carried with her.
Martha has made up her mind that receiving an education is her priority – even though the journey takes four hours a day, a quarter of which is spent wading through the treacherous swamp.
With 72% of children out of school, South Sudan ranks worst in education among all African nations, according to the United Nations children's agency UNICEF.
One of the most common reasons for non-attendance is the long distance students have to walk to school, it says.
The world's youngest nation gained independence in 2011. But civil war erupted in late 2013 between soldiers of President Salva Kiir, an ethnic Dinka, and his former vice president Riek Machar, a Nuer.
Tens of thousands have been killed and one-third of the country's 12 million population have fled their homes, creating Africa's largest refugee crisis.
School enrolment, which was 42% at the start of the war, has plummeted. Only 700,000 school-aged children out of a total of 2.5 million attend classes, UNICEF says.
"With so many children out of school and with a large portion of those currently enrolled unlikely to go beyond primary school, the country will face a serious shortage of qualified people," its education expert, Vinobajee Gautam, said.
Martha only returned to school last month. She and her siblings had been living in one of the UN's tightly-packed camps for displaced people in the capital, Juba.
"My mother took me and my seven siblings to Juba many years ago, because she wanted us to have access to education," the teenager explained in perfect English.
"When the war broke out, soldiers abducted and killed her. I had to take care of my brothers and sisters and wasn't able to go to school anymore."
Caring for education
Dubai Cares is to fund education for 15,000 South Sudanese refugee children in Uganda. The programme will include building new school blocks, providing better school materials and telling the community about the need for education.
Uganda hosts over one million of the three million refugees who have left their homes in the South Sudan humanitarian crisis.
Martha decided to journey northwards for several days by boat to opposition-held Ganyiel in Southern Liech State, so that her father and other relatives who still lived there could help care for her siblings, freeing up her time to study.
"I heard that a new school was built in Ganyiel, so I decided that going back home would help our family receive a better education," she said.
Wild animals and waterborne diseases are not the only risks students face on their exhausting journeys to school.
"Children from rural areas outside Ganyiel have to live with the fear of being caught in the crossfire of inter-clan fights, revenge killings or even cattle raids," said Raphael Ndiku of Welthungerhilfe, the German charity that built Martha's school.
With the construction of a new building last year, about 500 new students arrived from remote villages, boosting enrolment by more than half to almost 1500 children, he said.
News of the latest school openings spreads fast. At least one in three schools has been attacked by armed forces since the start of the conflict, according to UNICEF. Many are closed, destroyed or occupied by soldiers or displaced people.
"We have nine classrooms and 37 teachers and use the buildings for primary school students in the mornings and secondary education in the afternoons," said Ganyiel Mixed School's headmaster, William Puol.
South Sudanese families often make huge personal sacrifices so that their children can learn.
I am sometimes scared of being abducted on my way to school. Schoolgirl Martha
"My father made me move to my aunt's house because he wanted me to get an education," said 14-year-old James Koang, whose family home was four hours from the nearest school.
"I now walk for less than an hour but I'm always afraid that wild animals might attack me because I walk alone," said Koang, the only one of six siblings in education. He has set his mind on attending university.
"If all children could go to school, there would be less fighting in my country," he said, pointing out that many deadly cattle raids are carried out by youths who did not have the chance to get an education.
Being in school gives children some protection from being recruited as child soldiers or forced into other dangerous means of survival, such as selling sex.
"I am sometimes scared of being abducted on my way to school," Martha said quietly.
"But I want South Sudan to be a strong and peaceful country. Children need to be educated because we are the future. That's what I think about when I walk to school and it helps me overcome my fear." 
---
More news
Theirworld initiative helps to deliver $30m of computers to Ukrainian children
Theirworld initiative helps to deliver $30m of computers to Ukrainian children
Theirworld's mission to give children in crises a safe place to learn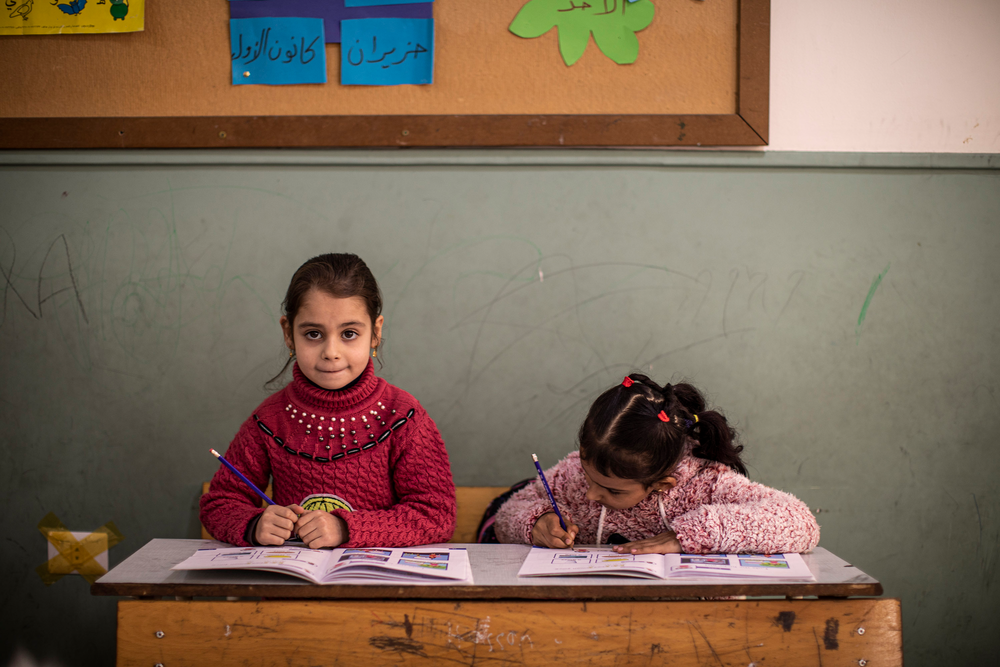 Theirworld's mission to give children in crises a safe place to learn