"Leaders must understand the disaster facing an entire generation of children and youth who have lost their education"
Refugees and internally displaced people, Spotlight On ..., Theirworld
---
To mark World Refugee Week, we talk to a Syrian who is among a group of students in Lebanon studying for an MBA in a Theirworld initiative.
---
Theirworld is helping a group of Syrian and Palestinian refugees, together with Lebanese nationals, to realise their dreams of becoming innovators and entrepreneurs.
In a joint initiative with Edinburgh Business School, 20 students living in Lebanon are taking part in a two-year post-graduate Master of Business Administration programme.
One of them is Syrian refugee Khaled Khalaf Hammoud. To mark World Refugee Week, he spoke to us about his background, his ambitions and his MBA studies experience so far for the latest in our Spotlight On … series, which features inspiring people from the world of education.
The fully-funded MBA programme has been made possible thanks to the support of the players of People's Postcode Lottery UK and Omniwomen, part of the the global marketing and communications agency Omnicom. Edinburgh Business School is based at the Scottish city's Heriot-Watt University.
Tell us about yourself
I am from Syria. More than three years after completing my studies, I escaped from the war and arrived at Lebanon in 2014.
What was your education experience before joining the MBA programme?  
At Aleppo University, I studied management and accounting for small and intermediate projects as an undergraduate. In Lebanon I studied again from the start and got a degree in business management in 2019 from Lebanese International University.
What are the barriers to pursuing higher education in Lebanon?  
The most important obstacles that refugees face in their studies in Lebanon are difficulty obtaining residency permits, in addition to the bad economic situation – especially for Syrian refugees, who find it difficult to complete their university studies through their own income, if they have an income.
How did you find out about Theirworld's MBA scholarship programme? 
Through an invitation I received on the e-mail of the organisation where I work. The administration shared it with those interested in completing their higher studies. And also through a link that was shared on the WhatsApp group of some friends. 
Why did you want to study for an MBA? 
To complement the ambition I have had since the beginning of my university studies in Syria. It will necessary for us to seek to obtain skills and academic education to work on the advancement of the country again, when the situation changes after the war. 
Also I want to improve my professional life and be able to create my own business when the opportunity arises. 
What has been your favourite part of the course so far? 
The comprehensiveness of the materials and how to use them in practical situations. There is also flexibility in dealing with those in charge of the programme. 
What do you hope to do after graduating? 
In the short term, work on developing my own project. And obtaining a doctorate in the same specialty. 
What has been the most important lesson you have learned outside of a classroom? 
Work life is very different from academic study. Through my work for about 10 years and studying in several universities, I note that the academic study looks at issues and theories from a rigid perspective. 
As for practical life, there is more than one way to deal with situations  and it is not easy to treat them in the same way that can be established through theories. I think the mean reason for success is passion. 
How has a difficult year in Lebanon – with the financial crisis and political crises and Covid-19 – affected you and your studies? 
2020 was one of the most difficult years. The quarantine had a negative moral effect, apart from the critical economic situation in Lebanon. Throughout the year, I was trying to ignore the bad situation in Lebanon to try to focus more on studying but the quarantine had an impact on work and studying.
The work was going on a long time because of being at home all day, which caused more pressure. 
Has your experience of being a refugee changed your thoughts on education and its importance? 
Continuing education and excellence has a great impact in relieving the pressures of social life in the country of asylum. It also provides an opportunity for professional development and to expand concepts and capabilities. 
If you were making the case for education to a room full of world leaders, what would you say? 
First of all, it is necessary to read the reality of education in the countries of asylum and to understand the extent of the disaster facing an entire generation of children and youth who have lost their education. 
They must take the issue of educating them seriously and provide what is necessary for the continuation of their education. Because knowledge is the only saviour from ignorance and extremism.
From another point of view, they must pressure host countries to facilitate the education process for refugees and find mechanisms to follow up on dropouts from education. They need the facilities and scholarships to complete education. 
---
More news
Take the test and discover how our Schools Hub helps students grasp the global education crisis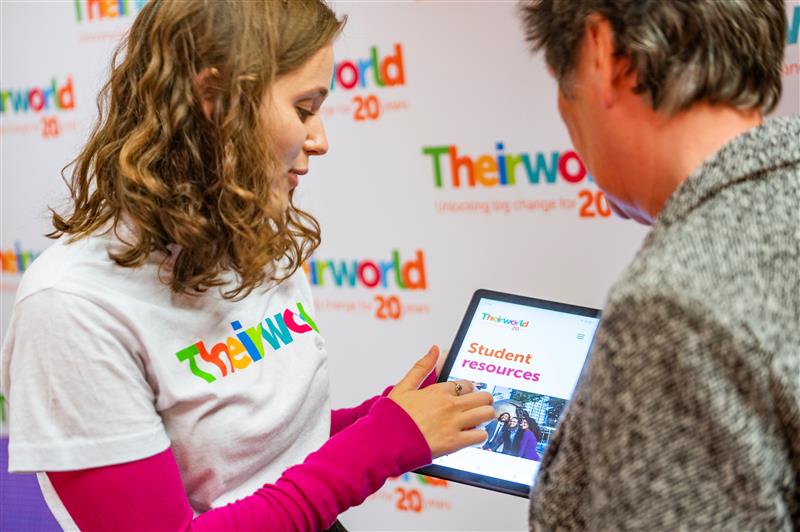 Take the test and discover how our Schools Hub helps students grasp the global education crisis
#LetMeLearn: the story of a global education campaign
#LetMeLearn: the story of a global education campaign