Stateless schoolboy who captured hearts of the world during dramatic Thai cave rescue
Barriers to education, Refugees and internally displaced people, Right to education
---
Adul Sam-on, who speaks four languages and was called "a gem" by the head of his school, left his home in Myanmar to get a better education.
---
Adul Sam-on is one of the 12 most famous boys in the world right now – after the world watched their dramatic rescue unfold from deep inside a flooded cave in Thailand.
Because he speaks English, he was able to communicate with British divers who discovered the football team days after they went missing more than two weeks ago. The last four boys and their coach were brought out safely today by divers who accompanied them throughout the dangerous journey.
But Adul is also one of millions of stateless children. They aren't legally recognised as a citizen of any country and are often denied education, health services and freedom of movement.
Adul is among more than 400,000 people who are registered as stateless in Thailand, according to the UN refugee agency UNHCR, although some estimates put their numbers at 3.5 million. 
Many of the boys from the Wild Boars team who were trapped in the cave in the Doi Nang Non mountain range come from poor, stateless families.
Adul, 14, has captured hearts worldwide with his politeness and fluency in English – one of the four languages he speaks.
"I'm Adul, I'm in good health," he said in Thai in a video that emerged hours after the group was discovered.
He was born in Myanmar's self-governing Wa State and left his family to get a better education in northern Thailand. He was taken in by a Christian church, where his parents visit him, and has been at school since he was seven.
Wa State is not recognised internationally or by Myanmar and is not allowed to legally issue passports.
"The first thing that comes to mind when I talk about him is his nice manner. He gives a 'wai' gesture [a slight bow with hands clasped] to every teacher he walks past, every time," his instructor Phannee Tiyaprom at Ban Pa Moead School told AFP news agency.
"Whilst some progress has been made, stateless people in Thailand continue to face challenges accessing their basic rights," UNHCR spokeswoman Hannah Macdonald told AFP. 
Amazing moment when the boys were found
With no birth certificate, no ID card and no passport, Adul cannot legally marry, get a job or bank account, travel, own property or vote. Thailand has vowed to register all stateless people by 2024, but until then people like him remain stuck in legal limbo. 
More than 75% of the world's stateless people belong to minority groups, according to UNHCR, which last year called on governments to end the discriminatory practice by 2024.
But Adul refuses to let his status hold him back. As well as being a passionate footballer who plays the piano and guitar, he is an accomplished student 
"He's a gem," school director Phunawhit Thepsurin told AFP. "He's good at both studying and sports… he's brought our school several medals and certificates from his achievements."
Six of the 12 rescued boys are students at Mae Sai Prasitsart school, where the director said they would receive counselling sessions – and be exempt from exams next week.
When they were first found in the dark cave, the boys wrote letters to their parents. 
But even in the midst of their terrifying ordeal, they were still thinking of school. They wrote: "Teachers, please don't give too much homework." 
---
More news
Theirworld's mission to give children in crises a safe place to learn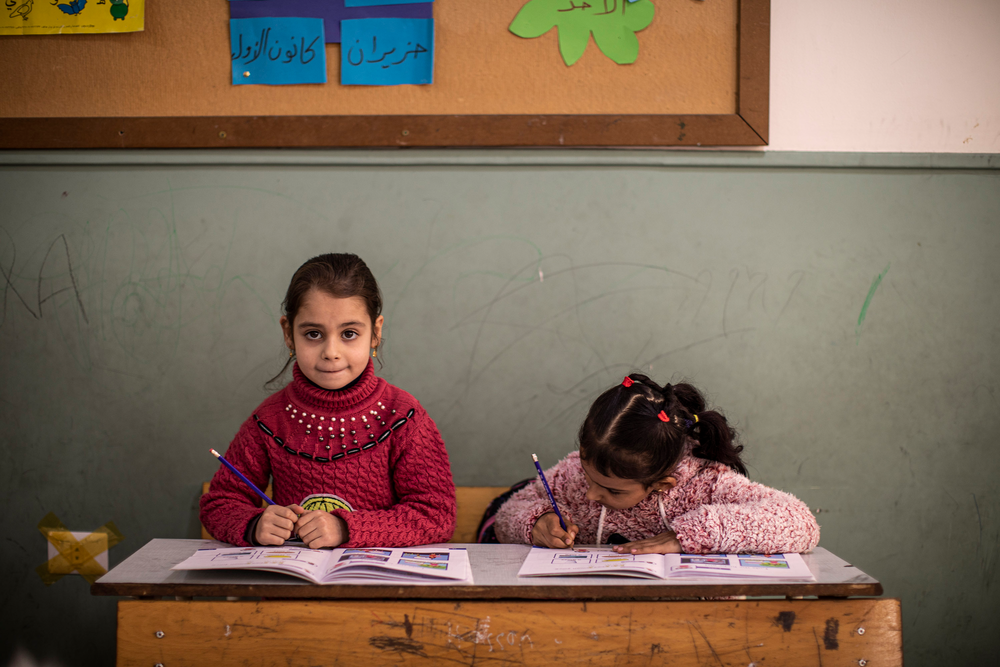 Theirworld's mission to give children in crises a safe place to learn
World Refugee Day: ACE project helps children to integrate and learn in Greece
World Refugee Day: ACE project helps children to integrate and learn in Greece