Ugi the owl tells vulnerable children not to be scared during lockdown
Coronavirus and education, Refugees and internally displaced people, Theirworld
---
A Theirworld-funded project has produced a moving film for children in Turkey, including Syrian refugees, to help them cope with stress caused by the pandemic.
---
Every child loves to hear stories. So what better way to tackle some of the stresses and fears many are facing during lockdown and school closures?
A Theirworld-funded project has produced a storytelling video to support vulnerable children in Turkey, including Syrian refugees, who are forced to stay at home by the pandemic.
The film was made by Maya Vakfı, which provides psychosocial support services to children and young people from five to 24 who have been exposed to trauma by conflict and displacement. There are versions of the video in Turkish, Arabic and English.
It features the heartwarming tale of a boy named Tohara who is having a hard time under lockdown. In a dream, he talks to a wise owl called Ugi. They discuss Tohara's feelings and challenges – and Ugi suggests ways to deal with his emotions. 
Tohar also tells the owl he is scared. He adds: "The world used to be a beautiful place. We used to play outside, meet with our friends and loved ones and go to school. Now it's not the same as before, they say it's dangerous outside. What if it never gets better again?"
Ugi says: "Everything has a beginning and an end. A storm begins and darkness sinks inside of us. Then a rainbow appears and we light up from inside out when we see the colours."
Bediz Büke İren Yıldızca, Programme Coordinator at Maya Vakfı, said: "As in the story, there are several different emotions that the pandemic unfolds in children – such as anxiety, fear, loneliness, hopelessness, boredom and sleep problems.
"Even though this story was created to process the effects of the pandemic on children, it can be considered timeless, as trauma is a phenomenon that permeates all areas of modern life. 
Watch the video in English here.
"We hope that children and adolescents can build psychological resilience, cope with uncertainty and adjust to new situations by using their internal and external resources in the face of any experience that may be a source of a trauma."
The video is just one of nine education projects Theirworld has launched during the Covid-19 pandemic, helping more than 100,000 children around the world.
An earlier part of the Maya Vakfı project supported by Theirworld involved specially-designed support kits with art materials being distributed by the organisation's Trauma Informed Schools (TIS) Team to 1,000 primary school students – more than 400 of them Syrian refugees – in Şanlıurfa and İstanbul. 
The children, mainly in third and fourth grades, used the kits to help regulate their emotions and stress while they were learning at home.
Theirworld's projects with Maya Vakfı are made possible by players of the People's Postcode Lottery. 
---
More news
Take the test and discover how our Schools Hub helps students grasp the global education crisis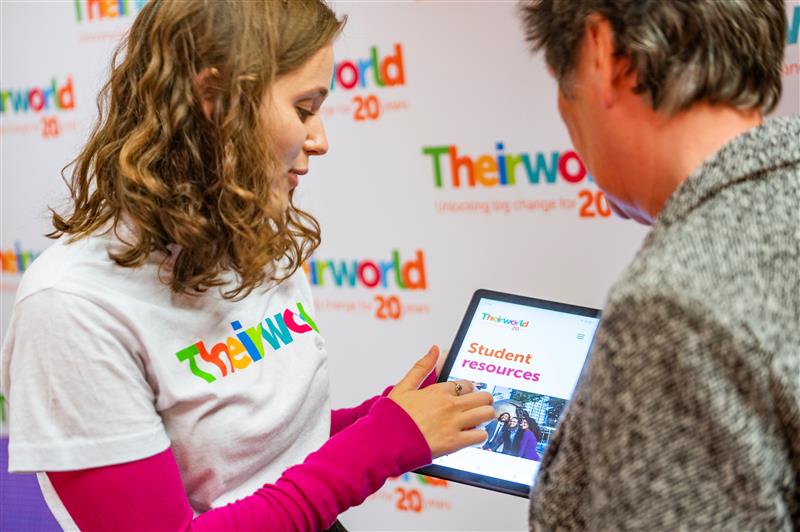 Take the test and discover how our Schools Hub helps students grasp the global education crisis
#LetMeLearn: the story of a global education campaign
#LetMeLearn: the story of a global education campaign