Syria's Young Talent: the girl who writes poems to feel better
Children in conflicts, Education in emergencies
Khawla Hassan Ghaysaniya loves to read and write poetry Pictures: Tabitha Ross
Without education, the potential of hundreds of thousands of talented young Syrian children risks being lost. That's why we're calling on the international community to ensure one million refugee children secure an education this year in Lebanon, Jordan and Turkey.
A World at School launched the Hope for Syria's Young Talent petition ahead of a crucial international Syria pledging conference in London on February 4. World leaders will meet to secure the $750 million needed to fund all the school places for refugee children.
Hope for Syria's Young Talent shows there is a generation of young people who will not be able to fulfil their potential if they denied an education.
The talented children found for this campaign were discovered by Sonbola, an education initiative working to provide quality education and interactive learning for Syrian refugee children in Lebanon while investing in empowering and developing teaching skills of Syrian professionals. Visit Sonbola's Facebook page.
In this series of articles, Beirut-based writer and photographer Tabitha Ross talks to some of those talented girls and boys about their hopes and dreams. You can read more about Syria's Young Talent here.
Here we meet Khawla Hassan Ghaysaniya, 15.
I was in school here in Lebanon but in a school in a camp doing the Syrian curriculum. But I couldn't take the official exams because you have to go to Syria for them. There's no one to issue the papers or the results from the Syrian system in Lebanon. 
So I couldn't get a certificate to say that I'd completed it, I just have a paper that says I was a candidate.
Now I'm going to a vocational institute and studying accounting. At the start we were told the UN would cover the fees. But now it seems we have to pay it ourselves and maybe later the UN will reimburse us some of the cost. But we can't pay, so I'm just going until they ask for payment and then I will have to drop out. 
The books cost $100 and the course itself is $230. I haven't been able to buy the books yet even though the course has already started.
I'm from Eastern Ghouta. I've been here nearly three years. My older sister was studying engineering in Syria but had to stop.
Spending time with my family makes me happy. I love reading and writing poetry, I've loved it ever since I was little. When I read something that has a ring of truth to it, it gives me a hint or a feeling about how to deal with my own problems.
I love poems, stories, everything. My favourite writer is Al-Mutanabbi – he's an old Arabic poet from over 1000 years ago. His poems are so beautiful. 
We used to have his collected works at home in Syria. I used to read it and it inspired me to start writing my own poetry and then I found I was good at it.
I write about everything I have experienced – war, suffering, pain. It's a way to express myself. When I'm feeling bad I write and whenever I write I feel better.
When I was in Syria, before the war, my dad was here working. He used to bring us books – that's when I developed my love of poetry and reading. 
But now we don't have any books so I borrow them from the chartity Sonbola. I read about two books a week. Before I went back to school, when I had more time, I read even more.
I'm taking part in a reading competition. There are different categories for children of all ages up to 18. You have a list of books you have to read and you have to summarise them afterwards. You have to read 50 over the course of the school year. 
The competition started in September but we didn't find out about it until November so I have to make up time. It ends in May. I've read three books already and summarised them and now I have started two more.
I like reading for two reasons – to think about the world around me but also to escape from it.
My love of reading and poetry helped me a lot in my studies. If I didn't love reading I might have dropped out of school when it became difficult because I didn't care or it was hard. It helps me in exams, I pushed myself to read and I have a good level, I can read and understand and analyse quickly. And of course it helps me in everything in life.
When we lived in Syria it was a different life, a happier life. In Lebanon we can live but not in the same way we used to. For example, school was free and my brothers and sisters and I all went – we took it for granted. My older sister was at university studying engineering.
I liked my teachers and my friends in Syria. I'd known them all a long time and loved them. Here it took me a while to get used to everything new.
We left Syria on January 27, 2012 at 7 in the morning. I know the date exactly because this is when my life changed. 
The night before our village was targeted and we were bombed. My uncle and my cousin were killed.
My dream when I was younger was to be a doctor. But now because of the situation that's never going to happen. I missed a lot of school and my level isn't what it was. 
This is an extract from one of Khawla's poems, which she has translated herself into English…
Oh God, my God
Preserve those hearts that I love
In short – me, my family,
The fear flying over my head does not shock me as much as that which has
Been robbed from me
Those I loved the most are now closest to you
So much loss has followed this that love has escaped from my heart
And I cannot make new friends
Fear of loss binds me
---
More news
Theirworld initiative helps to deliver $30m of computers to Ukrainian children
Theirworld initiative helps to deliver $30m of computers to Ukrainian children
Theirworld's mission to give children in crises a safe place to learn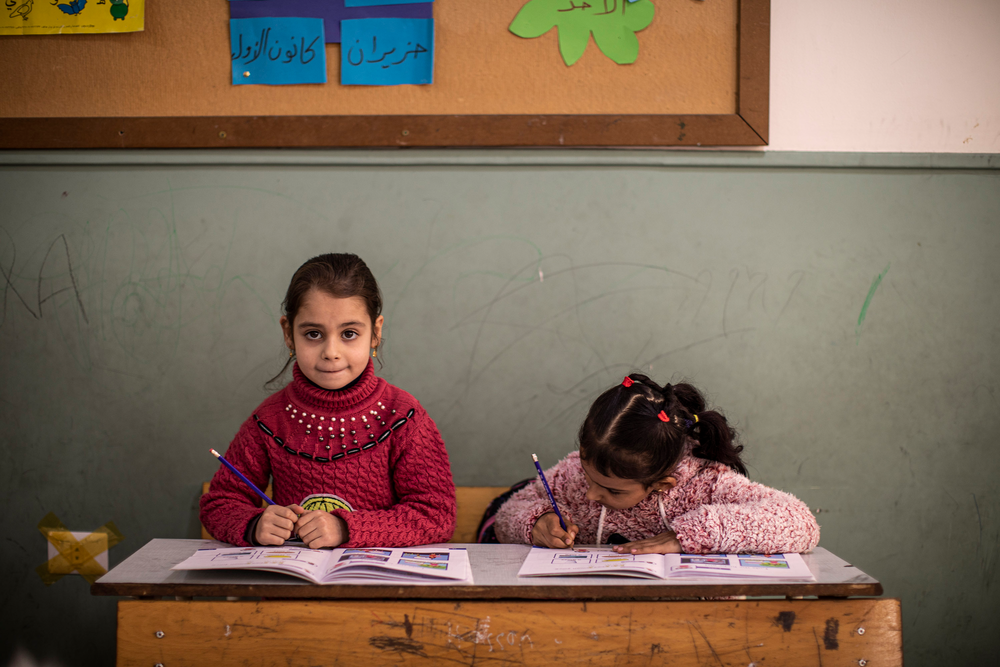 Theirworld's mission to give children in crises a safe place to learn