Violence in Syria's Eastern Ghouta leaves schools shut and sick children stranded
Children in conflicts, Education Cannot Wait, Education in emergencies, Safe schools, Safe Schools Declaration
---
Classrooms have been closed for almost a month now since the area came under heavy bombardment - on top of a four-year siege.
---
Abdurahman Salah has one burning ambition.
"I'd love to become a teacher to educate children at a school that is always open – and they all become teachers and well educated," said the 13-year-old.
Sadly, Abdurahman's school and many other others in Eastern Ghouta are closed – shut down by the continuing and intense violence that has hit the district just a few miles outside the Syrian capital Damascus.
"We live under siege and everything is so expensive. We don't have anything that is affordable," added the seventh-grade student. "We need everything – food, medicine, clothes. Everything."
Eastern Ghouta is home to about 400,000 people who have been almost completely cut off from humanitarian assistance since 2013. Since mid-November, it has been pummelled by more than 200 airstrikes and 1200 artillery shells.
Almost one in three school-age children in the country – an estimated 1.75 million – are currently not in education and a third of schools are damaged or destroyed.
At least five children were killed in October when a shell fired by government forces landed at the gate of the school in the Jisreen area of Eastern Ghouta. 
The attack came two days after schoolchildren fled when a kindergarten in the nearby town of Kfar Batna was bombed.  A video showed them running terrified into surrounding streets.
Theirworld's #SafeSchools campaign is calling for urgent action to protect education in conflicts. 
We're asking the world's most powerful countries to sign the Safe Schools Declaration – a commitment to protect education and stop military use of schools.
"Thousands of children are suffering in silence," Fran Equiza, UNICEF Representative in Syria, said yesterday about the crisis in Eastern Ghouta. 
"The situation is getting worse day by day. The health system is crumbling and schools have now been closed for almost a month. 
"Sick children desperately need medical evacuation and many thousands more are being denied the chance of a normal, peaceful childhood."
The ongoing violence has stranded scores of children in need of medical evacuation.
UNICEF said 137 children, aged from seven months to 17, need to be evacuated immediately for conditions ranging from kidney failure to severe malnutrition and conflict related injuries. Five children have reportedly died because they couldn't access urgent medical care.
The last United Nations inter-agency aid convoy to Nashabieh town in Eastern Ghouta managed to get through on November 29. 
Health workers described seeing one of the worst health and nutrition situations since the conflict began in Syria.
Nearly 12% cent of children under five in Eastern Ghouta suffer from acute malnutrition – the highest rate recorded since the start of the conflict in Syria more than six years ago.
For others like Abdurahman Salah, all they want is to go back to a peaceful way of life.
"I love to play with my friends," he said. "I wish that the road reopens and everything becomes less expensive and we return to living our lives normally."
---
More news
Theirworld initiative helps to deliver $30m of computers to Ukrainian children
Theirworld initiative helps to deliver $30m of computers to Ukrainian children
Theirworld's mission to give children in crises a safe place to learn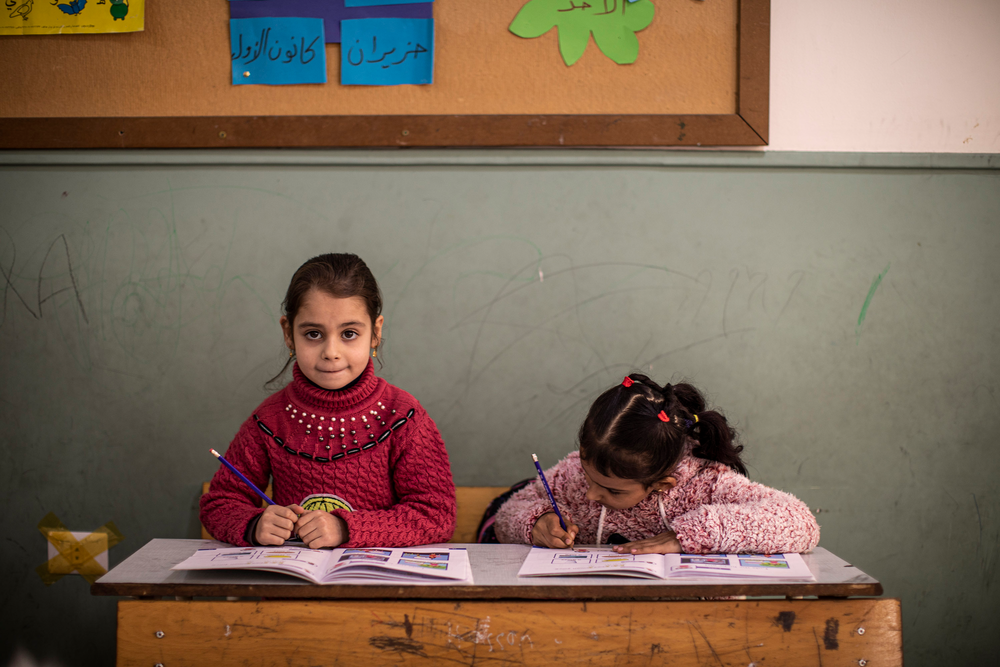 Theirworld's mission to give children in crises a safe place to learn