Syrian children reveal their fears and traumas in heartbreaking drawings
Children in conflicts, Education in emergencies
Ask a child to draw what they fear and you might get angry dogs, spiders or the dark. The sky might be filled with scary lightning.
But when Syrian children were asked the same question, they drew blood, bullets and bodies. The skies in their pictures showed fighter planes and falling bombs.
Drawing is one of the techniques used by aid agency CAFOD to help these traumatised children deal with the horror of what they have witnessed.
The organisation works with partners in Syria, Lebanon, Jordan and Turkey to support tens of thousands of Syrian refugees. The psychosocial support also involves children playing games or making puppets to help them express their feelings.
Alan Thomlinson, CAFOD's Emergency Manager for the Syria Crisis, said: "These pictures show what life is like for a whole generation of Syrian children. The conflict's been going on for longer than the First World War and bombs and guns have become part of daily life.
"It's easy to see why so many families want to build a new life in Europe. What parent wants their child to grow up in constant fear?"
CAFOD is a member of Caritas International – a group of more than 160 Catholic agencies worldwide. Caritas Syria started going to four schools in the Damascus suburb of Jaramana, which has been hit by heavy mortar fire since the conflict began more than four years ago. Caritas staff visits the schools three times a week and asked the students to express their emotions through the drawings.
At least 5.6 million Syrian children are in need of aid inside the country, according to the United Nations, while two million children are out of school. More than one million more are out of school in Lebanon, Turkey and Jordan and world leaders are being urged to back a plan to get them into education.
More than four million Syrians – half of them children – have fled the country since the conflict started. As the war continues, more and more Syrian parents are making the choice to risk the trip to Europe rather than stay.
Mohammed, a 35-year-old father of two who fled from Syria to Turkey, said: "One of the reasons I left home was because my little girl had started to recognise the noises outside. She could tell what machines they were – which ones were a tank, which ones were a machine gun, which ones were a bomb from the sky.
"Children are supposed to know about school and TV. About eating sweets and playing with friends. But instead they learn the sounds of war."
Krist, 13, is a refugee living in Lebanon. His mother said: "Krist still has flashbacks. He's starting to hallucinate. He sees people with long red nails who want to suffocate him. He has phobias. He has a nervous tick.
"He won't let anyone open the door and he's afraid of the dark. While he's sleeping, he leaps around. He is very afraid. He panics. He is too shy to express how he's feeling."
Catherine Cowley, Protection Coordinator for CAFOD, says: "Young children cope with difficult situations very differently from adults. They rarely talk about the way they feel but show their feelings through the way they act. Some are withdrawn and quiet, others are angry and aggressive. Some draw pictures showing what is on their mind.
"Counselling, psychosocial support, child-friendly spaces and catch-up lessons at school can make a huge difference to children, helping them to cope, to have fun and to live with a semblance of normality.
"But a whole generation is at risk. For the sake of these children, the international community needs to redouble its efforts to find a breakthrough that could one day lead to peace."
Sandra Awad from Caritas Syria said: "After seeing these drawings, what can I say about the children in my country? They are perhaps the weakest ones in this war. They are like a sponge that absorbs all the war and stores it inside.
"The killing, destruction, devastation, fear and loss of loved ones dig deep into their innocent hearts. What are those bad things hiding inside them going to be in the future?"
Learn more about CAFOD's response to the Syrian crisis here.
---
More news
Theirworld initiative helps to deliver $30m of computers to Ukrainian children
Theirworld initiative helps to deliver $30m of computers to Ukrainian children
Theirworld's mission to give children in crises a safe place to learn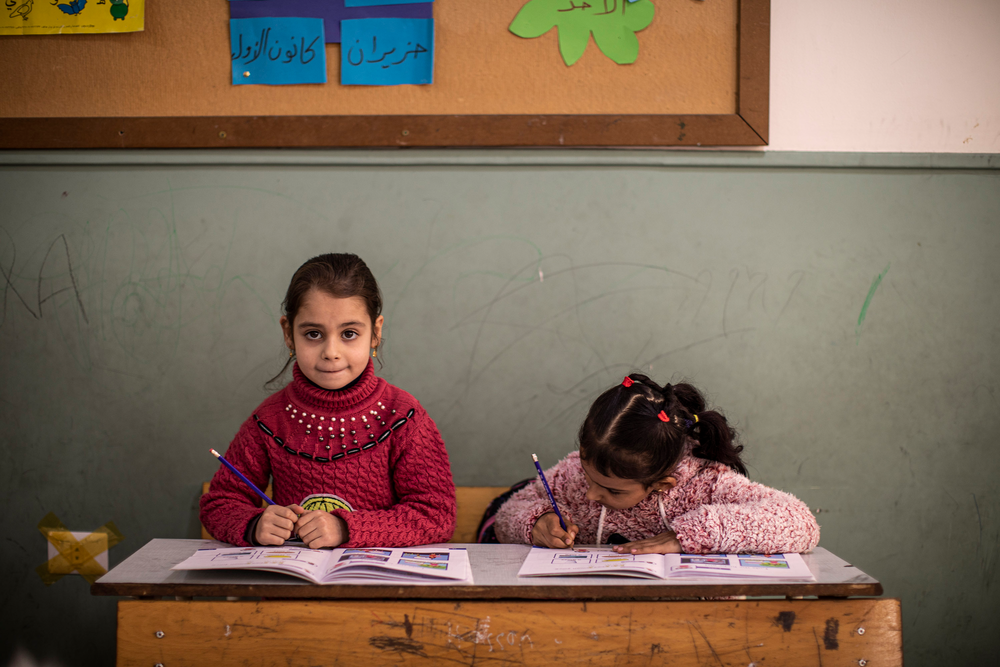 Theirworld's mission to give children in crises a safe place to learn