Syrian school children use film-making to escape from life in Lebanese refugee camp
Children in conflicts, Double-shift schools, Education Cannot Wait, Education in emergencies, Refugees and internally displaced people, Right to education, Technology and education
---
The students who live in a Palestinian camp in Beirut write, direct and act in their own short movies.
---
"Three, two, one, action!" shouts Syrian refugee Mostafa Abdallah, 11, energetically directing his fellow child actors in a musical being filmed in a Palestinian camp in the Lebanese capital Beirut.
Members of the cast spring into action, belting out a chaotic but charming rendition of a traditional Arabic folk song about love and loss, accompanied by tambourines.
The musical is part of the Refugee Film Project, an initiative by international organisation SB OverSeas that is helping Syrian refugee children in Lebanon write, direct and act in their own short movies.
Since Syria's conflict erupted in 2011, its children have often been centre stage in heartbreaking images capturing the brutality of the war or the tragedy of the ensuing refugee crisis.
But the Refugee Film Project aims to turn the camera around, giving young refugees the chance to shape their own stories – including from behind the camera.
Every day for six weeks, around 30 child actors gathered in front of the Bokra Ahla (A Better Tomorrow) NGO, which provides education services in Shatila, a Palestinian camp in Beirut.
Mostafa turns away from the digital camera just long enough to tell AFP: "In the past, I used to film from my cellphone. But here, we learned how to film on camera – we learn a ton and have so much fun."
A year and a half ago, he and his family fled the northern Syrian town of Manbij, held at the time by the Islamic State group, and eventually made their way across the border into Lebanon.
More than one million Syrians – including over 500,000 children – are registered in Lebanon as refugees.
Many live in informal camps on agricultural land, but others settled in urban Palestinian camps like Shatila, whose original population of 10,000 people has swelled with the arrivals of Syrians fleeing the conflict.
We come to school and organise the kids to act, use the camera, and... rehearse their lines. Aphra Evans, British teacher behind the Refugee Film Project
Gangly Mostafa is a natural director, giving firm commands to his peers.
"I hope that when I grow up I can be a real director and journalist, and I can teach children how to use a camera," he says.
The project has already produced several films, including a horror story about three witches and "Betrayal in Beirut," a six-minute tale of love, kidnapping, and greed.
It is the brainchild of British teacher Aphra Evans, 24, and filmmaker Shyam Jones, 25, who work with the children to come up with storyboards and scripts.
"Then we come to school and organise the kids to act, use the camera, and… rehearse their lines," says Jones.
The children have been taught technical skills such as adjusting camera exposure and focus, shooting fake fight scenes and using a green screen.
Once shooting is complete, "we edit the film at home and show it to the kids, then they get to see themselves on screen being little actors," says Jones, who was on his first trip to Lebanon.
The short films will then be incorporated into a broader documentary that Jones says will provide a behind-the-scenes look at "real life in Shatila".
"There's always a Western lens looking at the kids, and we wanted to turn that around and have the kids in control of the photograph and in control of the video to change things a little bit," says organiser Evans.
The children are able to escape the grim reality of camps like Shatila while filming, Evans says, while viewers are impressed by the actors' enthusiasm, creativity and unexplored talent. 
"You're always seeing the kids covered in dust in Aleppo. That's not what these kids are like – that's something that happened to them, but then they have a whole lifetime after that moment," says Evans.
Syrian refugee children in Lebanon
At end of 2016
In school – 200,000
Out of school – 277,000
Thirteen-year-old Hanadi al-Hajj Abdallah is one of those children. Her fingernails painted a firetruck-red, she plucks at her oud – the pear-shaped stringed instrument beloved in the Arab world.
"We're using the oud in our scene today, and this is the first time I've played it on camera. When I play, I feel like a huge star," Hanadi tells AFP.
Hanadi, who is wearing a burgundy headscarf and loose dress over denim trousers, fled her home near Damascus four years ago.
The multi-talented teen even performs Syrian rap songs, including "People did you wrong" by rapper Ismail Tamer.
"This song is about war, shelling, and destruction – it's about Syria," Hanadi says.
She steadily recites the lyrics that she and her brother memorised together: "People did you wrong, they destroyed you. When they saw your beauty, they envied you so much."
---
More news
Theirworld initiative helps to deliver $30m of computers to Ukrainian children
Theirworld initiative helps to deliver $30m of computers to Ukrainian children
Theirworld's mission to give children in crises a safe place to learn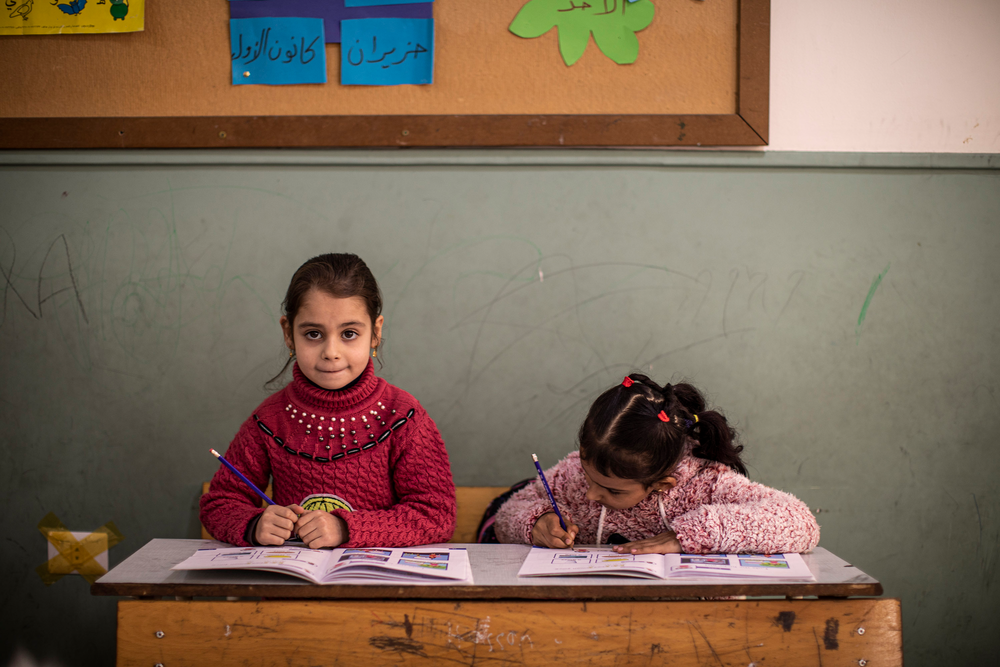 Theirworld's mission to give children in crises a safe place to learn