Syrian refugee children in Turkey making clothes for UK companies says BBC investigation
Child labour, Refugees and internally displaced people
---
The TV report allegedly shows children working for more than 12 hours a day, sewing, stitching and ironing to create fashion for British high street stores.
---
A BBC undercover investigation has exposed what Theirworld and other charities have been warning about – that Syrian refugee children who should be in school and learning are allegedly being exploited and working underage.
The report – broadcast by the TV show Panorama in the United Kingdom today – claims children are working for more than 12 hours a day, sewing, stitching and ironing to create fashion for British high street stores.
The BBC said it had uncovered factories where Syrian refugee children as young as 15 were being employed to make clothes for retailers including Marks & Spencer and ASOS.
Panorama said another factory employed Syrian adult refugees and Turkish children as young as 10. The owner said he had been working for Next and showed reporters a set of Next pyjamas he claimed the factory produced.
Instead of learning how to read and write, some Syrian refugee children are doing backbreaking work, with some being paid less than $1.20 an hour.
Turkey has taken in more Syrian refugee children than any other country. There are currently more than 700,000 Syrian refugee children, of which 400,000 are out of school
Fiona Duggan, Senior Project Manager for Theirworld – the children's charity behind A World at School – said: "The BBC report reinforces what we have been seeing and hearing for many months – there are young children being forced to work in factories instead of going to school and playing with their friends.
"They are being denied a childhood and are in danger of becoming a lost generation of Syrian children.
"To avoid this we we need more international funding for their schooling. Host countries, including Turkey, have an efficient, cost-effective and scalable models to open school places for Syrian children. The only barrier to securing these school places is finance."
An M&S spokesperson said: "We had previously found no evidence of Syrian workers employed in factories that supply us, so we were very disappointed by these findings, which are extremely serious and are unacceptable to M&S."
The company said it was working with the Turkish supplier to offer permanent legal employment to any Syrian daily workers employed in the factory.
ASOS said it was not an approved factory but promised to financially support the workers there.
Next said pyjamas were made by another supplier and those seen by Panorama may have been a sample, according to the UK's Retail Gazette.
In February, key world leaders meeting at the Syria pledging conference in London made a promise to get one million Syrian refugee children in school this academic year.
Progress has been made but there is still a significant lack of funds that has seen 400,000 Syrian children in Turkey still unable to get a school place.
Some young people have been out of school for over five years, including vulnerable teenagers who were just children when they arrived. This is a crucially underserved population.
Children who are out of school are at risk of child labour, child marriage and exploitation.  
Every child deserves to be at school learning with their friends, not hunched over a machine in a backstreet workshop. Schools are not just for learning to read and write, they are a sanctuary, a safe place for children to channel their trauma and feel protected. 
---
More news
Theirworld's mission to give children in crises a safe place to learn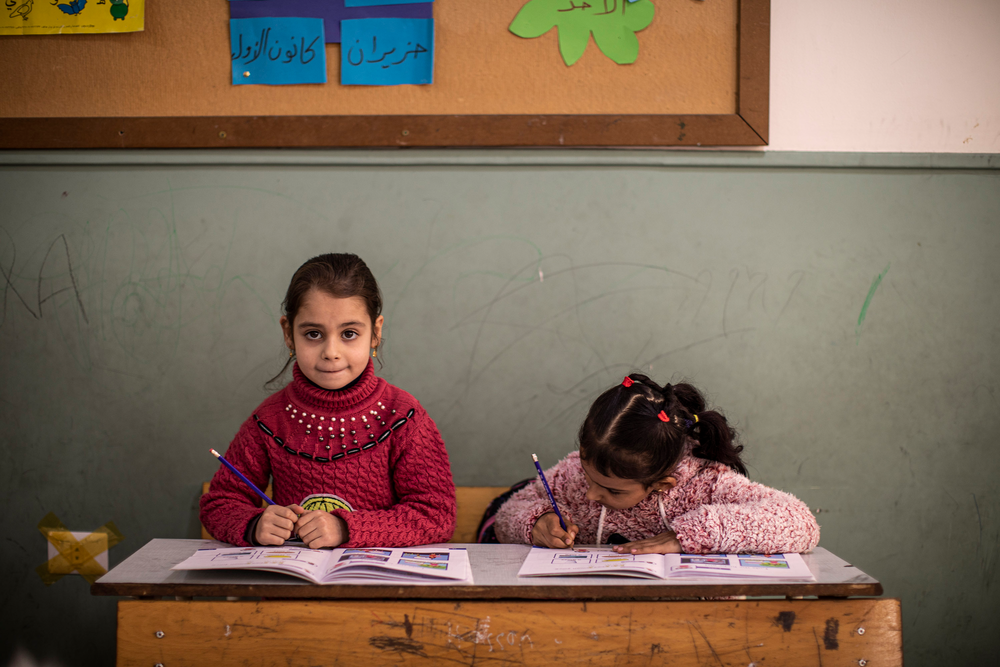 Theirworld's mission to give children in crises a safe place to learn
World Refugee Day: ACE project helps children to integrate and learn in Greece
World Refugee Day: ACE project helps children to integrate and learn in Greece