#YouPromised: international leaders to track their pledge to get all Syrian refugees in school
Children in conflicts, Education funding, Education in emergencies, Refugees and internally displaced people, Right to education, Safe schools, Theirworld
One year after the promise was made, urgent action is needed at a conference in April if the funding gaps are to be filled to deliver education to every Syrian refugee child. 
---
International leaders have committed to track the progress of a historic promise to get every Syrian refugee child into school in Turkey, Lebanon and Jordan.
The co-hosts of the London conference where the pledge was announced one year ago will be at talks on the future of Syria and the region to be held in Brussels in April.
Theirworld has been campaigning for months for them to make good on their promise, which was made on February 4, 2016. 
The United Kingdom, Germany, Norway, Kuwait and the United Nations brought donors together and revealed radical plans that included getting all Syrian refugee children into education in neighbouring countries during the 2016-17 school year.
Commitments from international donors have helped about half of Syrian refugee children into school in Turkey, Lebanon and Jordan. But one year after the promise – and with only a few months until the end of the school year – the others are still being denied an education.
Gordon Brown, the United Nations Special Envoy for Global Education, told a British parliamentary inquiry last week: "We're still one million kids short. We're still $1 billion short. The UK has made good on its promises – it's time other countries make good on theirs."
A statement from the British Embassy in Beirut highlighted the funding delivered so far by the UK for education in Lebanon – and added that the London conference co-hosts "look forward to renewing these commitments at the Brussels conference in April".
Ben Hewitt, Campaigns and Communications Director at Theirworld, warned: "The meeting in Brussels will only work if governments are transparent about their funding commitments to education and work together to urgently fill the funding gap needed to get every child in school.
"The UK, Germany, Norway, Kuwait and the UN brought 60 donors together in London and made a promise to get every child in school. 
"The conference in April is an important step – but must be a meeting of action, as there will be only three months left to deliver on the promises made to a million refugee children who fled the war in Syria and are desperate to go to school."
The UK's Secretary of State for International Development, Priti Patel, was in Lebanon to mark the one-year anniversary of the London conference.
There she announced the UK is keeping to its commitment to invest £160 million over four years in quality education in Lebanon. 
Patel also said: "The UK has delivered on the promises we made last year, reaching hundreds of thousands of Lebanese and refugees. Now it is essential that the international community and host governments alike step up with the funding and reforms needed to complete the ambitious agenda agreed in London." 
In or out of school
At the end of 2016, there were 1.6 million registered Syrian refugees of school age in Turkey, Lebanon and Jordan.
TURKEY: 491,896 in school, 380,000 out of school, 871,896 total (ages 6-18)
LEBANON: 200,000 in school, 277,034 out of school, 477,034 total (ages 3-17)
JORDAN: 170,000 in school, 91,000 out of school, 261,000 total
The UK's Department for International Development is working with partners and providing multi-year funding that allows education ministries to plan ahead and donors to track where the money is going.
But there has been a lack of overall transparency about the promise to get all Syrian refugee children into school this year.  
A Theirworld investigation uncovered the lack of a clear and coherent overview of how the pledge is progressing. We found that less than a third of the $1.4 billion funding needed for education was committed in 2016 and only half of the 1.7 million children are in school.
Individual commitments have been made by Germany, Norway, the United States, the European Union and the World Bank. They have helped thousands of children into school and at lesser risk of child marriage, child labour and exploitation.
But a collective effort is now needed from all donors to ensure the pledge made in London a year ago is kept and all the necessary financing is delivered. 
Transparency, real delivery and long-term commitments are vital – or all that hundreds of thousands of Syrian children will get this year is broken promises.
---
More news
Take the test and discover how our Schools Hub helps students grasp the global education crisis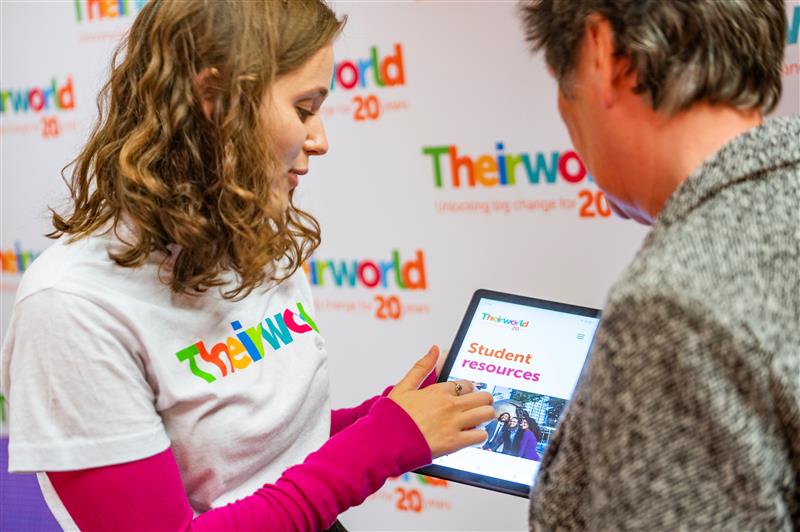 Take the test and discover how our Schools Hub helps students grasp the global education crisis
#LetMeLearn: the story of a global education campaign
#LetMeLearn: the story of a global education campaign