Syrian refugees who use sport to inspire others to succeed
Refugees and internally displaced people, Right to education
---
The amazing journey of Olympic swimmer Yusra Mardini features in a new video - and other young Syrians are excelling at sport in their new countries.
---
If Yusra Mardini is ever struggling with her training, she thinks back to the day she swam for her life.
The 19-year-old Syrian refugee – who represented the Refugee Olympic Team at the 2016 games in Rio de Janeiro – had already survived a bombing in Damascus.
Then in 2015 she was making the perilous journey to Europe with other refugees when their boat engine failed. She jumped into the cold Aegean Sea and – with her sister Sarah and two others – pushed the sinking dinghy, packed with refugees, to the safety of the Greek island of Lesbos.
"I should have been one of the many faceless refugees who died along the way," says Yusra, who is now a Goodwill Ambassador for the United Nations refugee agency UNHCR.
Her amazing story of courage and determination have made her a role model for many young Syrian refugees who have fled the conflict in their home country to make new lives in other countries.
They include 1.7 million children of school age in neighbouring countries Turkey, Lebanon and Jordan – many of whom are still waiting for the chance of education.
Now Yusra's inspiring journey is featured in a new commercial for a sportswear maker. Watch it – and then read about some of the other young Syrian refugees who are using sport to improve their lives.
Najib Alhaj Ali is a 13-year-old who's now living in Greece after being left paralysed from the waist down when he was injured a bombing at his home in Homs.
He and his family braved the sea crossing by rubber dinghy from Turkey to Greece, where they were granted asylum last year.
"It gives me strength and joy," said Najib about his wheelchair athletics training. Now he wants to take part in the Paralympics and inspire other refugees with disabilities.
Odai Al Jburri and his family fled to Lebanon when he was 11. Now aged 16, he had to drop out of school to support the family and works 14-hour shifts at a butcher's.
But his dream is to become a professional footballer. He started playing at the age of five and trained with the title-winning Al-Karamah team in Homs before his life was turned upside down.
Odai says: "Some people think because I am a refugee, I can't do much.I will prove them wrong."
Tasneem Nabhan is originally from Hama in Syria. She played table tennis for her country and in 2013 competed in the Arab Championships in Jordan, winning her age group.
After their home was destroyed, she and her family fled to Turkey in 2014. They originally were hosted in a refugee camp where they lived for a year.
There wasn't much to do in the camp so Tasneem and her siblings spent all their free time playing table tennis. After Turkish President Erdogen found out about her talent, he personally offered her a passport and citizenship. She now plays table tennis for Hatay province along with her younger brother and sister.
Tasneem – who goes to school in Antakya – said: "I am very excited. I was not certain if I could continue pursuing my dreams here but now my life changed."
Ahmad Alzaher dreams of making it as a professional footballer. His father Mohammed is a former goalkeeper who moved his family from Syria and eventually ended up in Germany via several other countries.
When Ahmad was two, his dad took him to a Syrian league game. To the crowd's astonishment, Ahmad waddled onto the pitch and started showing his tricks. 
"Everyone was so excited and impressed with him," his father recalls. "The biggest Syrian players expected a wonderful future on the international stage for him."
Ahmad – the only Syrian at his school – says: "I like school. Sport and German are my favourite subjects. My German teacher makes it very easy and fun to learn, we learn how to make things and draw pictures. He's pleased with me because I already know how to write a bit."
Nadia Nadim is a shining example of what a young refugee can go on to achieve. She fled with her family from war-torn Afghanistan at the age of 12 and ended up in Denmark.
Now 29, she is a professional footballer, speaks NINE languages and is a part-time medical student who wants to specialise in reconstructive surgery.
She has played 74 times for Denmark and is currently playing in the United States. In January, she will join Manchester City.
"I'm happy that I got a second chance," she says of her new life away from Afghanistan.
In early 2016, a promise was made to 1.7 million Syrian refugee children. World leaders pledged that their futures wouldn't be abandoned and that they would all go to school
More than half of all Syrian refugee children are being given an education – and a future. For many of them, that day in February was life-changing. But over 500,000 children are still waiting for that promise to be kept. 
---
More news
Theirworld's mission to give children in crises a safe place to learn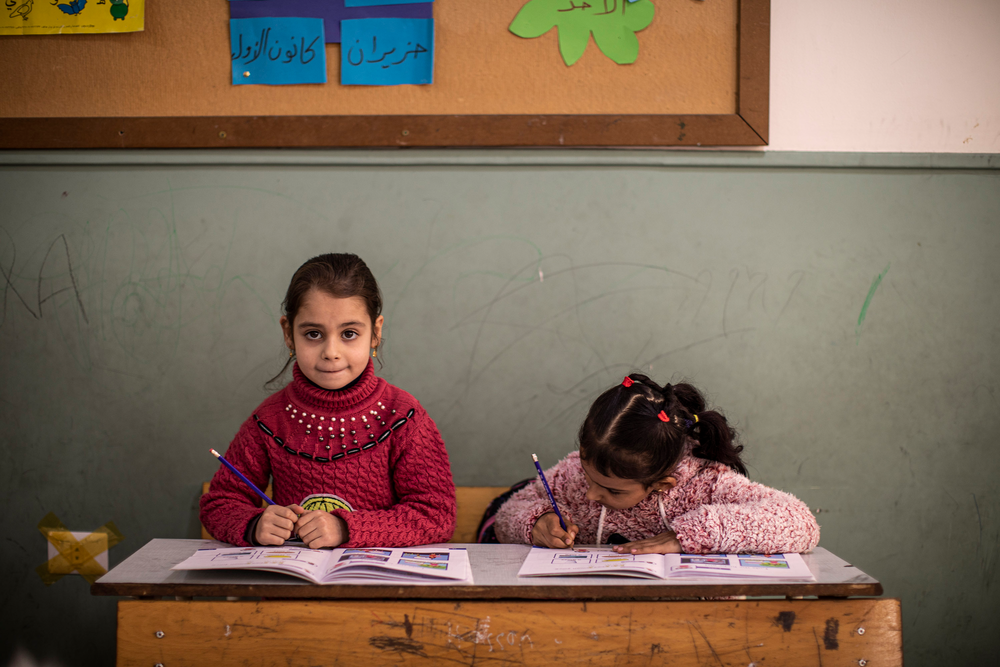 Theirworld's mission to give children in crises a safe place to learn
World Refugee Day: ACE project helps children to integrate and learn in Greece
World Refugee Day: ACE project helps children to integrate and learn in Greece