I can go to school now and not be scared says Bana Alabed, the Syrian girl who live-tweeted from Aleppo
Children in conflicts, Education Cannot Wait, Education in emergencies, Refugees and internally displaced people, Safe schools, Safe Schools Declaration
---
The eight-year-old Syrian who made world headlines has a new book out that tells of her terrifying experience living through the bombardment of Aleppo.
---
The Syrian girl who gained worldwide attention by live-tweeting from war-torn Aleppo has told of her joy at being able to go to school now.
Eight-year-old Bana Alabed has a new book out today about her terrifying experiences during the daily bombings of the city.
In Dear World she also talks about the death of her best friend Yasmin, who was killed when a bomb dropped on her house.
Bana joined Twitter in September 2016 and hundreds of thousands of followers saw her and her mother Fatemah document life in Aleppo. Author JK Rowling even sent her e-book versions of her Harry Potter books 
At one point, things looked so bleak that Fatemah tweeted…
Final message – I am very sad no one is helping us in this world, no one is evacuating me & my daughter. Goodbye.- Fatemah #Aleppo

— Bana Alabed (@AlabedBana) December 12, 2016
But a ceasefire in December meant Bana and her family were evacuated. They travelled to Turkey, where they now live. Before they left their home, Bana made this poignant video…
She is now in the third grade at school after missing more than a year of education in Aleppo. Even before that, her schooling had been irregular because of the conflict.
Bana told the AFP news agency: "I can go to school now and I am not afraid. It's not scary."
"I am sad because the children in Syria they don't have school, they aren't learning anything. They stay in their house and are dying every day."
In Dear World, she describes the moment when a bomb fell near their house and killed her friend Yasmin.
"I couldn't move or breathe because I was so scared seeing my friend like that," she writes.
"I didn't cry when I heard the bomb, but I did cry later when Baba and Mummy decided that I couldn't go to school anymore. It wasn't safe because a bomb could fall on the school."
UNICEF says six years of conflict have forced about 1.7 million children in Syria out of school.
But Bana wants to one day return to her home country to become a teacher. Her message to other Syrian children?
"They should be strong and not lose their hope."
---
More news
Theirworld initiative helps to deliver $30m of computers to Ukrainian children
Theirworld initiative helps to deliver $30m of computers to Ukrainian children
Theirworld's mission to give children in crises a safe place to learn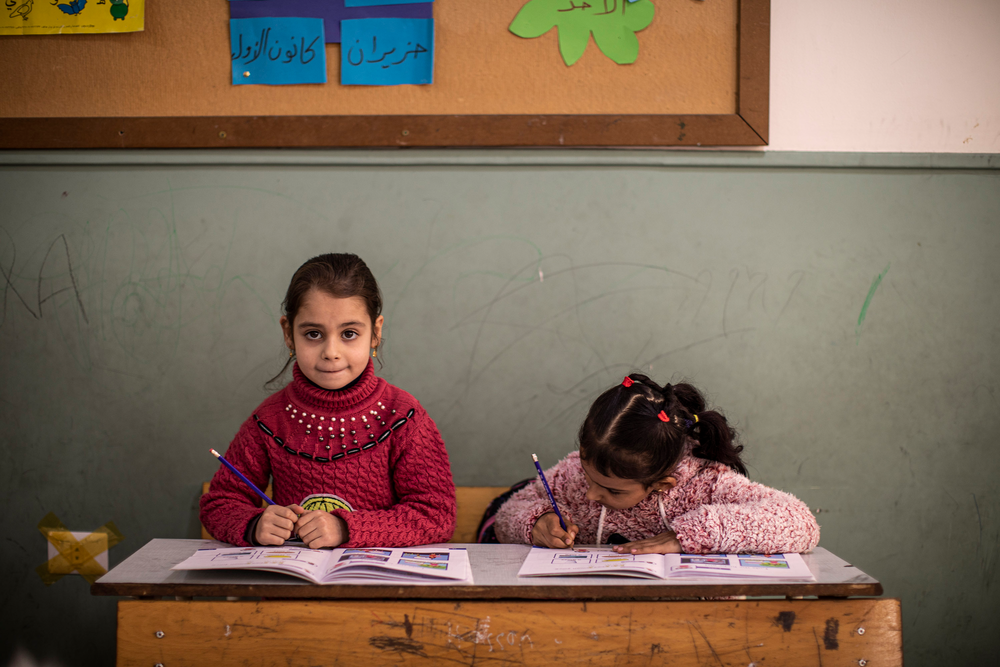 Theirworld's mission to give children in crises a safe place to learn