They fled to safety … but many out-of-school refugees end up as victims of trafficking
Child labour, Children in conflicts
---
Ahead of World Day against Trafficking in Persons, Bethany Ellis – Research Assistant with the children's charity Theirworld – looks at the child trafficking crisis in Europe and why education is essential to tackling the problem. 
Unaccompanied refugee children are disappearing in Europe. Into this "safe haven" where they have fled the hell of war, disaster, destruction, violence, poverty and extremism.
Instead of finding welcome, rest and safety, they are disappearing into the clutches of traffickers.
In 2015, almost 96,000 unaccompanied minors claimed asylum in Europe. According to Europe's law enforcement agency Europol, at least 10,000 of these had dropped off the radar completely by January 2016.
Experts on missing children say the true number is likely to be much higher, as refugee and migrant children are rarely reported missing and common systems to track information on these missing children are lacking or non-existent.
A recently published report by the European Union committee in the United Kingdom's House of Lords also cited key failings that leave these children open to the peril of finding themselves displaced, alone and trafficked.
They include a lack of strategy to provide for the needs of these children, the avoidance of authorities taking responsibility for them and the suspicion with which they are often met.
For too many of us, when we think about trafficking we still think about the developing world and refuse to believe that it happens in our own backyards.
The children cited here are being trafficked in Europe – where they fled for safety from war, disaster, and poverty.
A refugee boy walks on a train track connecting Greece and the former Yugoslav Republic of Macedonia Picture: UNICEF/Georgiev
They belong in school. They deserve protection. Instead, they are lost. They don't have families who can look for them or come seek after them, and traffickers know this. It's what makes them easy targets. It shames us all.
In disasters, conflicts, and prolonged emergencies, poverty and displacement place the smallest of us at the greatest risk.
Children can become separated from their families as they flee. Left without protection, they are easy prey to criminal gangs, traffickers and others who would – and do – exploit and abuse their little bodies in the worst ways imaginable.
According to the International Organization for Migration (IOM), as many as 92% of the 7,567 children who crossed the Mediterranean Sea to Italy between January 1 and May 31 of this year, were unaccompanied minors.
Among other dangers, these unaccompanied children are facing vulnerabilities to sexual abuse and violence especially when detained in registration centres that do not separate children from adults.
Many children are facing extortion from smugglers and traffickers at various points across their journey to and throughout Europe.
In June, UNICEF published a study of children's experiences facing sexual exploitation, violence and forced labour in the camps of northern France – many of whom were awaiting passage across the Channel to family in the UK.
The fate of the disappeared who have fallen into the hands of traffickers and criminal gangs is grim. These children may be forced into the commercial sex trade, compelled to steal, beg or smuggle drugs – a cruel fate that is unacceptable for any child.
Ahmed, 13, lives at a shelter for unaccompanied minors in Trabia, Italy Picture: UNICEF/Gilbertson VII
The good news is that there are steps that can be taken to prevent and mitigate the vulnerabilities of unaccompanied child refugees and displaced children to trafficking. A key part of this prevention is ensuring there are safe spaces, such as schools, where children can be protected from harm.
Education in times of crisis is an essential lifeline. It provides key safety information, hope, and a return to normal for children whose lives have been uprooted and who have watched the world they knew crumble around them.
Children with access to schools and child-friendly spaces are able to spend their days under adult supervision and are more likely to be identified and documented – key components to protection from trafficking. These spaces can also be crucial places to give children information on how to avoid exploitation from traffickers.
This has already been demonstrated in the post-earthquake response in Nepal. After the two earthquakes in April and May 2015, the already common practice of trafficking young persons – especially girls – into forced labour and sexual exploitation in neighbouring countries saw a dramatic increase.
In this environment of heightened danger, temporary learning centres and child-friendly spaces provided by UNICEF served as key points of protection from exploitation not only by keeping children off the streets but also by providing messages to keep them healthy and safe from traffickers.
No child should be forced to flee their home as a refugee only to find themselves trapped in abusive exploitation.
On this World Day against Trafficking in Persons, let us draw special attention to, and double down on our efforts to protect, these children who are living through the double hell of forced displacement as a refugee and exploitation from traffickers.
And let us actively support efforts such as the Education Cannot Wait Fund to provide children in crisis situations with education and hope for the future.
---
More news
Theirworld initiative helps to deliver $30m of computers to Ukrainian children
Theirworld initiative helps to deliver $30m of computers to Ukrainian children
Theirworld's mission to give children in crises a safe place to learn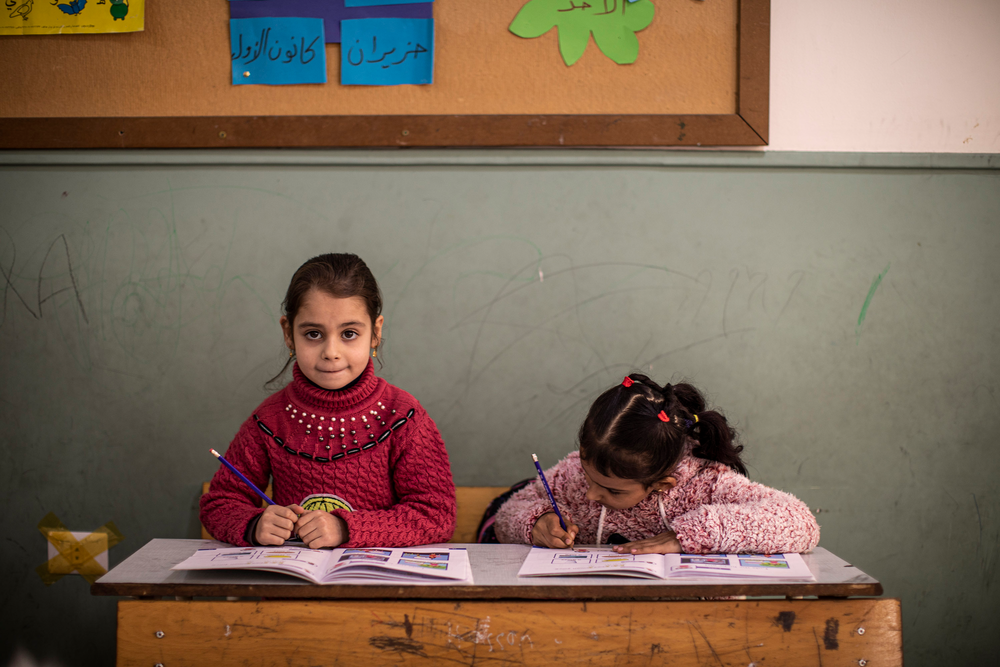 Theirworld's mission to give children in crises a safe place to learn