21,000 students and teachers harmed in attacks on schools around the world
Child soldiers, Children in conflicts, Education in emergencies, Safe schools, Safe Schools Declaration
---
A shocking report has revealed that in the five years up to 2017 there were 12,700 attacks in 41 countries - including bombings, sexual violence and child recruitment.
---
More than 21,000 students and teachers were harmed in attacks on schools and universities around the world over a five-year period, a shocking report has revealed.
They were targeted in bombings, air strikes, abductions, intimidation, sexual violence and recruitment into armed groups.
More than 40 countries suffered at least five attacks on education between 2013 and 2018 – despite such incidents being a violation of international laws.
"Teaching and learning has become increasingly dangerous, with the lives of students, teachers and academics frequently put at risk," said Diya Nijhowne, Executive Director of the Global Coalition to Protect Education from Attack (GCPEA).
"Schools and universities should be safe and protective spaces – but armed forces and armed groups continue to turn them into sites of intimidation and violence."
The 300-page report Education Under Attack 2018 was unveiled by the GCPEA yesterday. At the launch in New York, UNICEF Deputy Executive Director Shahida Azfar said: "Places of learning have become places of fear. What has humanity become when children face kidnapping or death when they are trying to learn?"
The report paints a terrifying picture of life for many students and teachers in conflict zones.
It identifies more than 12,700 attacks during the five-year period. The 41 countries that suffered five or more attacks was an increase on the 30 identified between 2009 and 2013.
One of the worst conflicts is in Syria, where hundreds of schools and universities have been damaged or destroyed in air strikes that killed more than 1000 students and education staff.
Muhammad al-Anadani, a teacher in Aleppo, described what happened when his school was struck by a barrel bomb. 
He said: "It was recess time when we heard a terrifying explosion. The whole school shook and I flew to the other side of the room. I heard the kids screaming. 
"I rushed out of the office and what I saw was horrifying. For a moment, I thought that everyone was killed. 
"Then I rushed to help paramedics and get the survivors out of school. I learned later that nine kids and two teachers were killed."
Nigeria was another of the most dangerous countries, with more than 1000 attacks on its schools – including the 2014 abduction of the Chibok schoolgirls by Boko Haram.
The GCPEA report includes profiles of 28 countries that experienced at least 20 attacks on education from 2013 to 2017. In 18 of them, female students and educators were deliberately targeted. Some extremist groups bombed girls' schools or set them on fire – or killed, injured or threatened females. 
Amidst the devastating number of attacks on education, there is a growing global acceptance that schools and universities must be protected as safe spaces.
The Safe Schools Declaration – a commitment to protect education and stop military use of schools – has been signed by 74 countries. Theirworld has been campaigning for the world's most powerful nations, the permanent members of the United Nations Security Council, to add their names.
France was the first to do so and was joined last month by the United Kingdom. But the United States, Russia and China have still not backed the declaration.
At the GCPEA report launch, Spain confirmed it will host the third International Safe Schools Conference in 2019 – following on from Norway and Argentina.
These are just some of the horrifying statistics revealed in Education Under Attack 2018.
9 
countries suffered more than 1000 attacks on education, or had attacks that harmed more than 1000 students. They include the Democratic Republic of Congo, Nigeria, the Philippines, South Sudan, Syria and Yemen.
16 
countries had child soldiers recruited at schools by military forces or armed groups. In the town of Rubkona in South Sudan alone, 413 children were forcibly recruited and sent into combat.
28 
countries experienced at least 20 attacks on education.
29 
countries saw schools and universities used as bases, barracks, detention centres or for other military purposes. This increases the risk they will be attacked by opposing forces, that children will be recruited or be targeted for sexual violence.
41
countries had at least five attacks on education.
52 
countries suffered attacks on higher education. The worst atrocity was in Kenya, where gunmen killed at least 142 students and injured another 79 at Garissa University College in 2015.
650 
or more incidents of attacks on education or military use of schools in Syria.
1000 
students and teachers in the Philippines harassed or intimidated by armed parties.
1500
or more schools and universities in Yemen damaged or destroyed by air strikes and fighting, or used for military purposes.
---
More news
Theirworld initiative helps to deliver $30m of computers to Ukrainian children
Theirworld initiative helps to deliver $30m of computers to Ukrainian children
Theirworld's mission to give children in crises a safe place to learn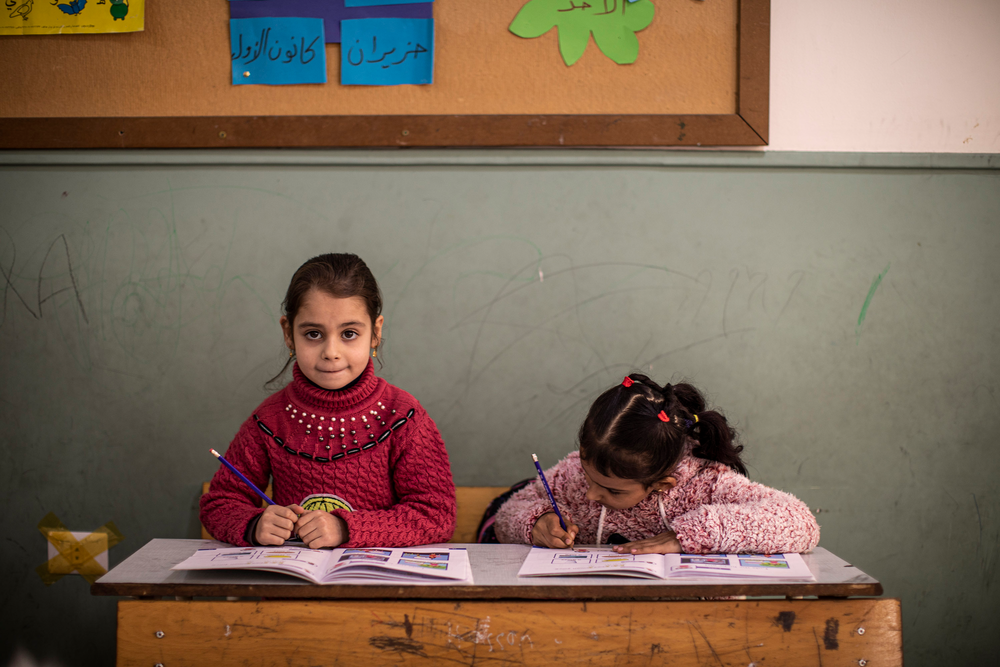 Theirworld's mission to give children in crises a safe place to learn