After Hurricane Irma: thousands of island children face long wait to go back to school
Children's welfare after natural disasters, Education Cannot Wait, Education in emergencies, Refugees and internally displaced people
---
A month after several Caribbean islands were devastated by the storm, many schools are still closed and children face an uncertain future over their education.
---
Hundreds of thousands of children are still suffering in the Caribbean following devastating hurricanes that swept across the region.
Irma, the most powerful Atlantic storm in a decade, caused widespread destruction across the Caribbean and the southern United States last month, leaving 55 people dead. 
Irma was a category five hurricane, with winds of up to 185 miles per hour. It was followed by two smaller hurricanes called Jose and Maria.
They wreaked havoc in a number of places where homes, schools and buildings were completely flattened and hundreds of thousands of people were evacuated to other islands and the US mainland.
The hurricanes have severely disrupted children's education, with thousands still out of school – although in some parts of the region education is back up and running.
Dan Walden, a specialist in emergencies for UNICEF UK, told Theirworld that £10.4 million is urgently required in donations to help around 357,000 children.
He said: "In Anguilla, there has been significant damage – also on Turks and Caicos Islands and British Virgin Islands. There are 17,000 people still living in shelters in British overseas territories. 
"There are 39,000 children in east Caribbean needing our support. If we're thinking about the whole Caribbean region, including Dominican Republic, Cuba and Haiti, that rockets up to 357,000 children.
"130 out of 132 schools were affected in Anguilla, Barbuda, Turks and Caicos and British Virgin Islands and that does not include Dominica." 
UNICEF UK has been prioritising Antigua, Barbuda and Dominica. But the agency is also in Turks and Caicos Islands, British Virgin Islands and Anguilla.
"Education has been disrupted in different ways – in Dominica and Barbuda particularly, where 90% of the structures on both of those islands were completely flattened," said Walden. 
"On those islands there are barely any schools to go to anymore, never mind homes or healthcare centres. They are facing real difficulty right now in that there are no structures to have schools in."
No residents have returned to Barbuda yet.
Walden added: "We'll be working with government to get people back quickly to Barbuda but also to explain what we are doing.
"For example, with the school shifts … how that will work to reintegrate them back into school, when the schools will be up and running there. But it's too early to say when that might happen."
After Hurricane Irma came and went, Hurricanes Jose and Maria arrived, leading to most people on Barbuda being evacuated to Antigua.
Children from Barbuda are still on Antigua, where the education system is trying to absorb them via schools operating in two daily shifts.
Walden added: "Teaching materials is another problem. But we've distributed at least 50 Schools In A Box across the region. 
"Each box will reach at least 100 children – and if we're thinking about shifts on Antigua then that's 50 boxes reaching 100 children, but twice a day. 
UNICEF's primary supplies to affected areas include teaching materials. But the agency also needs to make schools fit for purpose regarding water and sanitation, so hygiene kits are also supplied. 
We know from decades of experience that children are the most affected in the wake of emergencies and disasters - and often their needs fall through the cracks. Casey Harrity, Save the Children's team leader in Puerto Rico
It has a warehouse in Panama so materials are not being shipped too far. But it's been challenging to reach the various islands and people affected.
Across the region generally, most schools were suspended until the end of September until after assessments were made on whether structures were safe and whilst flood waters receded. 
In Haiti and Dominican Republic, schools were used as shelters during storms so the difficulty has been getting people back into homes. If they were destroyed then people need somewhere else to stay before schools can reopen. 
Nine schools are still flooded in the Dominican Republic but others have reopened.
In Cuba, 80 schools remain closed because the roofs are not safe and UNICEF is working with the government to make repairs and get children back to school.
Walden said: "It's not just the structures that we're supporting, it's the coming back to school process as well. 
"There's a whole bunch of work that we do with children, by understanding the situation where they live.
"The risk situation, health and preparedness, working with teachers and training them in psychosocial and emotional support for the kids returning to school – so they can gently come back into the curriculum as well. And that's work we do pretty much across the region."
Save the Children said that 700,000 children in Puerto Rico continue to face the after-effects of Hurricane Maria.
Many are still out of school, as fewer than half of Puerto Rico's 1100 public schools have been assessed for damage so far. 
The charity said that child-friendly spaces will help students return to some sense of normalcy while they wait for schools to reopen. 
The charity is helping to conduct damage assessments at childcare centres and schools, as well as training experienced social workers from the island to lead child-friendly spaces across Puerto Rico.
"We know from decades of experience that children are the most affected in the wake of emergencies and disasters – and often their needs fall through the cracks," said Casey Harrity, Save the Children's team leader in Puerto Rico. 
"Nearly 60% of the children in Puerto Rico live below the poverty line, which makes them even more vulnerable. We are working as quickly as possible to help these children and their families recover and rebuild."
Some Puerto Rican students are also enrolling in schools on the US mainland. 
In Florida, more than 90 students are now in Miami-Dade public schools and about 130 in Broward County schools.
Edwin Meléndez, director of the Center for Puerto Rican Studies at Hunter College in New York, said his conservative estimate is that more than 200,000 children and adults will leave Puerto Rico for the mainland.
---
More news
Theirworld's mission to give children in crises a safe place to learn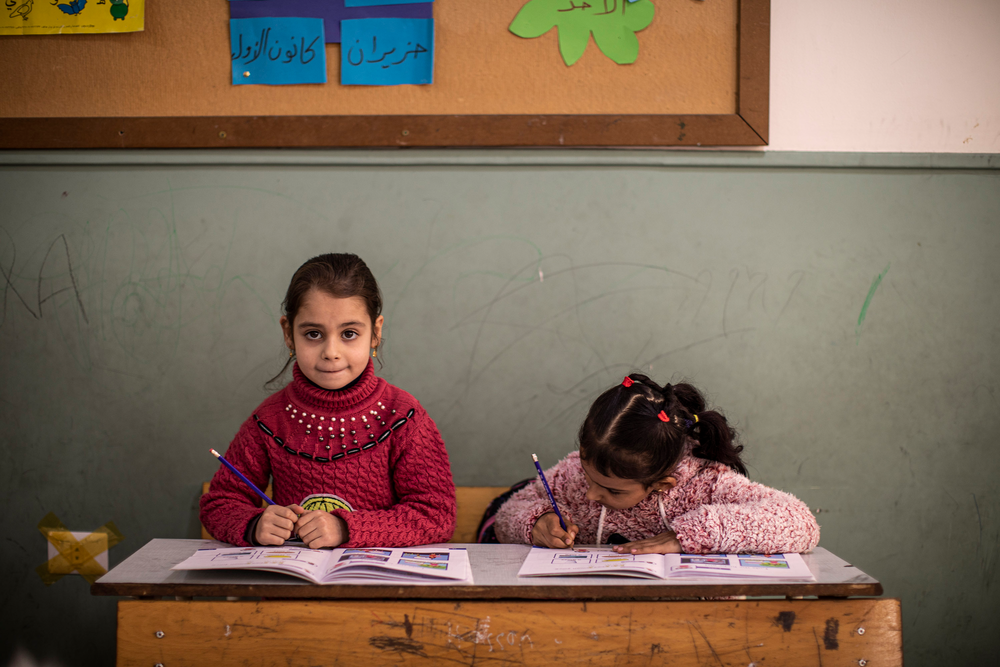 Theirworld's mission to give children in crises a safe place to learn
World Refugee Day: ACE project helps children to integrate and learn in Greece
World Refugee Day: ACE project helps children to integrate and learn in Greece