Trauma training helps Turkish teachers to understand the needs of Syrian refugee children
Refugees and internally displaced people, Theirworld
A programme supported by Theirworld has trained over 1,000 teachers and touched the lives of 5,000 students affected by conflict and displacement.
---
When conflict and displacement turn children's worlds upside down, they can become aggressive, isolated and unfocused. 
These behaviours are particularly problematic when they happen at school – especially if teachers don't know how to spot and deal with the effects of trauma.
In Turkey a project called Trauma Informed Schools – supported by Theirworld and run by the Istanbul-based organisation Maya Vakfı – has helped more than 1,000 teachers to understand the experiences and needs of Syrian refugee children. 
A report by Maya Vakfı has recommended that the Turkish government, along with NGOs and agencies dealing with traumatised students in Turkey and in other countries, could adopt the model. 
"My awareness has definitely increased," said one teacher who went through the programme. "I knew some of the expected behaviours and their reasons – but still I was not able to fully comprehend it. 
"It is clearer in my head now. Like there was cloudy, foggy weather and now it is cleared up."
Turkey is home to 3.6 million registered Syrian refugees and 44% of them are 17 or under. That means hundreds of thousands of Syrian children are in Turkey's public schools as part of a three-year plan to transition every refugee into education.
Many of them are affected by the trauma of living through conflict, witnessing death and violence, and being torn away from their homes and taken to a new country. Studies show that almost half of the refugee children show symptoms of post-traumatic stress disorder (PTSD).
Trauma can affect a child's ability to do well at school – and their behaviour in the classroom, which can then impact other children. Traditional teaching methods often aren't enough to support traumatised children, so it became clear that Turkish teachers needed the tools and training to help Syrian children thrive at school and achieve their potential.
Supported by Theirworld with funding from the Conrad N. Hilton Foundation, the Trauma Informed Schools programme was launched by Maya Vakfı as a pilot project in four public schools.
Theirworld President Justin van Fleet said: "This project is an example of Theirworld at its best – working to support and scale up promising solutions to deliver education and opportunity to some of the most marginalised young people."
The report recommends that...
1.
Turkey includes the effects of traumatic stress on learning as part of teacher training and the public education system
2.
The government, along with NGOs and agencies dealing with traumatised students, could adopt the Trauma-Informed Schools model
3.
Donors and international agencies should prioritise support for trauma-affected refugees when they are integrated into host communities' schools. 
The programme provides trauma training to teachers, counsellors, families and school staff. That includes how to identify troubled children in the classroom and provide them with crucial psychosocial support. 
"Over the past three years, over 1,000 teachers have been trained and approximately 5,000 students touched by this programme," said Dena O'Connor, International Development Director of Maya Vakfı.
"You can't underestimate the power that early intervention and education has on a community. By providing psychosocial support the Trauma Informed Schools Programme empowers host and refugee communities and creates a brighter future for children who have experienced disruption and trauma."
The identified children receive eight weeks of sessions – including art therapy – which encourage positive skills, creating thinking and a feeling of hope.
The pilot programme was so successful that Maya Vakfı extended it during the 2018-19 school year into other parts of Istanbul and Şanlıurfa, a province in the south-east of Turkey bordering Syria.
The organisation has so far:
Worked in 20 schools
Trained 1,055 teachers and school counsellors
Provided 235 caregivers with positive parenting classes
Ensured 5,000 children receive psychosocial support classroom and group activities
The report on the programme was launched last month at an event attended by Levent Yazici, General Director of the Republic of Turkey Istanbul Provincial Directorate of National Education, and Mehmet Nezir Gul, General Director of the Republic of Turkey Ministry of National Education Lifelong Learning.
They supported the continuation of the programme, which will be run in 12 primary schools during the 2019-2020 academic year.
The Maya Vakfı report showed that teachers overwhelmingly felt the training had improved their ability to spot children with trauma and help them with their recovery.
Before the training, one teacher said: "Most teachers, despite their studies in education, do not feel competent to deal with children with traumatic experiences or know how to communicate with or help support their psychological needs."
Another admitted: "Many teachers had difficulties in classroom management related to behavioural and emotional problems related to students with a history of trauma."
But after their training, 96% of the teachers said their knowledge and competence had improved and 89% felt empowered after the course.
One said: "I didn't know that the trauma is not only affecting their psychological wellbeing but has a serious impact on learning. I learned instead of labelling them lazy I should have a different perspective."
Within the Trauma Informed Schools programme, an anti-bullying project has been conducted by Maya Vakfı in Şanlıurfa for the first time. 
"Children need to know that when they do speak out and report bullying, that appropriate action will be taken to remedy their pain," said Gizem Konus, Trauma Informed Schools Program Coordinator.
"The implementation of the anti-bullying project within TIS is a very crucial and meaningful step for the social cohesion study."
One boy helped by the programme is 10-year-old Ömer. He was referred by his teacher who said he fought with his friends, used bad words, was aggressive and ruined discipline in the classroom. 
Thanks to art therapy-focused sessions, Ömer's behaviour and self-esteem improved significantly. 
"He thanked us for encouraging him to open up his feelings by sharing personal information about himself," said Maya Vakfı. 
"At the later sessions he was looking much happier and communicating with his friends more positively. He stopped getting in physical and verbal fights and completely quit cursing. He learned to regulate his feelings and his behaviour." 
---
More news
Take the test and discover how our Schools Hub helps students grasp the global education crisis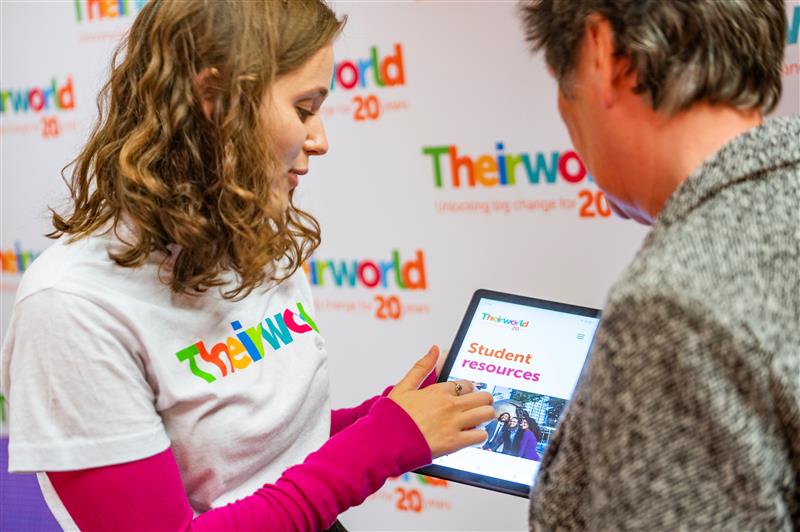 Take the test and discover how our Schools Hub helps students grasp the global education crisis
#LetMeLearn: the story of a global education campaign
#LetMeLearn: the story of a global education campaign