Two million children now out of school in war-torn Yemen
Children in conflicts, Education in emergencies
---
Fourteen-year-old Elias Jameel Abdullah Mohammed Moqbil Alhakimi at a camp near Sana'a. He said: "I want peace and safety and school. I just want everything to become like before." Picture: UNICEF/Fuad
The number of children out of school in Yemen stands at nearly two million, according to the UN children's agency UNICEF.
Its plea for safe schooling in the war-torn country came as schools reopened this week and all parties in the nation's conflict were urged to protect children in education.
At least 350,000 children are unable to go to schools in Yemen because they have been damaged by fighting recently. Many others remain occupied by fighters or double as shelters for millions of refugees.
During the 2015-2016 school year more than 1.6 million children were already being kept out of schooling because of the war.
UNICEF estimates that 2108 schools across the country can no longer be used.
"Children were killed on their way to school or while at school," said UNICEF Yemen Representative Julien Harneis. "Parties to the conflict should keep children and schools out of harm to give education a chance."
One in four of the world's school-age children – nearly 500 million – live in countries affected by humanitarian crises such as conflicts, natural disasters and disease outbreaks.
About 75 million of them are either already missing out on their education, receiving poor quality schooling or at risk of dropping out of school altogether.
Without safe places to learn, they are at risk of child labour, child marriage, exploitation and recruitment into armed groups.
The Education Cannot Wait fund was set up to help children in emergencies. Its first $42m investment includes helping children in Yemen get an education.
Damage to Arwa School in Taiz city Picture: UNICEF/Ahmed Basha
The fund was launched in May at the historic World Humanitarian Summit in Turkey and aims to assist more than 13 million children over the next five years and 75 million by 2030.
It has a five-year funding target of $3.85 billion and aims to improve education for all children affected by crises.
Since Yemen's conflict escalated more than 18 months ago, attacks on schools have had a devastating impact on the education system.
The conflict is between military forces loyal to the ousted Yemeni President, Abdrabbuh Mansour Hadi and Zaidi Shia rebels known as Houthis.
UNICEF also voiced concern about children being recruited to fight by armed groups.
Since the conflict escalated in March 2015, the UN has verified that 1210 children – some as young as eight years old – have been recruited to fight.
"Children who are out of school are at risk of recruitment to fight," added Harneis.
UNICEF is supporting a campaign called Back-to-School to provide children with a learning opportunity. 
This includes the renovation of nearly 700 damaged schools and provision of school furniture, stationery and school bags.
"Where schools have been damaged, we are renovating and providing tents to serve as temporary classrooms so that children can learn," Harneis said.
Children get UNICEF school bags distributed in Al-Jawf Governorate Picture: UNICEF/Prodigy

Over the past year and a half, UNICEF has reached more than 575,000 school children with education material and psychosocial support and worked with partners to support over 600,000 students in grade 9 and 12 to take their exams.
UNICEF is asking for $34 million for the construction and rehabilitation of damaged schools, provision of teaching and learning resources and training of teachers and community workers to provide psychosocial support.
Save The Children has also been supporting Yemeni children who have been unable to attend school and the charity has offered counselling to those traumatised by the war.
They include an 11-year-old girl called Samira who was living in Almazraq refugee camp in the Haradh district in Hajjah governorate.
Save The Children said: "Throughout her short life, Samira has lived in an environment where her basic rights have not been upheld. However, last year was the most devastating to date for young Samira.
"Not only was she and her family displaced to another IDP (internally displaced persons) camp because of the conflict, Samira also lost four members of her family killed during an airstrike including her mother who was pregnant at the time. Furthermore, three of her brothers are missing and another two have been recruited into armed groups, their whereabouts and wellbeing unknown.  "
Save The Children added that – as a consequence of the suffering Samira has endured over the past year – the previously bright young girl was unable to deal with the losses in her life, while demonstrating signs of severe trauma.
Samira said: "I was in grade four before the beginning of the conflict in Yemen. It was difficult to go to school in the IDP camp but my parents made sure I attended regularly.
"Since being displaced to this new IDP camp I don't have access to education. In any case, I don't feel like going to school anymore after I lost my mother and brothers. I feel so scared all the time of the bombings and airstrikes that killed many of my family.
"I am afraid to be outside our tent just in case something happens to the remaining members of my family  and I don't want to go anywhere. And although my mother encouraged me to attend school so one day I could become a doctor, I don't want to go to school anymore."
---
More news
Theirworld initiative helps to deliver $30m of computers to Ukrainian children
Theirworld initiative helps to deliver $30m of computers to Ukrainian children
Theirworld's mission to give children in crises a safe place to learn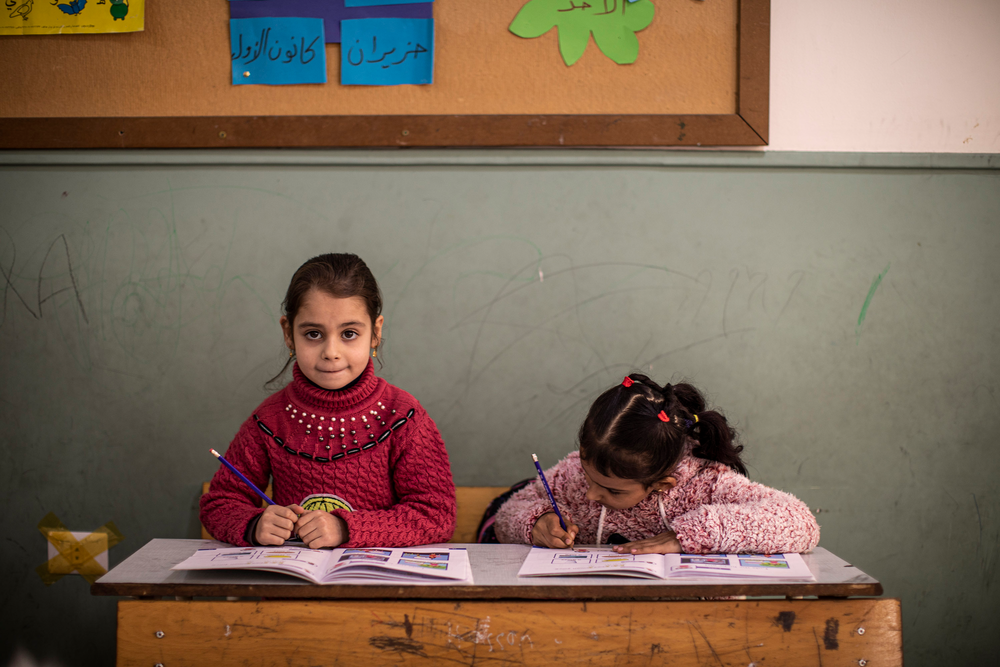 Theirworld's mission to give children in crises a safe place to learn