Ugandan schoolgirls learn digital Skills for Their Future
Girls' education, Technology and education, Theirworld
---
Theirworld and our partner Women in Technology Uganda launch a programme that will help to narrow the digital gender gap. 
---
Girls in Uganda are learning vital digital skills as part of an exciting programme launched by Theirworld and our partner in Uganda.
Students sat, ready and eager to learn, at rows of computers, at the launch at a school in Kampala of our latest Skills for Their Future project in partnership with Women in Technology Uganda (WITU).  
The programme is designed to narrow the digital gender divide that risks holding back girls and young women. It will equip 1,000 girls and young women across 10 schools in Uganda with the tools, skills and attitude needed to harness new technologies and prepare them for future careers in ICT (information communications technology) and other sectors. 
"In the future we are looking at a world of more technology. These skills are going to be very helpful for me and to the whole community," said student Ayugi Margaret Ritah, 20. 
Nkata Winnie, an 18-year-old who wants to become a lawyer, said: "This programme empowers girls so much. They can do it, as I am doing it." 
The Skills for Their Future programme builds on the previous success of Theirworld's Code Clubs for girls in several sub-Saharan African countries, including Uganda. 
The launch ceremony was held at Kyambogo Secondary School and attended by teachers, representatives of WITU and Patrick Muinda, Assistant Commissioner and head of ICT at the Ministry of Education. 
He said: "This programme is encouraging children to develop a skills set that is highly relevant. It is key because girls' eyes are being opened to what they can do." 
WITU Project Manager Esther Nansubuga demonstrated the Kolibri e-learning platform to students. It can be used with a smartphone or PC and can be accessed both online and offline. 
She said: "I'm just so happy and proud to be part of this project. The schools are really receptive – not just the students but also the teachers." 
Student Ngasha Edith, 15, who wants to be a surgeon, said: "The first class was really interesting because it taught me things about a computer. 
"I think learning technology at a young age is very important because it helps us with our thinking capacities." 
When schools in Uganda were closed for the first three months of this year, the WITU team conducted digital literacy training for more than 100 girls and women aged 14 to 20 from slums around Kampala. WITU will support another cohort of 115 out-of-schools girls. 
Theirworld's digital literacy curriculum – made possible thanks to players of People's Postcode Lottery – will benefit 1,600 girls during 2021 in Kenya, Nigeria, Tanzania and Uganda. 
---
More news
Skills for the future give young people the best chance of success
Skills for the future give young people the best chance of success
Take the test and discover how our Schools Hub helps students grasp the global education crisis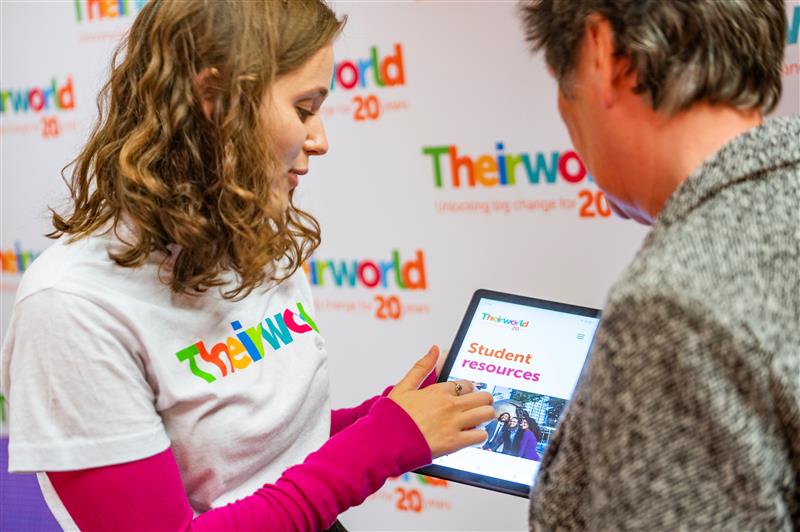 Take the test and discover how our Schools Hub helps students grasp the global education crisis