Schoolchildren learn how to deal with deadly threat of mines and explosives in Ukraine
Children in conflicts, Education in emergencies, Safe schools, Safe Schools Declaration
---
Students are being taught how to reduce the risks in a conflict zone described as "one of the most mine-contaminated places on Earth".
---
Nearly 220,000 children in Ukraine are at risk of death or injury from mines – but many are being educated on how to protect themselves.
Fighting between Ukrainian forces and Russian-backed separatists began in 2014 and about 1.5 million people have been forced from their homes.
Attacks on schools continue to disrupt education for thousands of children and there have been scores of deaths in a war that has left many children with lifelong disabilities.
The situation is particularly grave for children living in Donetsk and Luhansk oblasts (administrative areas), where they face deadly threats from shelling, landmines and unexploded devices.
They are in the "contact line" in the east of the country – a 300-mile strip of land which separates territory controlled by Ukraine's army and areas controlled by Russian-backed rebel forces. 
Home to many children's playgrounds and schools, it is described by the United Nations children's agency UNICEF as "one of the most mine-contaminated places on Earth". From January to November last year, on average one child was killed or injured each week.
Anti-personnel mines, unexploded ordnance and explosive remnants of war are responsible for approximately two-thirds of the deaths or injuries of children recorded during this period. 
"It is unacceptable that places where children could safely play less than four years ago are now riddled with deadly explosives," said UNICEF Ukraine Representative Giovanna Barberis.
One of the casualties is Alexey, a 14-year-old boy who told UNICEF: "I picked up this thing from the ground and probably pressed something – and then it exploded. 
"I had a lot of blood and I saw my fingers hang from my palm. I was so shocked that I began to tremble. I almost lost consciousness. "
Ukraine is not yet among the 72 countries that have signed the Safe Schools Declaration – a commitment to protect education from attack and stop the military use of schools. 
Of the five permanent members of the United Nations Security Council, only one has signed. Theirworld's Safe Schools petition urges Russia, China, the United States and United Kingdom to follow France's leadership.
To help people in Ukraine, UNICEF and other organisations have been educating children in mine-risk education for the past two years. This involves children learning how to protect themselves from anti-personnel mines and other explosive items. 
They do this through Mine Risk Education (MRE), which is aimed at reducing the risk of injury by promoting behavioural change through public information campaigns, education and talks with communities. 
MRE and demining includes technical surveys, mapping, clearance of unexploded ordnance and mines, marking unsafe areas, and documenting areas that have been cleared.
Some of the main players in MRE include Save the Children, Mines Advisory Group and the International Committee of the Red Cross.
Within the UN system, UNICEF is the lead agency for MRE and supports programmes in 30 countries.   
In 2001, UNICEF, along with the International Campaign to Ban Landmines, formed the Mine Risk Education Working Group to provide a forum for MRE groups. The group includes more than 100 practitioners from around the world. 
Education involves teacher-to-child education in schools, information shared at home from parents to children, or from children to their parents. There is also child-to-child and peer-to-peer education.
For example, UNICEF Eritrea provided integrated mine risk education to 395 school teachers in 2017. 90,000 schoolchildren were reached in affected areas and 5000 landmine survivors and children living with disabilities were given psychosocial support.
Mines Advisory Group, based in the UK, is one of the NGOs that provide MRE around the world. It does not operate in Ukraine but does work in other conflict zones including Iraq.
MAG said risk education sessions for children may include:
How to recognise commonly found remnants of conflict
How to report a dangerous item
What to do in an emergency and how to keep others safe
Known areas of contamination and accidents
Warning clues and signs for mined areas
Sean Sutton of MAG told Theirworld that its staff work with locals, development agencies and authorities to gather information about the location and extent of landmines and other explosive weapons, and how their presence is affecting the way people live.
He added: "MRE varies from country to country. Often children are the most vulnerable because they are naturally inquisitive. We have programmes all around the world that are aimed at children. 
"It's often harder to get messages across to them in way that resonates. We do a lot of engagement activities around drama and role play, trying to get the key messages across and understood. So it's challenging."
---
More news
Theirworld initiative helps to deliver $30m of computers to Ukrainian children
Theirworld initiative helps to deliver $30m of computers to Ukrainian children
Theirworld's mission to give children in crises a safe place to learn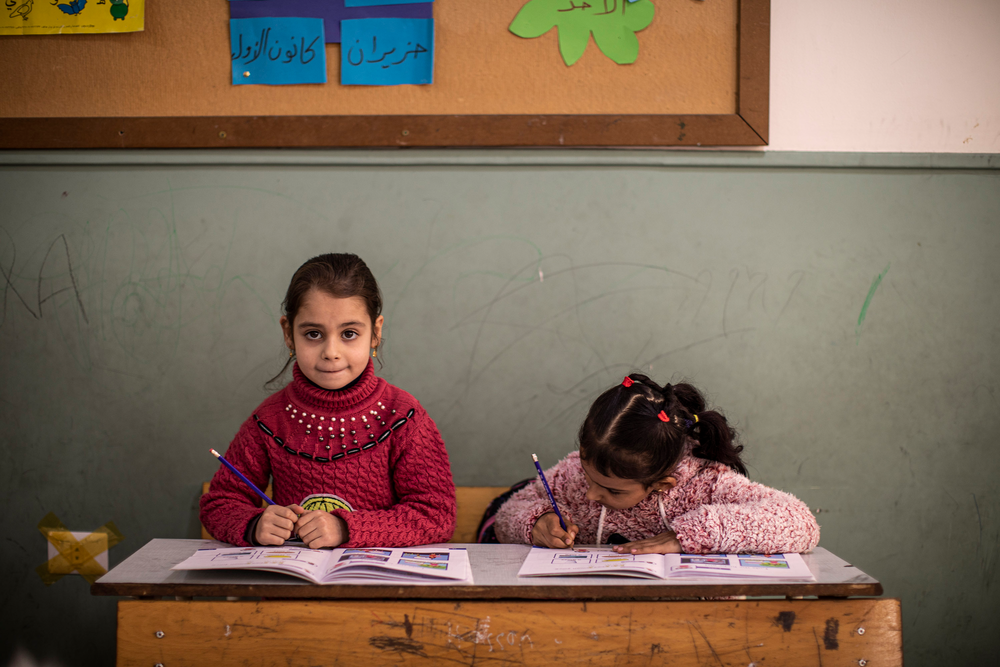 Theirworld's mission to give children in crises a safe place to learn