Ukraine's children need urgent action to safeguard their education
Children in conflicts, Education in emergencies, Refugees and internally displaced people
---
Theirworld calls for schooling and early childhood support to be prioritised in the early stages of the humanitarian response to Russia's invasion.
---
We've seen it before in Syria, Yemen and Afghanistan. Now we're watching it unfold in Ukraine. 
When conflicts erupt, fear and trauma enter the previously peaceful lives of children. Their families are forced to shelter or flee from their homes. And their education – their crucial safe space to learn and be with friends – is disrupted and under attack. 
That scenario is playing out before our eyes in Ukraine. The Russian invasion has shut down the country's schools, started a new refugee crisis and taken the lives of children. They include Polina, a 10-year-old fourth-grader shot dead in the capital Kyiv. Her gentle smile and pink-streaked hair have been seen across the world – a symbol of the threat to Ukraine's 7.5 million children. 
The 13 reported child victims include one killed when a missile – said by Amnesty International to be a banned cluster bomb – struck a preschool in the city of Okhtyrka. Dozens of young people have been injured and many more are among the more than one million Ukrainians who have fled into neighbouring countries including Poland, Hungary and Romania. 
A 15-year-old girl said she fled her village with her parents. She told Save the Children: "Almost every second house was damaged and our school also affected. There were direct hits on it." 
At Theirworld, we know that children caught up in conflicts and other emergencies need urgent and comprehensive support, including education. Plans need to be put in place in the early days of a crisis to ensure children have the support they need. That includes prioritising education and support for preschool children, as well as providing education for refugee children arriving in other countries. 
"I hope we have learned the lessons from the past," said Theirworld President Justin van Fleet.  "By prioritising education at the start of a humanitarian response, we will be better able to provide a sense of normalcy, psychosocial support and other crucial interventions from day one for refugee and displaced children. 
"This includes special early childhood development interventions for the youngest victims of this war. Children have lost the most in the early days of the crisis and we need to do our best to support them during this time of trauma." 
Conflicts and other emergencies disrupt the education of 75 million children around the world, causing grave long-term consequences. A child who is out of school for more than a year is unlikely to return. 
At the World Humanitarian Summit in 2016, education was at last recognised as a priority in any emergency response. Campaigning led by Theirworld also resulted in the creation of Education Cannot Wait, the global fund for education in emergencies. 
Humanitarian appeals for Ukraine have been launched by the United Nations and partners, with a target of $1.7 billion. But only 2.2% of the funding is earmarked for education – just $11.40 per child in need. 
Theirworld has learned over the years that at least 4% to 6% of humanitarian budgets is needed for education. Some governments, including the European Union, have set the benchmark at 10%. 
"We know it will require much more funding than has been requested in the humanitarian appeal," said van Fleet. "We stand by ready to work with the international community to quickly organise a comprehensive response for children which prioritises education." 
While Russia's military blitz on Ukraine has drawn widespread anger and condemnation, attacks on children and schools in particular have been condemned by international leaders and NGOs. In a statement on the day of the invasion, van Fleet and Theirworld Chair Sarah Brown said: "Theirworld is standing in solidarity with children everywhere to condemn acts of violence against young people. An attack on a child's wellbeing or safety is an attack on all children." Read the full statement. 
There are reports of schools being attacked in several parts of Ukraine. Yasmine Sherif, Director of Education Cannot Wait said: "Students, schools and education personnel must be protected from attacks and education facilities must be protected from military use, in line with the Safe Schools Declaration." 
The declaration is a commitment by countries to protect students, teachers and schools from the worst effects of armed conflict. Launched in 2017, it has been signed by 113 countries, who promise not to attack or occupy schools and other educational facilities. They include Ukraine but not Russia. 
Violence is nothing new for children in eastern Ukraine. Armed conflict between government forces and mostly pro-Russian separatists has been raging for eight years, affecting more than 500,000 children in Donetsk and Luhansk regions. 
More than 750 schools have been destroyed, damaged or forced to close, according to Save the Children. UNICEF said that in 2020 alone there were 535 verified attacks on schools, an increase of 17% con the previous year.  
Days before the invasion, 16-year-old Nastia, from the village of Pavlopil, told UNICEF how her school had been damaged. She said: "Now I go to a different school. I don't want the fighting to repeat because it's extremely scary. You don't know where the shell will hit, what will happen next." 
---
More news
Theirworld initiative helps to deliver $30m of computers to Ukrainian children
Theirworld initiative helps to deliver $30m of computers to Ukrainian children
Theirworld's mission to give children in crises a safe place to learn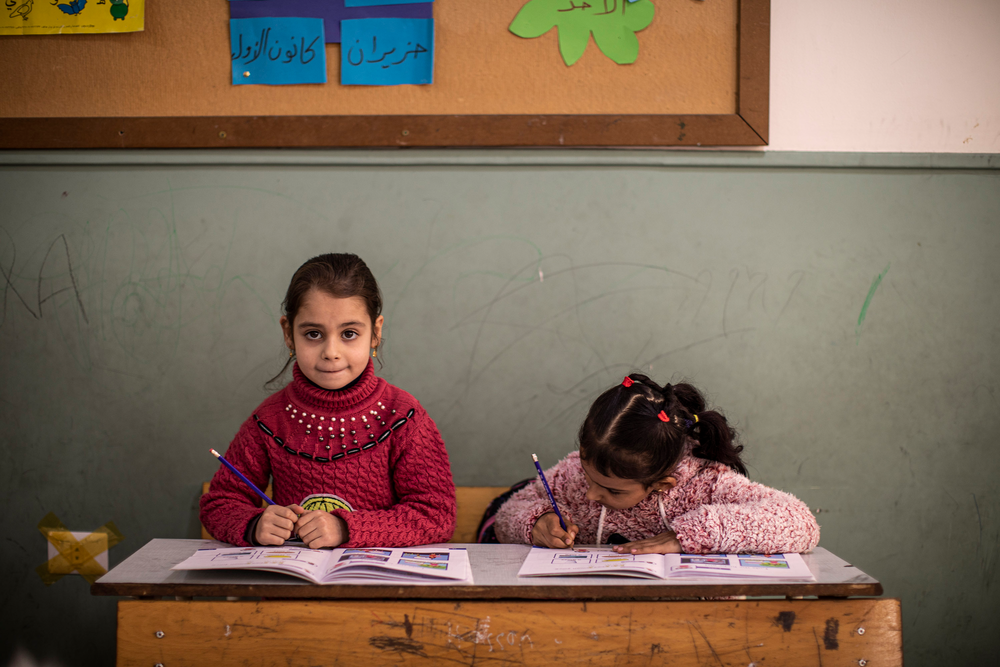 Theirworld's mission to give children in crises a safe place to learn