The primary school class that wants to help change the world
Barriers to education, Right to education, Theirworld
Girls and boys from a school in Scotland have been studying Theirworld's #WriteTheWrong campaign, which highlights the global education crisis.
---
Making the world a better place is a tough job. It takes big ideas, determination and a passion for meaningful change.
When it comes to improving the lives of children, more and more young people are determined to get involved and do what they can to help others fulfil their potential.
One shining example of that growing awareness is a class of girls and boys aged nine and 10 in Scotland. The Primary Six children at St Matthew's Primary in Bishopbriggs, near Glasgow, have been studying the #WriteTheWrong campaign run by Theirworld.
The campaign includes a powerful film highlighting the global education crisis which has left over 260 million children out of school. This leaves many of them vulnerable to armed conflict, poverty, child labour, early marriage and discrimination.
The school tweeted us to let us know what they were doing. When we contacted St Matthew's Primary, we were delighted that teacher Shirley-Anne McGunnigle invited Theirworld to visit and talk to her class.
https://twitter.com/stmatthewsrcps/status/1060652009580302336
Before we arrived, the girls and boys in the class did some extra research on Theirworld's website to learn even more about why getting every child into school is vital for them, their families and their communities.
https://twitter.com/stmatthewsrcps/status/1062362829121036288
In Mrs McGunnigle's class, I was amazed to find out how knowledgable they were about what is happening to millions of children around the world who are deprived of education.
The teacher thought #WriteTheWrong would be a good topic for a persuasive writing campaign, where the class learn about an issue, write about it and come up with actions that can help to bring about change.
The pupils explained they took notes while watching the #WriteTheWrong film. They did more research about the education crisis before writing paragraphs that demonstrated evidence, analysis and argument. 
Then they thought up ways in which they could make a difference and spread the word about why every child in the world should be in school.
"We are used to coming up with big ideas in Mrs McGunnigle's class!" said Jonathan.
The children told about their research into some of the reasons why children don't go to school. They include poverty, disabilities, conflict and natural disasters.
Emma said: "If children do not go to school, this could lead to forced labour, early marriage and violence."
There was a lively discussion as we talked about some of the lesser-known reasons why children are out of school and what the advantages are of getting an education, a safe space to learn and a nutritious meal each day.
The pupils said they wanted to make other people aware of the global learning crisis, including their families and friends.
Mrs McGunnigle said: "Parents are coming in for the Christmas fair, so we're going to have the #WriteTheWrong petition open on our laptops and get as many people as possible to sign it."
We finished off an inspiring afternoon by asking the children to say in a few words why it is so vital that every child in the world should be in school.
Here's what they had to say...
And here's what it feels like when you find out your amazing efforts have been featured on Theirworld's website!
https://twitter.com/stmatthewsrcps/status/1064967495969329152
This story was originally published for Universal Children's Day 2018
---
More news
Take the test and discover how our Schools Hub helps students grasp the global education crisis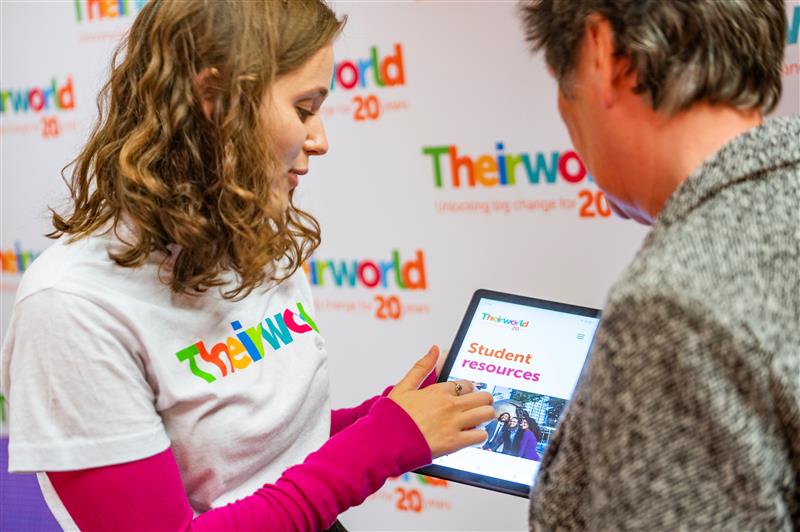 Take the test and discover how our Schools Hub helps students grasp the global education crisis
#LetMeLearn: the story of a global education campaign
#LetMeLearn: the story of a global education campaign