UNRWA needs more funding help to protect education for 525,000 Palestinian children
Education in emergencies, Refugees and internally displaced people, Right to education
---
Some countries have already stepped in to assist the UN agency that runs more than 700 schools after President Trump slashed American aid.
---
European countries have rallied round to help ease the funding crisis at the United Nations agency that provides education for 525,000 Palestinian children.
UNRWA (UN Relief and Works Agency for Palestinian Refugees) faces a huge financial shortfall after President Donald Trump slashed a US aid package from $125 million to just $65 million.
Belgium stepped in quickly to show the way to other donor countries after UNRWA said the cut would be "catastrophic" for its education programmes – which educate children at 711 schools in Gaza, the West Bank, Jordan, Lebanon and Syria, and employ 20,000 people.
But much more needs to be done – particularly on long-term funding – to secure the future for these children.
You can do your bit to help by sending out a clear message…
Since the American announcement of reduced funding on January 16, here's how events have unfolded.
On January 17, Belgium pledged to donate an extra $23 million – to be spread over three years – and said its annual contribution would also be handed over immediately.
Deputy Prime Minister Alexander De Croo said: "For a lot of Palestinian refugees UNRWA is the last life buoy. With the help of UNRWA half a million Palestinian children are able to go to school."
The Netherlands said it would fast-track $16 million of funding already earmarked for the agency.
And Sweden stepped in to disburse $58.5 million immediately to UNRWA. Ulrika Modéer, secretary of state for development cooperation, tweeted that Sweden was supporting the agency's "important work".
Sweden has just disbursed 58.5 MUSD to @UNRWA for its important work to support Palestinian refugees in these challenging times. The world community has a responsability

— Ulrika Modéer She/Her/Ella (@UlrikaModeer) January 20, 2018
On January 22, UNRWA launched the #DignityIsPriceless fundraising campaign to gather $500 million.
Watched by hundreds of children at a school in Gaza, the agency's Commissioner-General Pierre Krähenbühl said: "We are launching this campaign because UNRWA stands with you as witnesses to your historic plight. 
"I wish to confirm to all Palestine refugees that UNRWA schools, proud schools like the one we are standing in, will remain open. Health care and other services will be provided. It is a huge challenge but it is absolutely imperative."
Thirteen-year-old Karim, President of UNRWA's Student Parliament, said: "We are proud and determined students. We want the world to support us in becoming global citizens and pursue our dreams and aspirations." 
On June 23, UNRWA student Majd sent a passionate and personal appeal to Pope Francis. Watch it here.
Norway announced on January 24 it had paid its core contribution of $16 million. Minister of Foreign Affairs Ine Eriksen Søreide said: "I urge other donors to pay their contributions to UNRWA as soon as possible."
On the same day, the leaders of 21 humanitarian aid groups based in the United States wrote to the Trump administration to protest "in the strongest terms" to the cutbacks in funding.
Meanwhile, UNRWA chief Krähenbühl has been raising awareness of the agency's funding plight and talking to other international donors.
https://twitter.com/ChrisGunness/status/956804071465406464
---
More news
Theirworld's mission to give children in crises a safe place to learn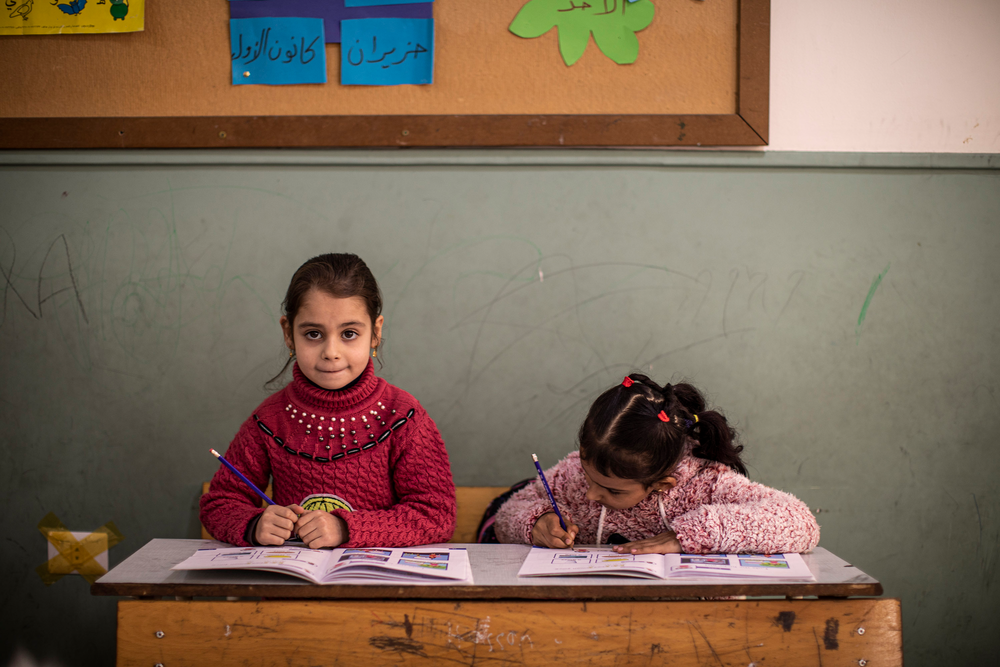 Theirworld's mission to give children in crises a safe place to learn
World Refugee Day: ACE project helps children to integrate and learn in Greece
World Refugee Day: ACE project helps children to integrate and learn in Greece