Urgent funding needed to get all 700,000 Syrian refugees in Turkey into school
Turkish students and Syrian refugees are educated together at Istoc Primary School which was visited recently by Theirworld
Turkey has taken in more Syrian refugee children than any other country – more than 700,000 of them.
But 400,000 are out of school and a lack of funding means they will still be shut out of the education system when the new school year starts in less than 100 days.
The children's charity Theirworld – which is working to find solutions to the refugee education crisis – today calls on the European Union to urgently release funds to help Turkey get those Syrian girls and boys into school and learning.
If not, they will be at risk of risk of child labour, trafficking, early marriage and being exploited and vulnerable to extremism.
Tom Fletcher, Global Strategy Adviser for Theirworld, said: "To provide hope and security in the region, we need to transform the lives of refugee children and avoid a lost generation. 
Istoc Primary is the type of school the Turkish government wants Syrian refugee children to attend
'We have an efficient, cost-effective and scalable model to open school places for Syrian children, using double-shift schools and other methods.The only barrier to securing these school places is finance."
Turkey has a strategy, policies and infrastructure in place to get all 700,000 Syrian refugee children into school. But the lack of funding is putting those plans in jeopardy.
Today the Foreign Affairs Minister of Turkey, Mevlut Cavusoglu, will travel to Brussels for talks with EU Commission Vice-President Frans Timmermans to discuss budgetary and financial questions as part of the new set of talks about membership of the EU.
The EU has pledged $3.3 billion to scale up humanitarian assistance in Turkey to cover the basic needs of Syrian refugees this year. However, only $30 million of the total $266 million released has gone to education, leaving the future of hundreds of thousands of Syrian children at risk.
Some young Syrians have been out of school since the conflict in their country began more than five years ago. They include vulnerable adolescents now in their teenage years who were just children when they arrived.
In recent months, there has been a growing acceptance among world leaders that much more must be done to provide education in humanitarian emergencies.
The school runs a morning shift and an afternoon shift
Leaders meeting at the Supporting Syria 2016 conference, held in London in February, made a promise to get one million Syrian children in school this academic year in Turkey, Lebanon and Jordan.
And a month ago the historic World Humanitarian Summit in Turkey agreed that education must be a top priority in any emergency response.
The Education Cannot Wait fund was launched at the Istanbul summit. It aims to reach more than 13.6 million children and youth living in humanitarian emergency situations – including wars and natural disasters – with quality education over the next five years and 75 million by 2030.
Tom Fletcher added: "In conflict and disaster areas, kids out of school risk being trafficked, forced into early marriage and child labour. Aid must be about more than basic minimums of food, shelter and safety. It must provide children with a safe school, a future and hope."
Funding from the Hilton Foundation has enabled Theirworld – the charity behind A World at School – to expand its education work in Turkey. It is working alongside government, international agencies and local organisations to find sustainable solutions for the refugee education crisis.
Theirworld recently visited Istoc Primary at Bagcilar, a suburb of Istanbul to see how Syrian children have been welcomed into the classrooms.
---
More news
Theirworld's mission to give children in crises a safe place to learn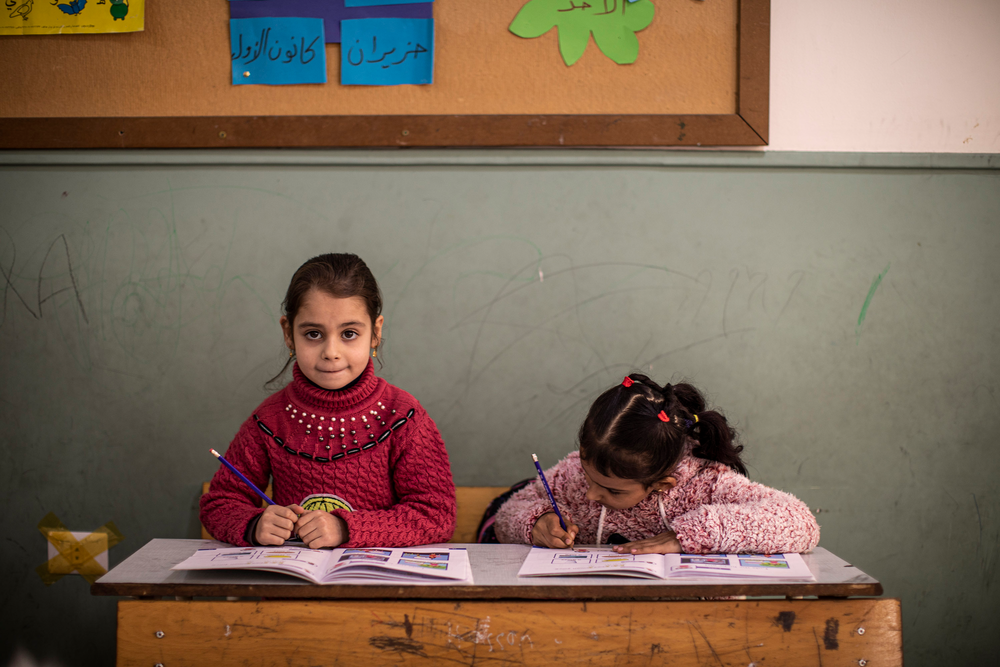 Theirworld's mission to give children in crises a safe place to learn
We thought loud noises were a storm – it was Russia bombing Ukraine
We thought loud noises were a storm – it was Russia bombing Ukraine