USAID helps thousands of children into education in Pakistan's Sindh province
Barriers to education, Education funding, Girls' education, Right to education, Teachers and learning
---
The programme includes enrolling 100,000 girls, improving reading for 750,000 children and helping 25,000 teachers increase their skills.
---
It's an uphill battle trying to deliver education for every child in Pakistan's Sindh province. More than 2.8 million children are out of school and the government admitted in 2014 that 40% of classrooms were closed.
Sindh's education minister announced earlier this year that "sincere efforts" are being made as part of a nationwide enrolment drive. It has increased its spending on education by 24%.
In the meantime, one programme is making a significant difference in encouraging children to go to school and improving their reading skills.
USAID (US Agency for International Development) has been supporting the Sindh Basic Education Programme (SBEP) with a grant of $165 million. Its progress was reviewed this week when Sindh Chief Minister Murad Ali Shah met high-ranking US officials in the capital Karachi.
Murad – who said he had declared a state of emergency over education – added: "The SBEP aims to improve the quality of education and increase the number of students enrolled in schools. The programme is being implemented in seven districts of northern Sindh and five towns of Karachi."
The programme includes:
Building 106 new schools with 1400 classrooms in flood-affected and other areas
Improving the reading and numeracy skills of 750,000 children over five years
Engaging up to 400 communities in the construction, operation and maintenance of schools over five years
Establishing effective public-private partnerships to manage these schools and ensure enrolment of at least 100,000 girls
Increasing the knowledge and skills of 25,000 primary school teachers
"It also aimed at providing non-formal educational opportunities to 100,000 out-of-school children to enable 50,000 to transit to formal schools," said Chief Minister Murad.
Sikander Ali Kalhoro is one of the thousands of children who have been helped so far. Now 14, he was out of school and working at the age of 11.
Sikander, from the village of Wasu Kalhoro, said: "I steered a donkey cart and sold sweets to support my family. 
"Our village elders in the School Management Committee and community mobilisation programme team motivated me to go to school like other students. They made me realise the importance of education."
The day he started school, he said, he "was calling villagers during the enrolment walk to send their children to school".
The Sindh provincial government has also partnered with Rotary International to equip science and computer labs in schools and to provide reading material to 1100 school libraries.
Sadly, nearly a third of primary school students in Sindh are unable to read a story in either Sindhi or Urdu. 
As part of the Sindh Reading Programme, the education department told all primary public schools to include a 35-minute reading period in their classes each day. 
Student Mohammed Saleem said: "One day our teacher announced that we will have a daily reading period in which we will be allowed to read books and also take them home. 
"Our excitement saw no end and since then there is no stopping us." 
---
More news
Skills for the future give young people the best chance of success
Skills for the future give young people the best chance of success
Take the test and discover how our Schools Hub helps students grasp the global education crisis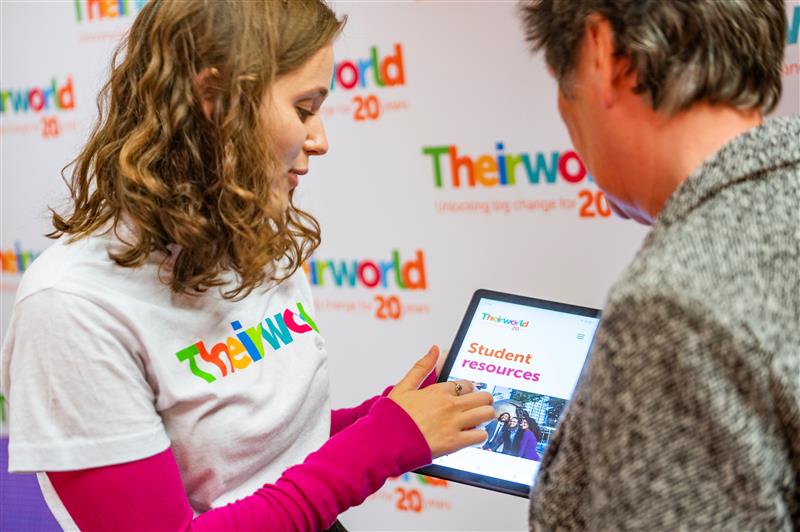 Take the test and discover how our Schools Hub helps students grasp the global education crisis