Venezuela crisis is wrecking education and hope for millions of children
Education in emergencies, Refugees and internally displaced people
Loss of power that closed classes for days is just the latest blow in a country where half of children don't go to school and millions have fled over the borders.
---
When the lights went out in Venezuela's schools, it was just the latest blow for an education system in danger of collapse.
Schools were shut down for several days as the crisis-torn country tried to cope with an electricity blackout that plunged its people into darkness and desperation. 
Students started to return to their classrooms on Friday. But half of the country's children don't go to school due to a lack of water, food and transport, and other effects of the economic meltdown.
About 2.7 million Venezuelans have fled since 2015 – mostly into Colombia and other South American countries – in a growing refugee crisis that's being likened to those created by the Syria and Afghanistan conflicts.
"The speed of growth in the total number of Venezuelan migrants and refugees is as high as the Syrian crisis in its early years," said a report by the Organization of American States earlier this month.
The United Nations predicts that number of Venezuelan migrants could rise to five million by the end of this year. Gordon Brown, the UN Special Envoy for Global Education, highlighted the country's crisis last month when he said affected children were "the lost generation who are now becoming the invisible generation".
Theirworld's #WriteTheWrong campaign has been spotlighting the fact that one in five children globally don't have access to education. Refugee children are particularly vulnerable to poverty, abuse, slavery and human trafficking. 
This is denying them their right to education and the opportunity for them to fulfil their potential.
As well as hitting education, the crippling economic situation in Venezuela has seen shortages of food and medicine alongside rising crime and hyperinflation.
Prices are rising more than two million percent per year and the country's minimum wage, worth around $6 per month, buys little more than a tray of eggs.
That has seen a dramatic rise in malnutrition, with children under five suffering the most.
Since the beginning of the school year in September, attendance has been low at many schools.
"The children have no food at home and they come here to at least get one meal," Francy Rodriguez, a teacher in the capital Caracas, told Al-Jazeera. 
"But we haven't had food for a year because the kitchen is broken. The children faint during physical education class because their stomachs are empty."
Venezuela's first regional Refugee and Migrant Response Plan has been produced for 2019, involving 95 organisations in an effort co-ordinated by the UN refugee agency UNHCR and the International Organization for Migration.
Eduardo Stein, Joint UNHCR-IOM Special Representative for Venezuelan refugees and migrants, said: "Venezuelans I met during my visits spoke of hunger, lack of access to medical care, insecurity, threats, fear. 
"They are families, women alone, children, young boys and girls, all in conditions of extreme vulnerability. All of them saw no other option than to leave their country – sometimes walking for days – seeking to live in dignity and to build a future." 
Of the hundreds of thousands of children who fled over the border into Colombia, about half are not in school.
"They are hungry and scared. They are often sick and malnourished. Many have been separated from their families and have missed months or years of school," said Caroline Kennedy, an overseer with the International Rescue Committee.
Thousands of Venezuelan children cross into Colombia each day just to get to an education.
"Teachers were leaving and there were no classes," said 14-year-old Daniela, who has been making the three-hour round trip for two years.
But that's putting a huge strain on the Colombian school system.
"The situation is going to explode, so many are arriving," said school principal German Berbesi.
---
More news
Theirworld's mission to give children in crises a safe place to learn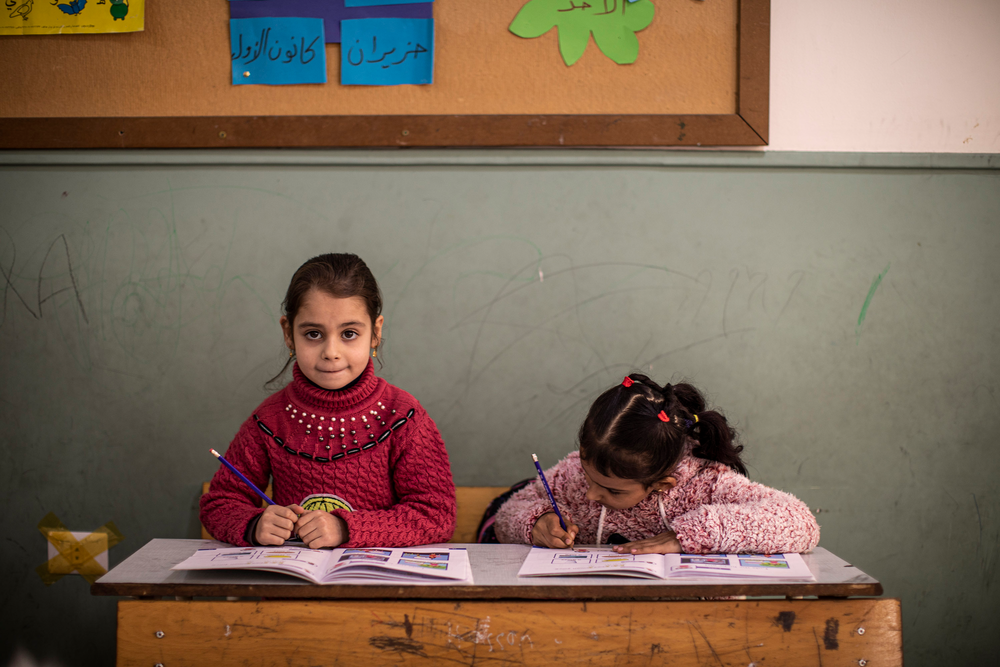 Theirworld's mission to give children in crises a safe place to learn
World Refugee Day: ACE project helps children to integrate and learn in Greece
World Refugee Day: ACE project helps children to integrate and learn in Greece