Watch how Theirworld helps refugee children learn from home in lockdown
Days in the childhood development calendar, Refugees and internally displaced people, Theirworld
---
A video to mark World Refugee Week features a Syrian family in Lebanon who adapted to online lessons when schools were closed. 
---
When the pandemic forced schools to close in Lebanon, Syrian refugee Nour Abdul Rahman feared that her children's education would suffer. 
But all four quickly adapted to online learning at home thanks to a Theirworld project which equipped teachers with the digital skills to help parents and colleagues continue lessons. 
"Even though there is poverty and our living situation is bad, what matters to me is my children's education. That's the most important thing in my life," said Nour. 
The family features in a new Theirworld video to mark World Refugee Week from June 14 to 20 (World Refugee Day). It shows how Theirworld's Tech Hub programme helped teachers at Mtein school learn new ways to communicate lesson plans and exercises with their students using mobile technology.  
Watch our new video
The theme of this year's World Refugee Week is "We Cannot Walk Alone". Covid-19 and other events over the past year have heightened the global refugee crisis and there are almost 32 million child refugees. They are five times more likely to be out of school than other children and youth. 
"The number of refugee children around the world is at an all-time high and the challenges they face are further complicated by the pandemic. We must do even more to ensure safe schools and the hope for a brighter future," said Theirworld President Justin van Fleet. 
Theirworld Chair Sarah Brown added: "We have all been affected by this pandemic year but imagine being a child refugee displaced from your home. The fear, the instability, the trauma. The one thing we can do is offer schooling and hope for the future for anyone displaced. " 
Theirworld works with organisations on the ground to support refugee education in Lebanon, Turkey and Greece. Here is a quick look at some of our programmes.
LEBANON 
Our Tech Hub programme in Lebanon is a partnership with DOT (Digital Opportunity Trust) Lebanon and is funded by the players of People's Postcode Lottery. The project has included improving technological skills for Lebanese and Syrian students and a variety of emergency projects during the pandemic and school closures. 
Another pilot project was launched in 2019 with the SKILD Center to deliver more inclusive education to Syrian children. The partnership also created a series of educational films last year, with activities and advice for teachers, parents and children unable to access schools or specialists during school shutdowns. 
GREECE 
Theirworld has worked with partners in the Greek Aegean Islands to help provide education for thousands of refugee children. Our projects with non-formal education centres have reached almost 7,000 children and youth. Theirworld's Covid emergency response programmes on the islands helped thousands of children through self-learning materials, backpacks and hygiene items.  
By the end of 2021, Theirworld will have invested more than $5 million in the refugee education response on the islands through our partnership with Education Cannot Wait and Nationale Postcode Loterij, supporting local organisations working alongside UNHCR and UNICEF. 
Earlier this month the Greek government committed to adopt a blueprint from Theirworld to provide all refugee children in the country with an education, in cooperation with the UN. 
TURKEY 
Theirworld supports a project called Trauma Informed Schools, run by the organisation Maya Vakfı. It identifies and helps refugee children who suffer from trauma after going through conflict and displacement. The current programme began earlier this year.
---
More news
Take the test and discover how our Schools Hub helps students grasp the global education crisis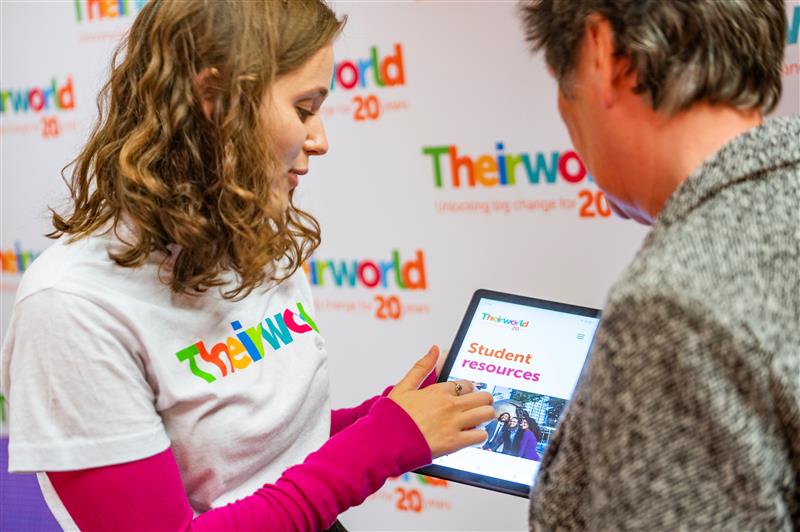 Take the test and discover how our Schools Hub helps students grasp the global education crisis
#LetMeLearn: the story of a global education campaign
#LetMeLearn: the story of a global education campaign