Schools in Gaza closed as fighting threatens safety of children and teachers
Children in conflicts, Education in emergencies
---
An outbreak of violence has prompted action from the UN agency that educates 270,000 children there.
---
The education of 270,000 children has been disrupted because of an outbreak of violence in Gaza.
UNRWA – the United Nations agency that provides education for Palestinians – said today it had closed all schools in the Gaza Strip because of the danger to students and teachers.
Palestinians have fired over 400 rockets or mortar bombs across the border into Israel since yesterday. In response, Israeli forces have carried out air strikes on dozens of targets.
Six people have been killed in Gaza and Israel in the worst bout of fighting in four years. The violence began after a botched Israeli commando raid in Gaza on Sunday in which eight people died.
UNRWA spokesman Chris Gunness tweeted:
https://twitter.com/ChrisGunness/status/1062254886992121856
Gunness told Their News: "We are keeping the situation under constant review because we are determined that some 270,000 UNRWA students in Gaza should continue with their education."
He also tweeted: "Staff report the ground and buildings shaking as if an earthquake is striking. All sides must support ceasefire efforts to avoid descent into Gaza's fourth war in a decade."
Gaza resident Jamal Murtaja said: "The children are afraid. They are terrorised. We couldn't sleep last night or this morning."
Revital Steinberg, a school counsellor in the Israeli city of Ashkelon, told the Guardian she had slept in the living room with her daughters aged eight and 11 to be closer to their fortified safe room.
She added: "The night was terrible. My 11-year-old was really worried about her classmates, messaging them on WhatsApp to try and calm and relax them."
The closure of Gaza's schools comes just days after UNRWA said all of its 711 schools there and in the West Bank, Lebanon, Jordan and Iraq would stay open for the rest of the academic year despite a funding crisis.
There had been warnings throughout the year that the schools could be closed because of lack of finance after the United States slashed its contribution by about $300 million.
The education of 526,000 children accounts for 54% of UNRWA's spending.
The head of UNRWA operations in Gaza, Matthias Schmale, visited Banat Ar-Rimal school last week and said the agency still has a deficit in its core programme budget.
But he added: "If we get to the end of December, we know that there are member states who committed money for next year. So, I can say now that this school year is basically safe." 
In October, UNRWA said new contributions of $122 million made at a meeting of government ministers in New York would keep the schools open for a few more months.
---
More news
Theirworld initiative helps to deliver $30m of computers to Ukrainian children
Theirworld initiative helps to deliver $30m of computers to Ukrainian children
Theirworld's mission to give children in crises a safe place to learn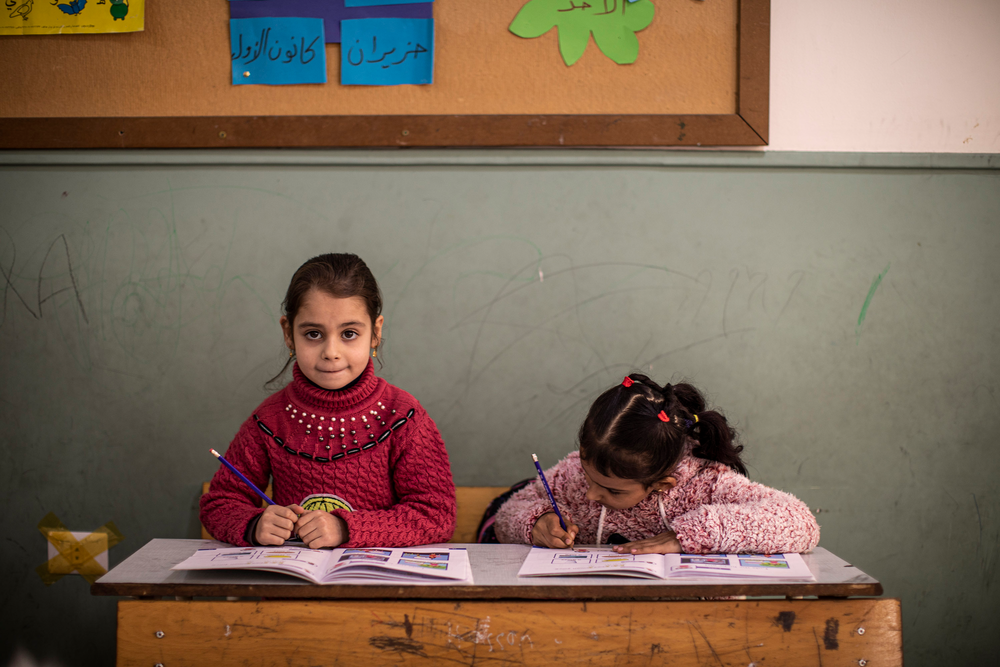 Theirworld's mission to give children in crises a safe place to learn