Watch Syria's Young Talent: refugee rappers show potential of every child
Children in conflicts, Education in emergencies
They left their home four years ago – fleeing with their family from the conflict in Syria, from the bombings and the bloodshed.
Arriving in neighbouring Lebanon as refugees, life was difficult and confusing. But eventually they were able to go back to school and begin to fulfil their potential.
Now the three Karbouj brothers are displaying their talent for rap music in a new video called Straight Outta Syria. It explores their story and shows that if they hadn't returned to education, they would have not been able to develop their talent.
The film was launched today as part of A World at School's #UpForSchool campaign. The video, made by Silverfish Productions, calls on the international community to support the Hope for Syria's Young Talent petition – ensuring one million Syrian refugee children secure an education this year in Lebanon, Jordan and Turkey.
The brothers are Samir, 13, Abdulrahman, 12, and nine-year-old Mohamed, who live in Lebanon's Bekaa Valley. Their talent was discovered while attending a learning centre run by Sonbola, an education initiative working to provide quality education and interactive learning for Syrian refugee children in the area.
"We started to sing rap two years ago," said Samir. "We discovered rap when were switching channels on TV and heard a song that describes the situation in Syria – how they are living, how the children are not happy."
Mohamed, Abdulrahman and Samir just love to show their rap skills
The boys began to practise and to use rap as a way of expressing their feelings.
Abdulrahman said: "I feel extremely happy and encouraged when I rap to people. I feel I am spreading happiness in the hearts of the children, especially when they imitate me."
Parents Mohammed and Faten are incredibly proud of their children.
Find out how the film was made
"They practise at home. They sing together and they study together," said Mohammed, a 38-year-old stonemason. But there is sadness behind the joy in their children's achievements.
"The kids had a beautiful life in Syria," he said. "But we were forced to leave because our area was coming under fierce bombardment. We had to flee for our lives."
Faten, 30, added: "I almost got hit by rockets when I was hanging out laundry at our home at Rashidieh in Aleppo. There was fire and heavy bombardment.
"It was getting so scary and there was no gas or electricty. The children used to see the rockets falling close to us day and night. They saw and heard the air raids. They witnessed everything.
Amir with Mohamed and Abdulrahman in the Bekaa Valley
"They were very scared. We tried to calm them down so that they wouldn't get sick or troubled. Sometimes they would wake up in the night shaken by the sound of bombs."
Amir said: "Yes, we were scared. We were playing when we heard a terrible noise. Then we heard my aunt and my mother screaming – they told us the mosque was being bombed and there was fire and black smoke. The next day, we left for Lebanon."
The #UpForSchool campaign warns that a lack of funds could leave one million vulnerable Syrian children, living as refugees in Jordan, Turkey and Lebanon, out of school and at risk of child labour, early marriage, exploitation and extremism.
The Hope for Syria's Young Talent petition has been launched ahead of a crucial international Syria pledging conference in London on February 4. World leaders will meet to secure the $750 million needed to fund all the school places for refugee children.
Sarah Brown, President of A World at School's parent charity Theirworld, said: "This film poignantly tells the story of three brothers, who despite their circumstances have been able to develop their passion for rap music because they have returned to the classroom.
"However, there is a generation of young talent from Syria who will not be able to fulfil their potential because they are currently denied an education.
"We must challenge world leaders to play a part in giving the most vulnerable children in the world a life they deserve. By investing in their education we are providing hope for Syria's Young Talent and avoiding greater problems in the future."
Mohamed in his class at Al-Jarrahieh Public School
The Karbouj brothers are benefitting from the innovative double-shift school system in Lebanon, where local and Syrian children go to school at different times of the day.
There are currently 220,000 Syrian children using the system but there is a plan to get one million refugees into education in Lebanon, Jordan and Turkey this year. Double-shift schools are cost-effective – approximately $500 per child – and affordable because of mainly using existing school buildings.
"The kids are so happy to be studying in school," said Faten. "I feel sad for the children who do not get an education."
Her husband Mohammed added: "If children do not get an education they will have no future. There will be no future for Syria.
"Education will bring Syria back. This generation will rebuild Syria, this generation will protect Syria, this generation will return Syria to the way it was."
Abdulrahman said: "School helps us to improve our talent. We are learning how to read and write and when we grow up learning will help us in rap as well. Everything in life needs studying."
Sign the Hope for Syria's Young talent petition here and help to get one million refugee children into school.
---
More news
Theirworld initiative helps to deliver $30m of computers to Ukrainian children
Theirworld initiative helps to deliver $30m of computers to Ukrainian children
Theirworld's mission to give children in crises a safe place to learn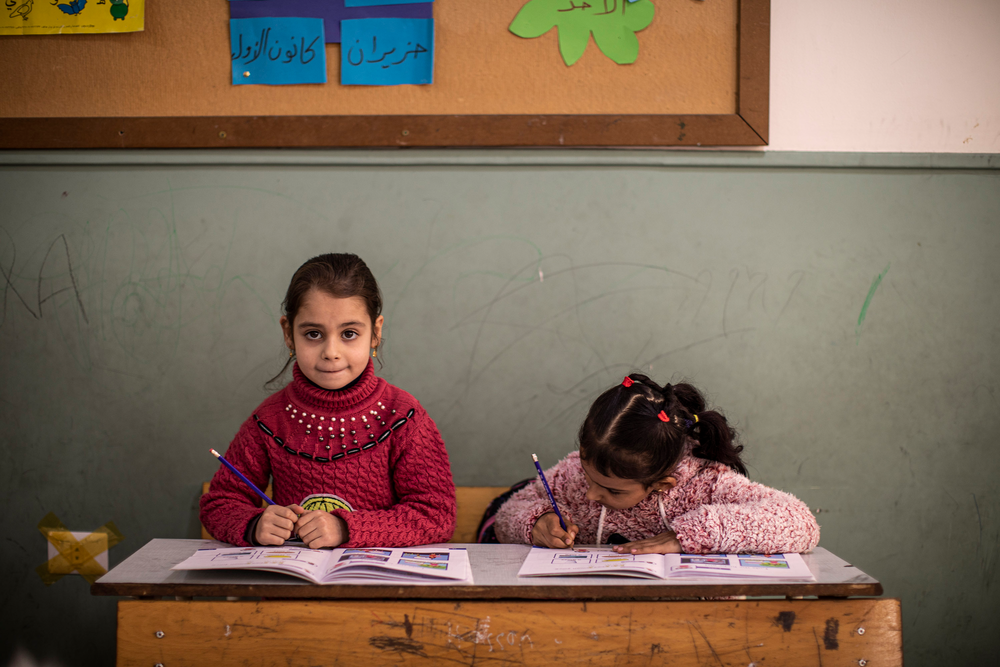 Theirworld's mission to give children in crises a safe place to learn