What does school mean in countries hit by conflicts and disasters?
Children in conflicts, Education in emergencies
What does school mean to you? We put that question to children in countries impacted by conflict and natural disasters.
Young people in Gaza, Central African Republic, Malawi, Lebanon, Pakistan, the Philippines and Nigeria shared their answers for Universal Children's Day today.
The film was made with the involvement of young activists around the world – including A World at School's inspiring Global Youth Ambassadors. Watch it and then share your own answer on social media using #upforschool. We would love to hear from you.
Education is vital in emergencies
Disaster. Conflict. Epidemic. All of these emergency situations leave children vulnerable and too often out of school. Yet only 1% of all humanitarian aid is dedicated to education.
How long will we let these children wait? Wait to learn, to return to normality, to plan and hope for the future.
A World at School is calling for a new platform to fund and coordinate education in emergencies – and we must not let up the pressure until it is in effect!
So why is education in emergencies so vital? Read on to find out…
What is meant by an emergency?
There are three basic types – conflicts or wars, natural disasters and health-related crises, such as the Ebola outbreak.
How many children live in emergency settings?
There are an estimated 65 million children aged three to 15 affected by emergencies, according to a recent paper by the Overseas Development Institute.
We are currently experiencing the biggest refugee crisis since World War II. Despite that, there has been a drop in funding for education in the poorest and most volatile settings. Only 1% of humanitarian relief is invested in education and creating safe places for children to recover and rebuild their futures.
Providing education for these children is critical. If it isn't, entire generations could be lost to child labour, child marriage, recruitment into fighting or other life-threatening activities. Educating children contributes towards peacebuilding and rebuilding damaged communities.
What are examples of children living in emergencies?
The Syrian conflict has put 2.7 million children out of school in the region. In Nigeria, 1.4 million children have been displaced by Boko Haram violence.
In Nepal, the earthquake destroyed more than 90% of the schools in the hardest-hit regions such as Ghorka. In West Africa, five million children were forced out of school for months by the Ebola crisis – and many will never return.
How much does education benefit from the billions of dollars spent on humanitarian crises?
Not nearly enough – in fact, a grossly inadequate share of funding. In 2014, only 1% of humanitarian relief went towards education. While costs differ across different contexts and crises, the ODI estimated there is a global funding gap of $4.8 billion. That may sound like a big sum – but it equates to roughly one day's military spending around the world.
So why is education important in an emergency?
There is a misconception that education is not immediately critical to save lives. That means it is the first service to be sacrificed and the last to be rebuilt in emergencies.
In any emergency situation, people need food and water, shelter, medicines and security. But we know that children need education too.
Schools and temporary learning spaces provide safe and secure environments for children to be with each other and begin to cope with the trauma of living through an emergency. Also, unless children return to school quickly, they are at risk of being forced into child labour, child marriage, trafficking, sexual exploitation or recruitment as child soldiers.
Are there any other short-term benefits from education?
It can provide children with life-saving information, such as self-protection from sexual abuse, hand-washing to avoid diseases and land mine awareness. Children being in school also allows parents to go back to work as soon as possible.
What are the long-term consequences of children being out of school in emergencies?
With each year of education that a child misses, the human, social and economic costs rise. Their families and communities remain in poverty.
The average time a refugee spends away from their home is 17 years. Refugees who have missed out on educational opportunities also lack the skills to return to their homes and help rebuild services such as education, health and government.
It becomes a cycle where families, communities and even countries become increasingly vulnerable – and often unable to prevent future conflicts or deal with the effects of natural disasters.
Why isn't more financial aid given to education in affected countries then?
Mainly because of the misconceptions outlined above – that education is not critical during an emergency stiuation. Countries that are NOT in crisis get more development aid for education on average than those in a long, ongoing emergency.
Talking about the lack of a designated fund or mechanism to back education in emergencies, War Child chief executive Rob Williams wrote in a recent Huffington Post article: "It's a mystery to me why this fund has not come about before now. The need for it has been apparent for several years. If not decades."
Are there any other specific problems caused by the lack of education in emergencies?
The onset of natural disasters and armed conflict also weakens social institutions and increases the chance of sexual violence against women and girls. Parents may perceive marriage as a way of protecting and providing for their daughters and helping to financially support other family members.
Is education directly under attack in conflict countries?
Students, teachers and school buildings were attacked in more than 70 countries between 2009 and 2012 – by armed groups, state soldiers and criminal gangs.
To counteract this, more than 50 countries have now signed the Safe Schools Declaration. It commits them to protect education from attack and to use the Guidelines for Protecting Schools and Universities from Military Use during Armed Conflict.
What are we trying to achieve?
We want to:
End the crisis in funding for education and the denial of the right to education in the poorest and most volatile settings
Ensure rapid support for education coordination and delivery at the onset of crisis
Support strategies that close the gaps between immediate humanitarian response and longer-term development
Strengthen existing funding mechanisms for a more coordinated response
To do all us this we continue our call for a new global platform to fund and coordinate education in emergencies.
And what is being done to make this happen?
In July 2015 a joint call to action, led by A World at School and signed by more than 40 leading NGOs and campaign organisations in the run-up to the Oslo Summit on Education for Development, called for "new and immediate finance to deliver education alongside protection and other essential social services."
At the Oslo Summit an agreement, backed by strong political will ,was reached on the need to create a common platform to improve how aid is provided in emergencies – including conflicts and natural disasters – and urgently address the gap in funding for education in emergencies.
The work to create a Global Humanitarian Platform to Fund and Coordinate Education  in Emergencies is being shepherded by an informal Champions Group – including Gordon Brown, the UN Special Envoy for Global Education, Julia Gillard, Board Chair of the Global Partnership for Education, and Tony Lake, Executive Director of UNICEF, as well as a number of key donors, affected governments and other stakeholders.
ACT NOW
Join the movement of more than 10 million people standing #UpForSchool and the right of every child to go to school and learn safely.
---
More news
Theirworld initiative helps to deliver $30m of computers to Ukrainian children
Theirworld initiative helps to deliver $30m of computers to Ukrainian children
Theirworld's mission to give children in crises a safe place to learn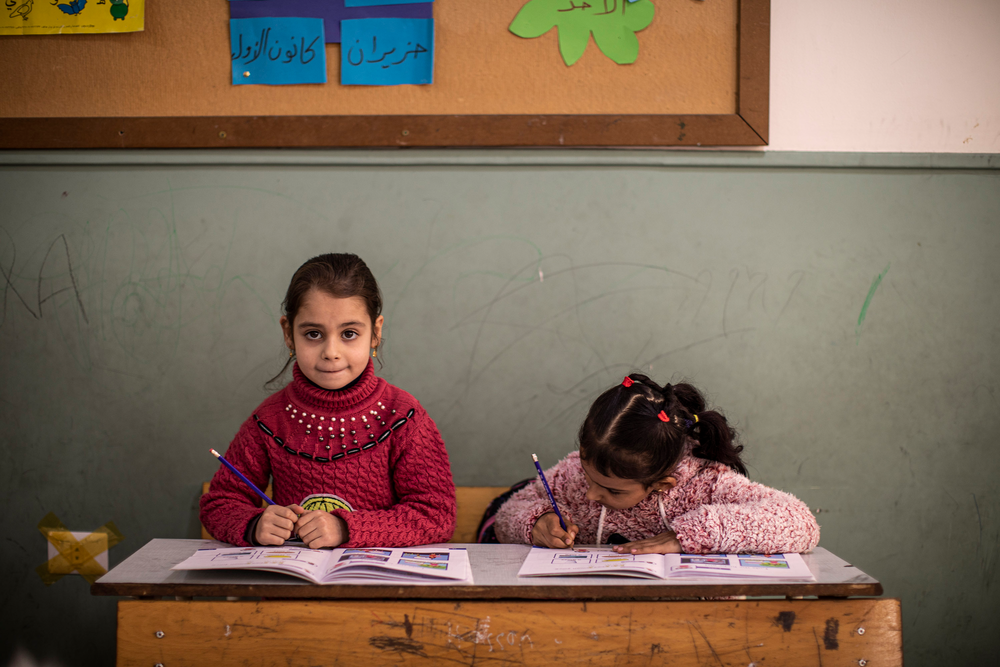 Theirworld's mission to give children in crises a safe place to learn