Caring Wimbledon stars who serve up education for deprived children
Barriers to education, Celebrities, Discrimination of marginalised children, Early childhood development, ​Learning through play (Early years), Right to education, Teachers and learning
Some of the biggest stars in tennis are helping hundreds of thousands of children around the world to access school and preschool programmes.
---
The world's favourite tennis tournament starts today – and millions of people will be watching their favourite stars in action at Wimbledon.
But how many of them know that as well as hitting returns and volleys, some of the biggest names in tennis are also serving up opportunities for children to have a better life and education?
Here's a look at some of the Wimbledon aces present and past whose charitable work includes education and early childhood development.
Roger Federer
The Swiss player has won 18 Grand Slam singles titles, including seven at Wimbledon. He is currently number five in the world and is seeded third at this year's Wimbledon.
The Roger Federer Foundation supports educational projects in Switzerland and in southern Africa – Botswana, Malawi, Namibia, South Africa, Zambia and Zimbabwe. The African programmes focus on the improvement of the quality of early learning and basic education.
Launched 14 years ago, the foundation helps children from the poorest communities to access education. So far more 650,000 children and 7600 teachers have benefited.
"Education really gives you the opportunity to learn in life – it's good for your health, it's a human right, it breaks the cycle of poverty," said Federer in an interview this week.
Serena Williams
She has won 23 Grand Slam singles titles – seven of them at Wimbledon – and 16 doubles. But Serana is missing from the London tournament this year because she's pregnant. 
The Serena Williams Fund was founded to create equity through education and assist victims of senseless violence. It has built schools in Kenya and Jamaica and given supplies to schools in her home city of Compton, California.
The American player said: "Education is the great equaliser. It is a fundamental human right… an open door to a world of possibilities. 
"I am committed to providing children with the resources they need to realise their potential through a quality education."
Novak Djokovic
The Serbian is the second seed at Wimbledon this year. Ranked fourth in the world, he has three Wimbledon titles among his haul of 12 Grand Slams.
The Novak Djokovic Foundation is a global organisation with a dream for every child to have equal access to a quality preschool education.
It has helped 10,000 children from impoverished areas to grow, play and develop in stimulating, creative and safe settings.
Djokovic, who is also a UNICEF Goodwill Ambassador, said in an interview this month: "Becoming a father for the first time to Stefan made me realise it is the most important job I will ever have. Fatherhood has changed who I am – my relationship with Stefan has made me want to help all children realise their dreams."
Rafa Nadal
The Spaniard is the best clay court player of all time and has won 15 Grand Slam titles, including two at Wimbledon. He is seeded at number four for this week's tournament.
The Rafa Nadal Foundation offers educational programmes to deprived children and has sport at its heart. 
It currently focuses on the most disadvantaged areas of cities in India and Spain and promotes education, sport and family cohesion.
Nadal's mother Ana Maria Parera is president of the foundation. She said: "When we started working for the benefit of the underprivileged, it was clear to us that sports and education could help young people a lot."
Maria Sharapova
Back after a 15-month ban from tennis, the Russian was due to play in the Wimbledon qualifiers but had to withdraw through injury. Her five Grand Slam singles titles include one at Wimbledon.
In partnership with the United Nations Development Programme (UNDP), Sharapova launched a scholarship programme for students from Chernobyl-affected areas of Belarus through the Maria Sharapova Foundation. 
"It has always been my dream to contribute to the recovery of a region where I have a personal connection," she said. 
"Enabling talented young people to pursue higher education is part of a broader effort to build a brighter future for the region."
Marin Cilic
Croatian player who won the US Open in 2014 and is the seventh seed for this year's Wimbledon's mens singles.
The Marin Cilic Foundation was launched last year to support educational projects and give scholarships. He received the 2016 Arthur Ashe Humanitarian Award.
Cilic said the foundation will support projects around the world – with a special focus on giving young people in Croatia improved access to education.
He said: "I want to give something back and also give some opportunities for some people and some kids that don't have as many possibilities to pursue their dreams. I feel it's the most prestigious award. It's the one I'm going to value the most."
Steffi Graf
The German won 22 Grand Slam titles during a glittering career from 1982 to 1999 – seven of them on the grass at Wimbledon.
Graf's Children for Tomorrow foundation helps traumatised children whose lives have been scarred by war, abuse, persecution and loss of family.
It finances projects in Uganda, Eritrea and Kosovo, as well as a clinic for refugee children and adolescents in Germany, traumatised youngsters from crisis-hit areas receive psychological and psychiatric treatment.
As a player, she travelled the world. She said: "I often observed the terrible conditions children in other countries have to grow up in. It was then that then I decided to dedicate my time to these children after my active career."
Andre Agassi
Winner of eight Grand Slam titles, including one at Wimbledon, when he was one of the game's great stars in the 1990s and 2000s.
In 1994 he established the Andre Agassi Foundation for Education to help improve public education in the United States, which has raised more than $180 million.
It includes schools in Las Vegas that look after the city's most underserved and economically-challenged neighbourhoods.
Agassi said he was "driven by belief that education is the key to opportunity for children".
Andy Roddick
The last American to win a Grand Slam title, when he took the US Open title in 2003. He reached four Wimbledon finals but lost them all to Roger Federer.
The Andy Roddick Foundation was launched in 2000 to create opportunities for children to grow in literacy, STEM (science, technology, engineering and mathematics), art and sports.
The all-volunteer foundation has raised more than $11 million to fund programmes that enhance educational and economic opportunities for thousands of children throughout the United States.
Roddick said: "It's amazing how much these kids get the opportunity they're being given. They're appreciative. And they work hard because of it."
---
More news
Take the test and discover how our Schools Hub helps students grasp the global education crisis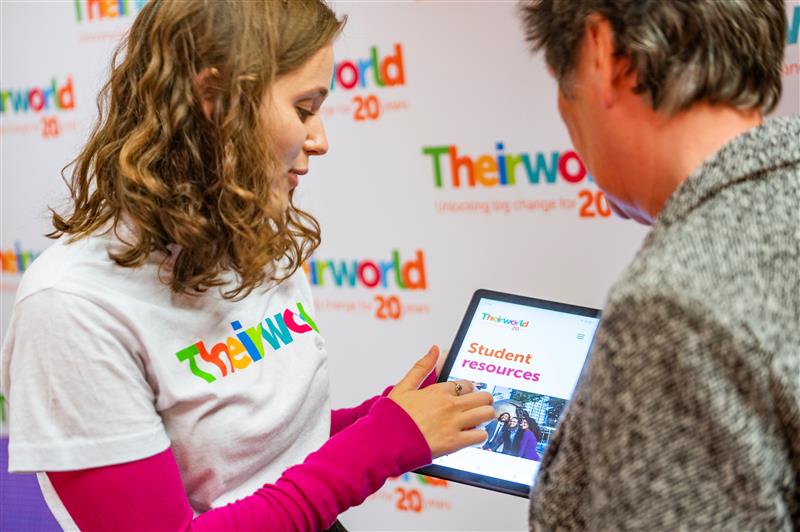 Take the test and discover how our Schools Hub helps students grasp the global education crisis
MyBestStart programme gives young girls the education they deserve
MyBestStart programme gives young girls the education they deserve