High five! Winners of Theirworld Education Innovation Awards 2021 have bold and inspiring ideas to deliver education
Sarah Brown, Theirworld
---
The organisations will receive £50,000 scale-ready grants and mentoring to help them increase their impact for marginalised children. 
---
Meet the fantastic five – a group of inspiring organisations whose bold ideas are helping to tackle the global education crisis. 
They have been chosen as winners of the Theirworld Education Innovation Awards 2021. Each will receive £50,000 scale-ready grants and mentoring to help them make an even bigger impact as they deliver education to vulnerable children. 
The winners are: 
Children on the Edge UK 
Aid for Rural Education Access Initiative 
Lebanese Alternative Learning 
NABU Global Inc. 
Ubongo International  
They were chosen by an expert panel of judges from 11 finalists – all non-profits, NGOs and charities actively working towards – or planning to scale up to – reaching marginalised learners in seven countries where we have projects running: Greece, Kenya, Lebanon, Nigeria, Tanzania, Turkey and Uganda. 
The winners cover early child education, digital skills and low-resource/emergency education in sub-Saharan Africa and the Middle East. If all five winners successfully reach their scale goals – thanks to Theirworld – they will collectively reach six million learners by the end of 2024. 
Theirworld Chair Sarah Brown – one of the judges – said: "Innovation is key to ending the global education crisis. We need new ways to deliver education and to achieve their world's mission of unlocking big change. 
"It was a really tough process to find our five winners but, in the end, we found some amazing, innovative projects. We're so delighted at Theirworld to be partnering with them to help them scale up their ideas and to really unlock big change." 
Along with the other finalists, the five winners have already had masterclasses with Theirworld to help them build connections and hone the skills needed to scale up their innovation. The £50,000 grants for the five winners will cover the necessary scaleup costs, generate evidence and help push pilot projects forwards. 
Over the coming months, we will focus more closely on each of the winning organisations. Here's a quick introduction to them. 
Fast Track, by Aid for Rural Education Access Initiative 
An accelerated skills development programme for out-of-school refugee children in Nigeria. It includes the use of a digital pen which, when it touches text or pictures in a specially-printed book, reads words and phrases out loud. The programme helps children develop basic reading and mathematics skills in English and Hausa – with teaching focused on ability rather than age. 
Gideon Seun Olanrewaju, Chief Executive Director and a Global Youth Ambassador for Theirworld, said: "We decided to start our initiative, the FastTrack innovation, in an area of the northern part of Nigeria, which has the highest population of out-of-school children. 
"When I heard the announcement, I was extremely happy because, finally, Theirworld is adding the last element needed to have a complete youth engagement strategy. It is really, really empowering." 
Children on the Edge UK
Community-owned, sustainable early childhood development for Congolese refugees in Uganda. The project offers school management and teacher training to refugees and creates safe spaces in the Kyaka II settlement. Instead of using school buildings, groups of 10 children learn in local community areas.  
CEO Rachel Bentley said: "Children on the Edge came out of a response to the Romanian orphanage crisis. Since those early days, we've always done what it says on the tin – help children who are very marginalised, who are very on the edge around the world, particularly refugee children, helping them gain access to education. 
"We came across the Theirworld opportunity and realised it would help us hone our programme down, look at the details of it, perfect it and then roll it out so that many more children could experience learning. It was exciting because that's what we needed." 
Lebanese Alternative Learning
Supporting and empowering teachers in Lebanon to provide high-quality remote learning in underserved communities. It does this through the creation and use of digital messenger applications, which support the Lebanese curriculum in Arabic, English and French. 
Souhaila Nassar, Senior Project Manager and part of the scale-up team, said: "Since 2015, LAL has been providing access to quality education to refugees and Lebanese children living in vulnerable communities. During Covid, we developed an offline mobile application to provide individual access for education at home or under a tent. We also started developing a platform to support teachers and remote teaching, especially through mobile messenger applications. 
"When we heard the news, we were all super excited and happy to share this moment together. We definitely had a wonderful weekend after that." 
NABU Global Inc.
Working to increase literacy by tackling the lack of access to books in languages that children speak at home. It provides access to stimulating and culturally-relevant storybooks and other content by publishing high-quality reading material in mother-tongue languages, including through a free reading app that works even where internet bandwidth is low.   
Executive Director Tanyella Evans said: "We work to eradicate global illiteracy by 2030 by disrupting educational inequality that impacts over 250 million children worldwide. We've created a low bandwidth digital reading app that features over 2,000 children's storybooks in mother-tongue languages. 
"We were so excited to find out that we were winners. It means so much to us, especially at this moment. It's really challenging working global education right now with the pandemic – it has disproportionately affected the lives of children." 
Ubongo International
Works with children to produce and deliver localised and fun learning content, through networks and technology that youngsters are already using. Ubongo works with TV and radio stations in more than 40 countries and in several languages. Through the shows, children learn to solve problems, face challenges in their own communities and understand technology. 
Development Manager Consultant Sara Swett said: "We provide African kids with unique educational entertainment on technology and networks that they already have access to. We reach around five million households through TV, radio, mobile phones, digital and partners. Our big focus for this project working with Theirworld is to really scale our impact in Uganda. 
"I was so excited because Theirworld, this application and this project is something that we worked really hard on, and we're really excited about launching this in Uganda." 
---
More news
Sarah and Gordon Brown share global education vision in 100th episode of Better Angels podcast
Sarah and Gordon Brown share global education vision in 100th episode of Better Angels podcast
Take the test and discover how our Schools Hub helps students grasp the global education crisis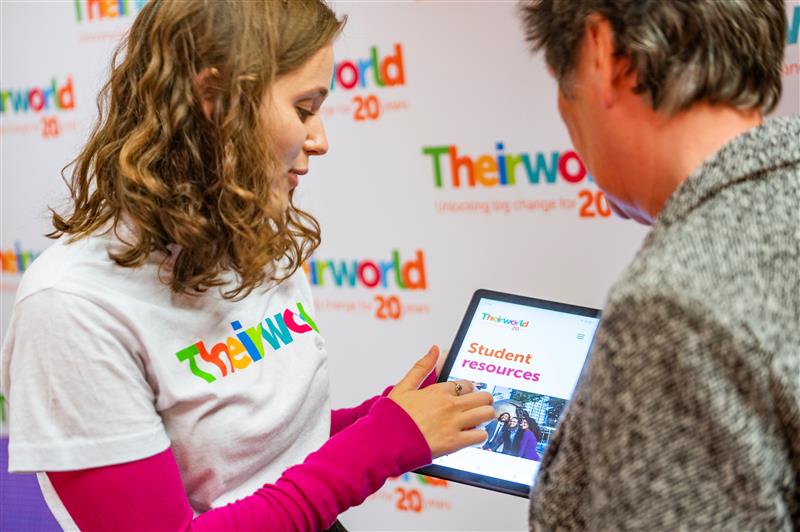 Take the test and discover how our Schools Hub helps students grasp the global education crisis