World Humanitarian Day: urgent action needed to get crisis-hit children in school
Children in conflicts, Education in emergencies
A refugee boy at a UNICEF child-friendly space in Serbia Picture: UNICEF/Georgiev
One in four of the world's school-age children – nearly 500 million – live in countries affected by humanitarian crises such as conflicts, natural disasters and disease outbreaks.
About 75 million of them are either missing out on their education, receiving poor quality schooling or at risk of dropping out of school altogether.
Today – on World Humanitarian Day – we think of these children, their families, their communities and those trying to help them.
What is World Humanitarian Day?
It is held every August 19 to pay tribute to all people affected by humanitarian crises and those who have lost their lives in humanitarian service.
It was started by the United Nations in 2008 to mark the date in 2003 when its headquarters in Baghdad, Iraq, were bombed and 22 officials were killed.
What is this year's theme?
The UN and its partners are calling for global solidarity with the many millions of people around the world who need humanitarian assistance to survive.
Under the theme of "One Humanity", World Humanitarian Day will highlight how international leaders came together in Istanbul for the historic World Humanitarian Summit in May.
What is happening today?
Events will be held around the world to honour the work of humanitarian workers and to celebrate the theme of "One Humanity".
In New York, a wreath-laying ceremony will take place at the UN headquarters and a high-level event will be held in the General Assembly Hall.
How is education affected by humanitarian emergencies?
Millions of children are out of school in countries afflicted by conflicts – such as Syria, Yemen and Nigeria –  and emergencies, including the Nepal earthquakes last year.
The destruction of schools and the limited access to remaining schools means many children will miss out on education for several years.
This #WorldHumanitarianDay choose the world you want to live in: https://t.co/471GHCkbaq #ShareHumanity pic.twitter.com/gpTX0N4Sz7

— UNOCHA (@UNOCHA) August 18, 2016
How much help does education get in these situations?
Far too little. In 2015, less than 2% of all humanitarian aid went towards education. For obvious reasons, most of the money goes to shelter, health care and food.
But education is vital during humanitarian emergencies. It gives children a safe place to help them recover from the trauma – and prevents them from falling into child labour, child marriage and exploitation.
So what's being done to change that?
The World Humanitarian Summit was held in Turkey in May. There world leaders agreed to launch the Education Cannot Wait fund to provide money specifically to help children get back into school quickly during crises.
The fund aims to reach more than 13.6 million children and youth living in crisis situations with quality education over the next five years and 75 million by 2030.
Does that include the children whose families fled from Syria?
The fund will help them. But the international community also met in London in February and promised to pay for more than one million Syrian refugee children to go to school in this academic year in neighbouring countries.
But with less than six weeks to go, only $400,000 of the pledged $1.4 billion has come in. The alarming funding gap was revealed in a report by the children's charity Theirworld. Huge numbers of Syrian children will be deprived of education unless the money arrives urgently.
Theirworld – the charity behind A World at School – is urging world leaders not to break their promise to those Syrian children – and to give them hope for the future.
---
More news
Theirworld initiative helps to deliver $30m of computers to Ukrainian children
Theirworld initiative helps to deliver $30m of computers to Ukrainian children
Theirworld's mission to give children in crises a safe place to learn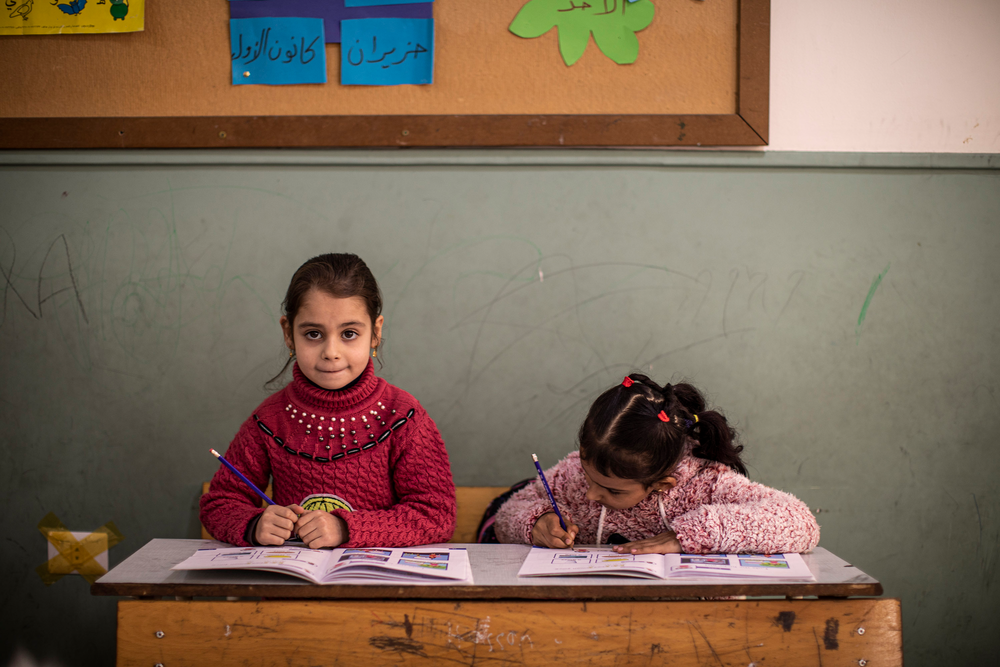 Theirworld's mission to give children in crises a safe place to learn