World leaders pledge to get one million Syrian children into school
Children in conflicts, Education in emergencies
UN Secretary-General Ban Ki-moon receives hand-printed messages from Syrian refugee children, with A World at School Global Youth Ambassador Soulayma Mardam, right, and Avaaz campaigner Fatima Ibrahim
World leaders meeting today at the fourth Syria pledging conference in London announced new pledges to get more than one million refugee children into schools in neighbouring countries in the coming academic year and improve access to learning for children inside Syria.
Sarah Brown, President of Theirworld – the charity behind the global campaign to get one million children in school – said: "World leaders have made new pledges and the future of the region depends on this promise being delivered in very tough circumstances.
"The focus now is whether one million Syrian girls and boys walk through the school gates in the coming academic year and receive a quality education."
Pledges made today at the Supporting Syria and the Region conference include:
The governments of Jordan, Lebanon and Turkey sent a powerful message by coming to the meeting offering one million school places to Syrian refugee children – and leaders from around the world have today backed the plan
Norway has pledged 15% of its Syrian aid to education, including $40 million in 2016 – and challenged others donors to do the same
The United States has pledged $290 million for education in Jordan and Lebanon, to get 300,000 kids in to school
The United Kingdom is doubling funding for education in Lebanon and Jordan to £60 million per year for the next four years –  a total pledge of £240million over the next four years
The Global Business Coalition for Education has announced $75 million from the private sector to support the plan to get one million children in school
The governments of the UK, Norway, Kuwait, Germany and the United Nations hosted the vital pledging conference and prioritised education to ensure there is no lost generation of Syrian children.
News of the breakdown of the peace talks in Geneva means that today's conference is one of the only glimmers of hope in an otherwise desperate situation.
Sarah Brown added: "This is the first emergency aid conference where education has been a top priority for world leaders, signalling a turning point in the recognition of education as a key pillar of any humanitarian response."
In recent weeks 40,000 people sent personal messages directly to world leaders, including Syrian children demanding their education.
Some of the messages – hand-printed by children in Lebanon – arrived in London yesterday ahead of the conference.
The international community has now responded by backing a plan to educate one million Syrian refugee children.
Alice Jay, Avaaz Campaign Director, said: "People all over the world called on their leaders to get a million Syrian refugees into school – and today they have pledged to do just that.
"Now their words must urgently become real funds to deliver this promise and protect the world's most vulnerable children."
Syrian refugee Abdelsalam is 12 but works as a mechanic
It has taken five years for world leaders to back an ambitious plan to educate Syrian refugees. During that time, 12-year-old Abdelsalam fled to Lebanon from Aleppo.
He has now been out of school for three years and is in child labour, working as a mechanic.
Before the conference he said: "My dream was to become a teacher, to teach all children of Syria…If I had the chance to go back to school. I would be an excellent student."
Read more about Abdelsalam's story here.
Campaigners are showing that it is possible to get world leaders to act. But it is time to move beyond a begging bowl strategy for each and every emergency.
We must create a global humanitarian fund for schooling in every emergency. The forthcoming World Humanitarian Summit in May is the moment to do this.
Last year only 2% of all humanitarian aid went to education. But today world leaders have sent a clear message that a child's education must be a top priority in all emergencies.
---
More news
Theirworld initiative helps to deliver $30m of computers to Ukrainian children
Theirworld initiative helps to deliver $30m of computers to Ukrainian children
Theirworld's mission to give children in crises a safe place to learn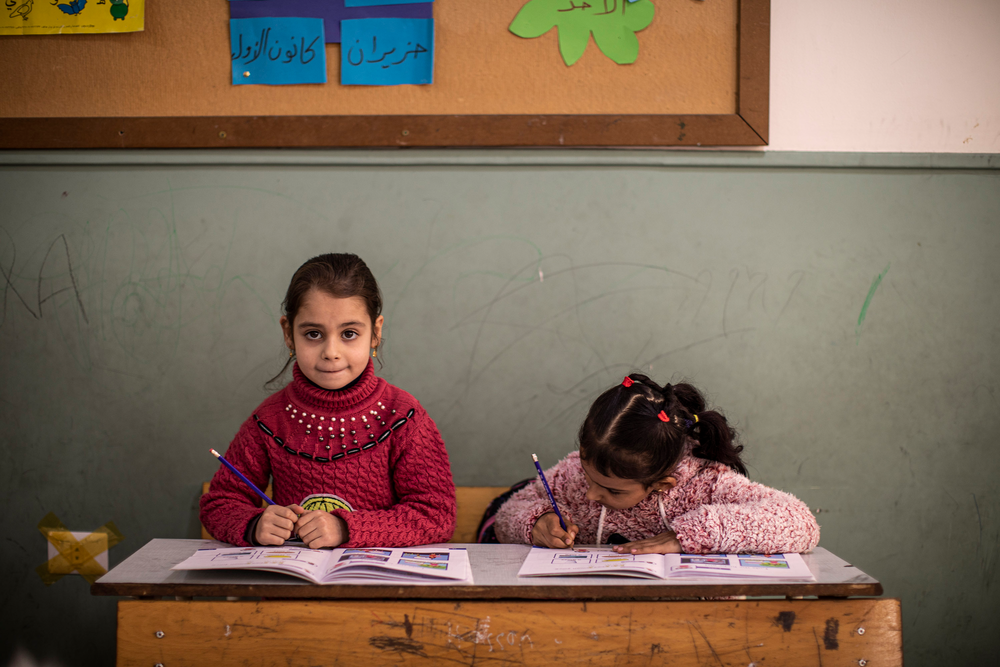 Theirworld's mission to give children in crises a safe place to learn