World Refugee Day: A time to step up
Refugees and internally displaced people
June marks a period for placing a spotlight on the plight of refugees. In the UK it's Refugee Week from Monday the 15th under the banner of "Imagine." And June 20 will mark World Refugee Day, under the theme of "Step with Refugees."  
---
Some of the most disenfranchised individuals are those without any country to call their home, laws to protect them or basic rights to ensure hope and opportunity. Globally, there are more than 70 million forcibly displaced people, including more than 25 million refugees. 
June marks a period for placing a spotlight on the plight of refugees. In the UK it's Refugee Week from Monday the 15th under the banner of "Imagine." And June 20 will mark World Refugee Day, under the theme of "Step with Refugees."  
At a time when more global crises are forcing people from their homes, and Covid-19 is making the world a more precarious place, we are coming together to show our solidarity and to honour their resilience and determination to keep their families safe. 
Both these themes should be a moment for all of us to pause and reflect.  
But beyond reflection, it's time to act.  It's not enough to simply imagine a better future or step with refugees – it's time the world steps up.
One of Theirworld's pillars is education in emergencies.  Globally, 75 million children have their education interrupted each year due to crisis.  In many cases, these are children having experienced things children should never worry about: many have been forced from their homes fleeing violence and conflict in countries ranging from Syria and Afghanistan to Africa and the Americas.
Education is a right. It's in the Universal Declaration of Human Rights, the 1951 Refugee Convention, the Sustainable Development Goals and enshrined in the humanitarian priorities stemming from the World Humanitarian Summit in Istanbul.  But still, too few are listening. 
While education alone will not address all of refugee children's needs, it is an essential component to help them survive the unacceptable humanitarian conditions they are forced to endure, provide a sense of normalcy in otherwise chaotic environments,  and a space to begin to heal and build a better future for themselves, communities, countries and planet. 
In far too many cases, education is the different between hope and despair. 
But beyond reflection, it's time to act. It's not enough to simply imagine a better future or step with refugees – it's time the world steps up.
When I visited the Moria camp in Greece last year I was horrified by the conditions. What was intended to be home for 2,500 refugees is now home to nearly 20,000.  Working in partnership with Education Cannot Wait, UNICEF, UNHCR and others, thanks to the Dutch Postcode Lottery we've been providing thousands of children the opportunity of an education. I saw first-hand the difference it makes. Even if only for a few hours a day, the classroom environment provided a stark contrast to the children's existence in overcrowded camps blighted by poor diet, sanitation, high tension and sometimes violence.
That's why I, and everyone who works for Theirworld, is driven by one thought: imagine a world where we end the global education crisis and every refugee child has a safe place to learn. 
In the coming days we're going to be sharing the incredible stories of people across our movement – from our Global Youth Ambassadors who were refugees themselves to teachers of refugees.  
As they tell their stories of how education changed their lives, imagine what the world would be like if all refugee children had a safe place to learn.  That's why our campaigns are focusing on unlocking big change so that thousands upon thousands of refugees have a better future through education. From Greece, Syria and the Middle East to Africa, South Asia and Latin America, we want you to not only #StepWithRefugees and understand their journey – but to join us and step up for refugees.  
---
More news
Theirworld's mission to give children in crises a safe place to learn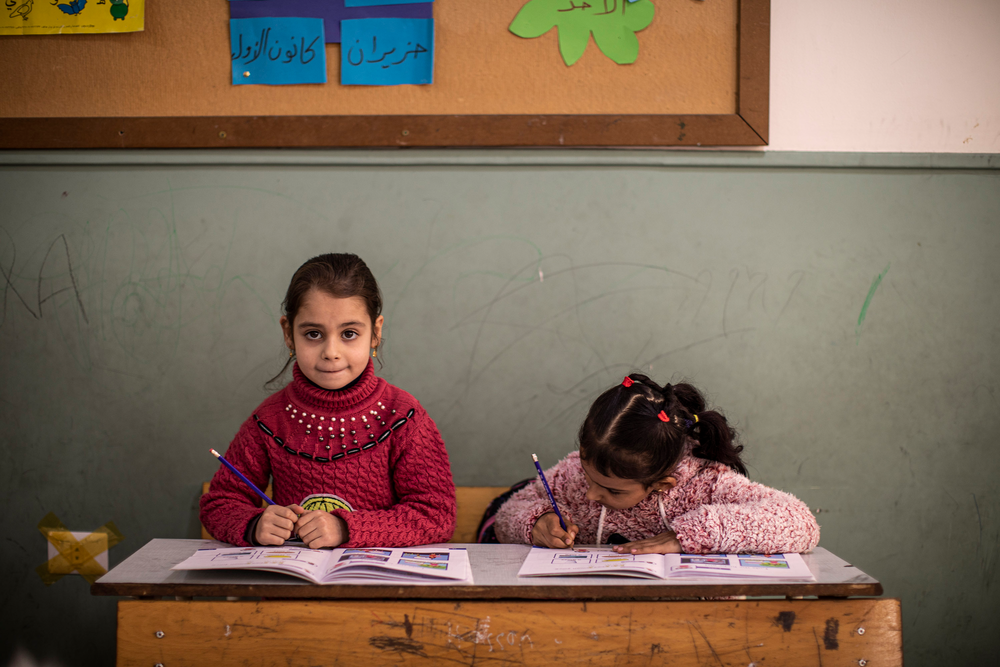 Theirworld's mission to give children in crises a safe place to learn
World Refugee Day: ACE project helps children to integrate and learn in Greece
World Refugee Day: ACE project helps children to integrate and learn in Greece