Record number of children forced from their homes by conflicts and persecution
Children in conflicts, Children's welfare after natural disasters, Days in the childhood development calendar, Education in emergencies, Refugees and internally displaced people, Right to education
On World Refugee Day, new statistics show there are 68.5 million displaced people - and over half of them are under 18.
---
For the fifth year in a row, the number of people displaced from their homes around the world has hit record levels.
That means misery, fear, uncertainty and lack of opportunity for millions of children whose young lives have been affected by conflicts, persecution and disasters.
Being in school during a humanitarian emergency doesn't just mean they are getting an education. Being with other children can help them to recover from the trauma and make them less at risk of child labour, child marriage, exploitation and recruitment by armed forces.
But only 61% of refugee children are at primary school – compared to 91% of all children across the world. Just 23% of adolescent refugees attend secondary school, compared to 84% globally.
To mark World Refugee Day today, the United Nations refugee agency UNHCR has revealed the latest statistics on forcibly-displaced people. There are now 68.5 million of them – more than the population of the United Kingdom – and more than half of them are under the age of 18.
Their plight was summed up by film star and director Angelina Jolie – a UNHCR special envoy – when she visited Domiz Camp in Iraq earlier this week. 
She said: "When there is even not the bare minimum of aid, refugee families cannot receive adequate medical treatment. 
"Women and girls are left vulnerable to sexual violence, many children cannot go to school and we squander the opportunity of being able to invest in refugees so that they can acquire new skills and support their families."
UNHCR's annual Global Trends report revealed there were 2.9 million new displaced people in 2017 – mainly because of crises in the Democratic Republic of Congo and Myanmar.
Other humanitarian emergencies in Syria, Burundi, Central African Republic, Iraq, South Sudan, Sudan, Ukraine and Yemen contributed to the total of 68.5 million – of whom 25.4 million fled to other countries.
There are now more children forcibly displaced by conflict – an estimated 30 million – than at any other time since the Second World War, according to another UN agency, UNICEF.
"We are at a watershed, where success in managing forced displacement globally requires a new and far more comprehensive approach so that countries and communities aren't left dealing with this alone," said UN High Commissioner for Refugees Filippo Grandi. 
"But there is reason for some hope. Fourteen countries are already pioneering a new blueprint for responding to refugee situations and in a matter of months a new Global Compact on Refugees will be ready for adoption by the United Nations General Assembly. 
"On World Refugee Day, my message to member states is please support this. No one becomes a refugee by choice – but the rest of us can have a choice about how we help."
Here are some of the most shocking statistics from 2017 revealed in the UNHCR report. 
68.5m
forcibly-displaced people across the world. Of those, 25.4 million are refugees, 40 million internally displaced and 3.1 million asylum seekers.
16.2m 
people newly displaced in 2017 because of conflict, persecution or violence – that's 44,400 every day. Of those, 11.8 million are living within their own countries.
52%
of all displaced people are under the age of 18.
173,800
unaccompanied or separated children. UNHCR said this is a "conservative estimate" taking into account new applications, asylum-seekers and refugees.
5m
displaced people returned to their own countries (667,400) or areas of origin (4.2 million) in 2017.
1 in 6 
people in Lebanon are refugees. The next highest proportions are Jordan (one in 14) and Turkey (one in 23).
1.7m
new claims for asylum. Of those, 331,700 claims were in the United States, followed by Germany (198,300), Italy (126,500), and Turkey (126,100). 
68% 
of all refugees worldwide come from just five countries – Syria (6.3 million), Afghanistan (2.6 million), South Sudan (2.4 million), Myanmar (1.2 million), Somalia (986,400).
3.5m
refugees hosted by Turkey. The countries with the next highest refugee populations are Pakistan (1.4 million), Uganda (1.4 million), Lebanon (998,900), Iran (979,400), Germany (970,400), Bangladesh (932,200) and Sudan (906,600).
4.4m
displaced people in the Democratic Republic of Congo – double the number in 2016. 
655,500
Rohingya refugees from Myanmar arrived in Bangladesh – most of them women and children.
12.6m 
Syrians are displaced – half of them inside their own country and the others abroad.
7.9m 
Colombians are displaced, all but 200,000 of them inside the country. Other major displaced populations are from Afghanistan (4.8 million), South Sudan (4.4 million), Iraq (3.3 million) and Somalia (3.2 million).
31%
of all refugees are in sub-Saharan Africa.
85%
of refugees are hosted by developing countries.
---
More news
Theirworld initiative helps to deliver $30m of computers to Ukrainian children
Theirworld initiative helps to deliver $30m of computers to Ukrainian children
Theirworld's mission to give children in crises a safe place to learn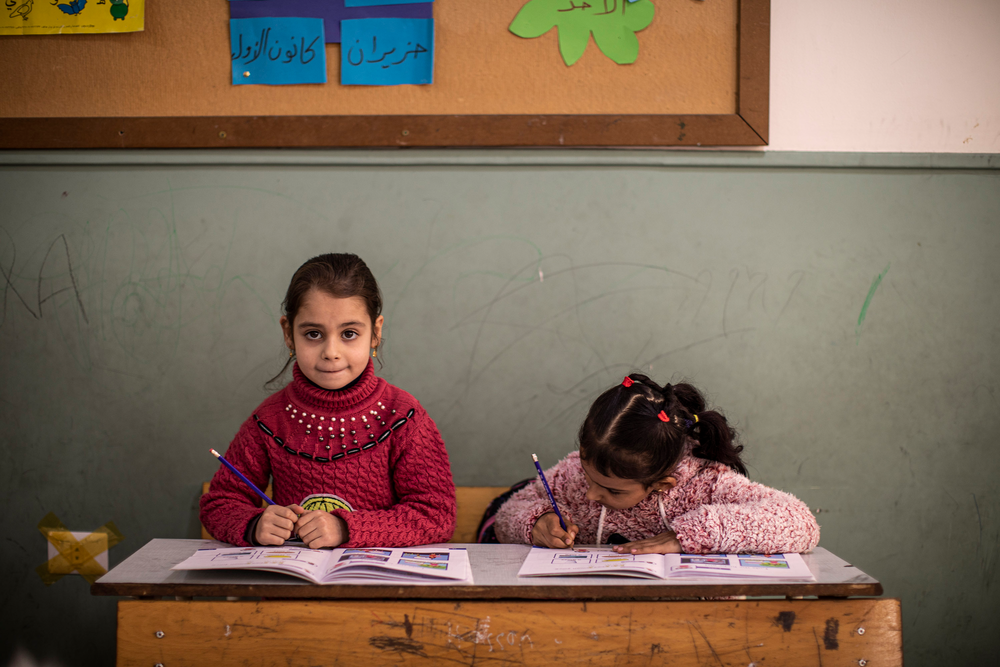 Theirworld's mission to give children in crises a safe place to learn